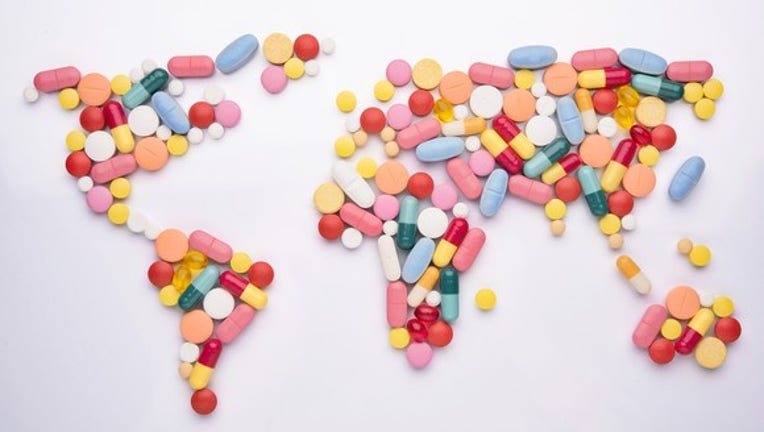 Last year might not have been very good for Mylan N.V. (NASDAQ: MYL), but 2017 is shaping up to be much better -- at least so far. The drugmaker's stock is up. It won a significant court decision over a key rival. Mylan also made progress in advancing two important biosimilars into regulatory review by the U.S. Food and Drug Administration (FDA).
Mylan reported its fourth-quarter and full-year 2016 results before the market opened on Wednesday. Did its streak of good news continue? Here are the highlights.
Image source: Getty Images.
Mylan results: The raw numbers
Data source: Mylan.
What happened with Mylan this quarter?
Mylan enjoyed sales gains from all of its geographic regions across the world. North American fourth-quarter sales increased by 22% year over year, to $1.57 billion, thanks primarily to the 2016 acquisitions of Swedish drugmaker Meda and the topicals business of Renaissance Acquisition Holdings focused on non-sterile products.
European revenue in the fourth quarter soared 50% higher than in the prior-year period, to $927.4 million. The Meda acquisition generated most of this growth, although sales were also helped by the introduction of new products and by better performance from existing products.
The company's revenue in the rest of the world climbed 28% higher year over year in the fourth quarter, to$729.2 million. The Meda acquisition again played the most important factor in this increase.
Mylan's net income improved significantly, due in large part to the Meda acquisition. However, the company also benefited fromrecognition of an income tax benefit of$192.6 millionin the fourth quarter. This tax benefit stemmed primarily from the mix of earnings between U.S. and non-U.S. subsidiaries.
For the full year 2016, Mylan reported total revenue of $11.1 billion, up 17.% year over year. 2016 earnings fell 23.4% to $367.7 million. Full-year adjusted earnings per share increased 14% year over year, to $4.89.
What management had to say
Mylan CEO Heather Bresch underscored the company's fourth-quarter and 2016 accomplishments. Bresch stated:
Rajiv Malik, Mylan's president, added:
Looking forward
Mylan projects full-year 2017 revenue between$12.25 billion and $13.75 billion. The midpoint of that range reflects an increase of 17% year over year. The company expects adjusted earnings per share between $5.15 and $5.55. The midpoint of the range represents 9% year-over-year growth.
Can Mylan deliver on its positive outlook for 2017? It seems quite possible. The acquisition of Meda strengthened the company's portfolio and opened up new distribution channels. There's also a good chance that the FDA will approve Mylan's new biosimilars to Neulasta and Herceptin later this year. After a rocky 2016, this year appears to be on track to be much smoother for the drugmaker.
10 stocks we like better than MylanWhen investing geniuses David and Tom Gardner have a stock tip, it can pay to listen. After all, the newsletter they have run for over a decade, Motley Fool Stock Advisor, has tripled the market.*
David and Tom just revealed what they believe are the 10 best stocks for investors to buy right now... and Mylan wasn't one of them! That's right -- they think these 10 stocks are even better buys.
Click here to learn about these picks!
*Stock Advisor returns as of February 6, 2017
Keith Speights has no position in any stocks mentioned. The Motley Fool recommends Mylan. The Motley Fool has a disclosure policy.