My Worst Predictions for Biotech in 2016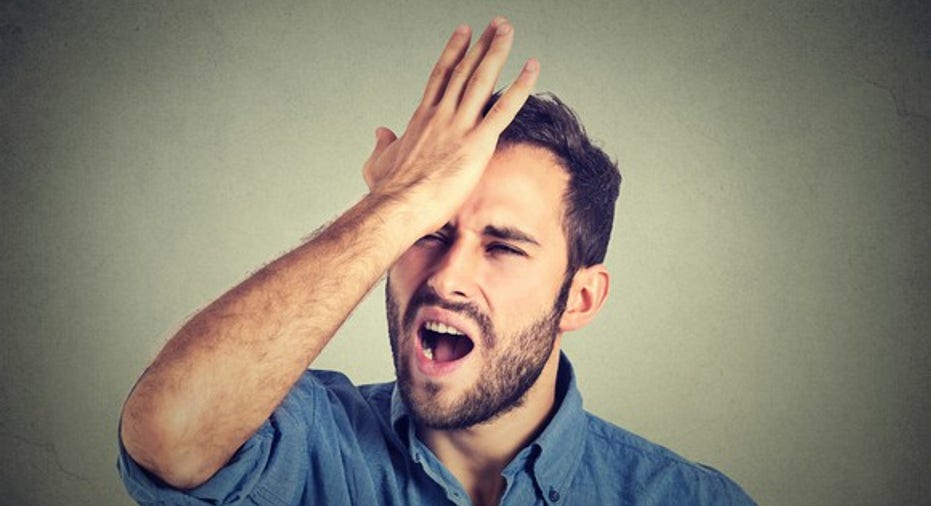 It's never fun to admit you're wrong, but anyone who has been involved in the markets for years knows that, much like in baseball, failure is more common than success. Last year, my 5 Biotech Predictions for 2016, was filled with failure, including a doozy of a prediction that GW Pharmaceuticals plc(NASDAQ: GWPH) shares would slide (spoiler alert: they soared). Here are my biggest prediction gaffes in 2016, and a couple I got right, more or less.
Image source: Getty Images.
Big mistake number one
My first mistake was underestimating enthusiasm for Epidiolex, a promising anti-epilepsy drug derived from a purified chemical cannabinoid (CBD) found in marijuana. GW Pharmaceuticals reported three successful trials of Epidiolex last year in tough-to-treat epilepsy, and as a result, shares returned a whopping 61% in 2016. That makes my prediction that ongoing marijuana legalization would take the luster off this company's shares incredibly wrong.
Yes, I guessed correctly that marijuana legalization momentum would lead to more states adopting pro-marijuana stances, but I was absolutely incorrect in extrapolating that greater availability of heavy CBD strains in marijuana dispensaries would make investors question how much of the market Epidiolex could ultimately capture.
Big mistake number two
I also predicted that investors would realize they were under-valuing clinical stage drug developer Portola Pharmaceuticals (NASDAQ: PTLA), and send its shares higher.
As a refresher, Portola Pharmaceuticals entered 2016 expectingan FDA decision on AndexXa, which, if approved, would be the first reversal agent available for factor Xa anticoagulants that are rapidly displacing warfarin. Investors also came into last year hoping for positive phase 3 trial results for betrixaban, a factor Xa therapy Portola Pharmaceuticals is developing for use in acute, medically ill patients.
Unfortunately, the year was a bust for the company, and its investors.
In March, management reported betrixaban failed a primary endpoint for statistical significance, but succeeded in treating the entire population of trial participants. The toss-up cast a shadow over betrixaban's potential to eventually win an FDA green light, causing shares to tumble.
Then, in August, management delivered more bad news when it reported it had received a complete response letter (CRL) from the FDA on AndexXa. The FDA's CRL requested additional insight into AndexXa's manufacturing, and its efficacy and safety in drugs other than Xarelto and Eliquis, before it will render a decision.
That one-two combination punch caused Portola Pharmaceuticals' investors (including me) to lose 56% in 2016.
Image source: Getty Images.
Big mistake number three
After Valeant Pharmaceuticals and Martin Shkreli pulled back the curtain on sky-high drug price increases, I predicted biotech stocks 2016 performance would trail big pharmaceuticals performance, because big pharma stocks are more diversified, less reliant on high-priced medicines, and they've embraced cost-cutting, and dividend increases.
While I was right to think that biotech stocks would struggle, pharmaceuticals, as a whole, didn't do a heck of a lot better. One pharmaceutical stock I highlighted, Pfizer (NYSE: PFE), did manage to eek out a 4.4% gain in 2016, but overall, the industry was mostly a miss. For instance, the VanEck Vectors Pharmaceutical ETF's17.8% loss outperformed the iShares Nasdaq Biotechnology ETF's21.4% loss, but the SPDR S&P Pharmaceuticals ETFlost 23.2%.
A bit closer to the mark
I did a bit better with my prediction that safety risks could emerge as CAR-T trials expand to include more patients. This summer, Juno Therapeutics' lead CAR-T candidate, JCAR015, was temporarily halted following patient deaths due to brain swelling, and the program was halted again this fall, when additional deaths occurred because of the same risk.
But, the flip-side of my argument was that CAR-T risks would shift investor interest to other next-generation cancer fighting approaches, including NantKwest'snatural killer cell approach and then, soon-to-IPOEditas' CRISPR/Cas approach.
CRISPR/Cas did catch a lot of attention in 2016, but it was more due to ongoing patent disputes than anything else, and shares of CRISPR/Cas companies, including Editas fell last year. Meanwhile, NantKwest continues to work on its natural killer cell pipeline, but its shares got clobbered last year, as investors abandoned clinical-stage companies altogether.
And, one mixed bag
I also thought we could get one step closer to a new Alzheimer's therapy in 2016, and in some ways we moved forward.
In December, Biogen (NASDAQ: BIIB)reported updated phase 1b results for aducanumab showing that, at the 54-week mark, there was a statistically significant reduction of amyloid plaque compared to placebo, anda slowing in disease progression versus placebo.
Undeniably, that's good news. But we're still years away from getting late stage trial results that could confirm aducanumab's efficacy, validate its safety, or get this drug across the FDA finish line.
Alternatively,Eli Lilly & Co.reported less inspiring results, when in November, management announced that its Alzheimer's disease drug, solanezumab, failed to improve cognition in Alzheimer's disease patients, and that it would shut-down its development.
Key takeaways
GW Pharmaceuticals plans to file Epidiolex for approval in the first half of this year, and depending on the timing, it appears that GW Pharmaceuticals will be in a holding pattern until late 2017 or early 2018, when an FDA decision would be likely.
Meanwhile,the FDA recently accepted Portola Pharmaceuticals' betrixaban for accelerated review, and a go/no-go is on tap for June 2017. Similarly, AndexXa could finally get the FDA OK this year, too. Unquestionably, if the FDA grants a green light on both drugs, it would be welcome news to shareholders.
In Alzheimer's disease, we'll get data todigest from Axovant this year, and in CAR-T, the first CAR-T could win an FDA go ahead in 2017, assuming, of course, thatKite Pharmaexecutes on plans to file KTE-C19 for approval in Q1.
Overall, I'd love to take a mulligan on these 2016 predictions, but since I can't, I'll need to remind myself that investing is a long-term proposition, and that diversification -- as always -- is critical, particularly in biotech.
10 stocks we like better than Biogen When investing geniuses David and Tom Gardner have a stock tip, it can pay to listen. After all, the newsletter they have run for over a decade, Motley Fool Stock Advisor, has tripled the market.*
David and Tom just revealed what they believe are the 10 best stocks for investors to buy right now... and Biogen wasn't one of them! That's right -- they think these 10 stocks are even better buys.
Click here to learn about these picks!
*Stock Advisor returns as of Nov. 7, 2016
Todd Campbell owns shares of Pfizer and Portola Pharmaceuticals.Todd owns E.B. Capital Markets, LLC. E.B. Capital's clients may have positions in the companies mentioned.Like this article? Follow him onTwitter where he goes by the handle@ebcapitalto see more articles like this.
The Motley Fool owns shares of and recommends Biogen and Valeant Pharmaceuticals. The Motley Fool recommends Juno Therapeutics. The Motley Fool has a disclosure policy.