Mueller probe examining whether Donald Trump obstructed justice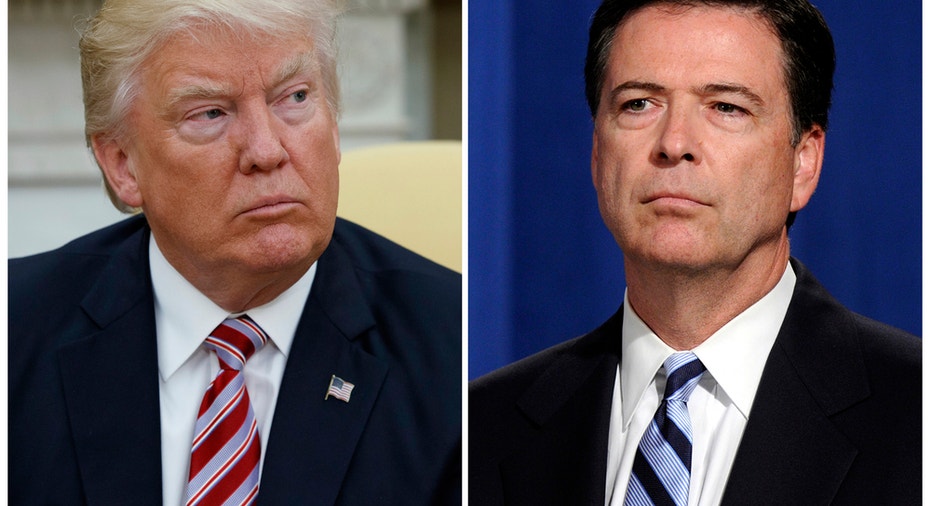 President Donald Trump's firing of former FBI Director James Comey is now a subject of the federal probe being headed by special counsel Robert Mueller, which has expanded to include whether the president obstructed justice, a person familiar with the matter said.
Mr. Mueller is examining whether the president fired Mr. Comey as part of a broader effort to alter the direction of a probe into allegations of collusion between the Trump campaign and Russia during the 2016 presidential election, which at the time was being led by the Federal Bureau of Investigation.
Mr. Mueller's team is planning to interview Director of National Intelligence Dan Coats and National Security Agency Director Adm. Mike Rogers as part of its examination of whether Mr. Trump sought to obstruct justice, the person said. The special counsel also plans to interview Rick Ledgett, who recently retired as the deputy director of the NSA, the person added.
Mark Corallo, a spokesman for Mr. Trump's personal lawyer, Marc Kasowitz, denounced the revelation in a statement.
"The FBI leak of information regarding the president is outrageous, inexcusable and illegal," Mr. Corallo said.
Neither the Washington Post, which first reported Wednesday that the special counsel was looking into whether the president obstructed justice, nor The Wall Street Journal named the people who confirmed the news.
Peter Carr, a spokesman for Mr. Mueller, declined to comment.
While Mr. Ledgett was still in office, he wrote a memo documenting a phone call that Adm. Rogers had with Mr. Trump, according to people familiar with the matter. During the call, the president questioned the veracity of the intelligence community's judgment that Russia had interfered with the election and also tried to persuade Adm. Rogers to say there was no evidence of collusion between the campaign and Russian officials, they said.
Mr. Ledgett declined to comment, and spokespersons for the NSA didn't respond to a request for comment. A spokesperson for Mr. Coats declined to comment.
Mr. Coats and Adm. Rogers told a Senate panel on June 7 that they didn't feel pressured by Mr. Trump to intervene with Mr. Comey or to push back against allegations of possible collusion between the Trump campaign and Russia during the 2016 presidential campaign. But the top national security officials declined to say what if anything Mr. Trump requested they do in relation to the Russia probe.
"If the special prosecutor called upon me to meet with him to ask his questions, I said I would be willing to do that," Mr. Coats said June 7. Adm. Rogers said he would also be willing to meet with the special counsel's team.
Mr. Comey told a Senate panel on June 8 that Mr. Trump expressed "hope" in a one-on-one Oval Office meeting that the FBI would drop its investigation into former national security adviser Michael Flynn, who resigned under pressure for making false statements about his conversations with a Russian diplomat. Mr. Trump has denied making that request.
Mr. Comey said during his testimony that it was up to Mr. Mueller to decide whether the president's actions amounted to obstruction of justice. The former FBI director also said he had furnished the special counsel with memos he wrote documenting his interactions with the president on the matter.
At a June 13 hearing at a House of Representatives panel, Deputy Attorney General Rod Rosenstein refused to say who asked him to write a memo justifying Mr. Comey's firing. The White House initially cited that memo as his reason for the termination, and later said in an NBC interview that he also was influenced by the Russia investigation.
Mr. Rosenstein said during the hearing that he wasn't at liberty to discuss the matter.
"The reason for that is that if it is within the scope of Director Mueller's investigation, and I've been a prosecutor for 27 years, we don't want people talking publicly about the subjects of ongoing investigations," Mr. Rosenstein said.
--Carol E. Lee contributed to this article.
Write to Del Quentin Wilber at del.wilber@wsj.com, Shane Harris at shane.harris@wsj.com and Paul Sonne at paul.sonne@wsj.com