Move to extend Chinese leader's role fuels business anxiety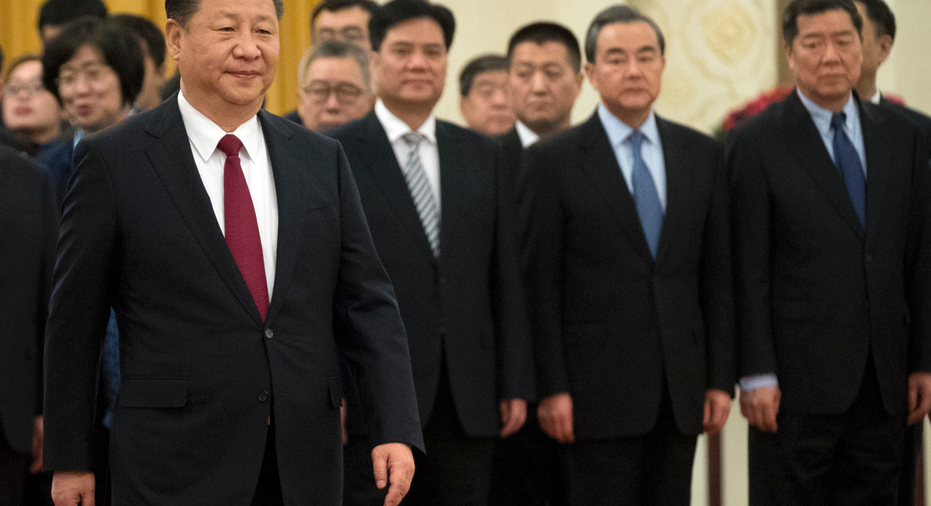 The ruling Communist Party's move to let leader Xi Jinping remain China's president indefinitely is fueling anxiety that Beijing might be undermining reforms needed to keep its economy healthy.
Businesspeople and economists see a slide toward one-man rule under Xi, already China's most dominant figure since the 1980s, and away from impartial institutions needed to support private businesses that generate new jobs and wealth.
Private sector analysts expect little short-term impact from the party's decision to eliminate the constitution's term limits for the presidency. But they say concentrating more power in Xi's hands could hamper business and chill investment by making China's economy more unpredictable and less able to respond to challenges.
Market-oriented reform requires "regulatory institutions that are backed by rule of law," said Andrew Polk, an economist at Trivium/China, a research firm in Beijing.
"To the extent that the change of term limits undermines the rule of law, that makes those liberalizing reforms more difficult, if not impossible," Polk said.
Analysts see the change as a signal Xi, who took power in 2012, is breaking with a tradition under which his predecessors Jiang Zemin and Hu Jintao shared power with other party leaders and stepped down after two five-year terms.
Xi said in 2013 that power "must be confined within the cage of institutions," but that pledge "is now meaningless," Evan Medeiros of Eurasia Group said in a report.
The 64-year-old leader has built up his own authority at the expense of others. He has appointed himself to head bodies that oversee reform and other initiatives, stripping the No. 2 party figure and top economic official, Premier Li Keqiang, of his post's most important duties.
Some analysts see a potential upside in the short run: Now that lower-level officials cannot be sure Xi will leave in 2022, they might be less likely to resist his ambitious agenda to reform health care, reduce poverty and develop high-tech industry.
"It's more likely that a leader firmly in control will do the difficult things that need to be done," said David Dollar, a former U.S. Treasury and World Bank official in Beijing who follows China at the Brookings Institution.
Longer term, they see no benefit but big risks for a state-dominated economy in which growth slowed to 6.8 percent from a year earlier in the latest quarter and is forecast to decelerate further this year.
A crucial cost is heightened "key man risk," or anxiety about how the system will respond if anything happens to Xi. That could make foreign companies more skittish about investing in an economy where business groups say many believe regulators improperly support their Chinese competitors.
It is unclear what Xi gains, Andy Rothman of Matthews Asia said in a report. Xi already was "powerful enough to push through significant reforms," he said, including slashing more than 2 million jobs in a campaign to streamline bloated coal and steel industries.
"It is difficult to interpret this decision, announced Sunday, as anything other than a lust for power by Xi Jinping," Rothman said.
Xi has promised to make China's economy more productive by giving market forces a bigger role. But he tempered that goal by affirming plans to build up state industry and the party's role in business.
Foreign companies are under pressure to restructure joint ventures with Chinese partners to give the party a formal voice in hiring, investment and strategy decisions. Business groups and lawyers say the demand has no basis in Chinese law and might be aimed at turning private companies into tools to carry out party development plans.
Reform advocates complain Xi has done too little to curb the dominance of state industry and control surging debt that prompted global rating agencies to cut Beijing's credit rating last year.
"Yes, on one hand, Xi Jinping clearly has some economic advisers who want to push ahead with economic reforms," said Barry Naughton, an economist at the University of California San Diego. He cited Liu He, Xi's top economic adviser, who is meeting U.S. officials in Washington this week to discuss economic relations amid disputes over steel, technology and other issues.
"When things are good, Xi is willing to listen to them. But that's not the only Xi Jinping," Naughton said. "The other Xi Jinping is this focused individual who cares enormously about power (and) who is also the biggest obstacle to economic reform."
A marathon anti-corruption campaign led by Xi that has snared thousands of officials and state company managers is hugely popular with a Chinese public that is sick of rampant graft.
At the same time, he has pressed for quicker official decision-making. That overturned a system under which Chinese officials sometimes spent years debating costs and benefits of policy changes.
Xi's emphasis on a military-style, Leninist approach that requires lower-level officials to carry out orders, with few chances to speak up about potential pitfalls, has led to blunders.
This winter, a campaign to cut air pollution by eliminating coal use in 3 million households in China's north left families shivering when local authorities failed to install replacement natural gas supplies fast enough.
In 2014, financial markets boomed after the state press called repeatedly for higher stock prices. Markets soared and then collapsed, forcing Beijing to spend tens of billions of dollars to stabilize prices.
"The potential negative consequences of bad policy become magnified because of this move," said Polk.
___
Wiseman reported from Washington.