Motley Fool Inside Value on Sale for $53 a Year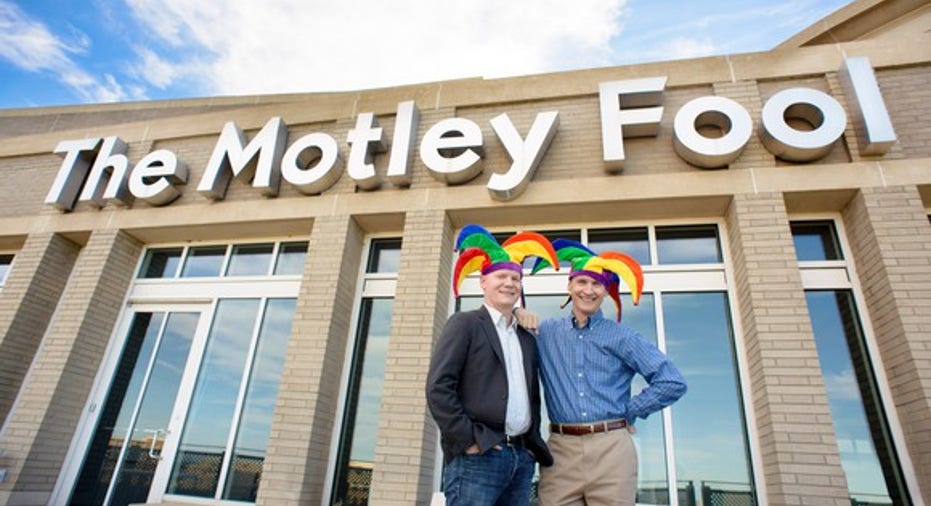 Motley Fool co-founders Tom and David Gardner helped make Inside Value the success story it is today.
Value investors like to look for the stock market's best bargains, but it can be hard to figure out which stocks offer the best opportunities. The Motley Fool Inside Value service has delivered winning investment ideas to its subscribers for more than a decade, and its track record of topping the return of the broad-based S&P 500 stock market index has given subscribers a huge advantage over simply buying the entire market. Now, you can get access to this award-winning service at a discounted price of just $53 a year for a three-year subscription. Below, we'll give you a special discount to get in on Motley Fool Inside Value, but first, let's take a look at why the service is worth every penny.
Buying great stocks cheap
Value investing is all about buying a stock for less than it's actually worth. Sometimes, that means getting into a company that is in a business that's deteriorating or under threat. In those cases, traders in the stock market often overreact to adverse conditions, selling the stock and pushing share prices down further than a company's fundamentals would warrant. When that happens, it's an opportunity for those who can be rational about a company's prospects and who know when the market is being too pessimistic.
What Motley Fool Inside Value does is to focus on stocks that are not just inexpensive but also have other positive traits that tend to go along with investing success. The service looks for sustainable competitive advantages, sound financials, and talented and trustworthy management in order to make sure that a company's executive team will keep shareholders in mind when they make key decisions. In addition, investors benefit from looking for stocks with a margin of safety, which can give you an additional cushion in case the market doesn't immediately cooperate by recognizing the true value of a beaten-down stock.
Winning Motley Fool stock picks -- at a discount!
When you look at the track record that Motley Fool Inside Value has put together, you'll see how these philosophies can produce strong returns. The service was ranked first in industry analyst Mark Hulbert's five-year rankings of more than 200 investment-advisory services, according to The Wall Street Journal.
One of the keys to the service's success has been identifying great companies before others recognize their full potential. Buying Home Depot in 2005 has tripled subscribers' money even despite the brief hit the home-improvement retailer took during the housing bust. Core pick Visa has taken its industry-leading position in the electronic payments space and turned it into a return of more than 250% for those who bought the stock when recommended in 2011. And a timely pick of health insurance giant UnitedHealth Group in 2008 has investors sitting on a five-bagger -- with plenty of room for further improvement as the company's Optum health-services unit continues to pick up steam.
What your Inside Valuediscount will give you
When you sign up for Motley Fool Inside Value at this special $53 annual rate, you'll get a new value stock recommendation every month, along with a list of Best Buys Now and a handful of Core stocks that can act as a strong foundation for your value portfolio.
In addition to the monthly report, you'll get regular updates throughout the month on what's happening with your stocks. Risk ratings will help you assess whether you're comfortable with a particular pick, and online exclusives will give you member-only content that others won't see. You'll also get access to Motley Fool analysts and community members to discuss stock picks, and you'll even be able to track your own success with our scorecard tool.
Don't wait!
Procrastination is one of the biggest obstacles that investors face in starting on the path to financial security, and that's why we've put a price on Motley Fool Inside Value that anyone can afford. Every day you wait is a missed opportunity to get in on the long-term success that the service has given its subscribers. So don't wait. Click here to get your Motley Fool Inside Value discount special offer and see for yourself why this offer is too good to pass up.
The article Motley Fool Inside Value on Sale for $53 a Year originally appeared on Fool.com.
Try any of our Foolish newsletter services free for 30 days. We Fools may not all hold the same opinions, but we all believe that considering a diverse range of insights makes us better investors. The Motley Fool has a disclosure policy.
Copyright 1995 - 2016 The Motley Fool, LLC. All rights reserved. The Motley Fool has a disclosure policy.