More People are Filing Their Taxes Themselves, and That's Great for Intuit Inc.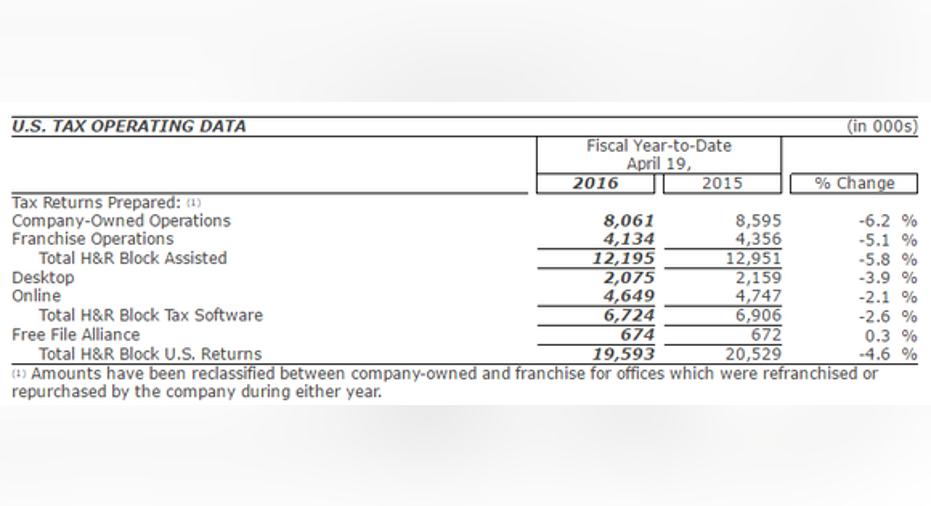 Source: Intuit.
When it comes time to file their taxes, more consumers are opting to go it alone, spurning the help of professional tax advisors and turning toIntuit's TurboTax software.
Demand for TurboTax surged this past tax season, with sales rising significantly on an annual basis. Intuit captured share from its software-based rivals, but also appeared to convert consumers who had, in the past, relied on the guidance of in-person tax professionals. Rival H&R Block , which largely depends on a network of taxprofessionals, struggled.
Year-to-date, shares of Intuit have appreciated modestly -- but if this trend persists, it could reward Intuit shareholders in the years to come.
More consumers are willing to go at it aloneIntuit management first discussed the trend back in February. During the company's fiscal 2016 second-quarter earnings call, Intuit CEO Brad Smith noted the general shift that appeared to be taking place.
But that was early in the season, and Smith admitted that the popularity of assisted returns was likely to accelerate in March and April as consumers with more complex returns might have been waiting to file. The April 15 deadline, however, has long since passed, and demand for do-it-yourself software remained robust. About 90% of tax returns were filed electronically this year, according to the IRS. Of those, about 42% were filed by individuals doing it themselves, up from about 41% last year. The number of returns filed with the help of a tax professional rose modestly, but its share of total e-filings fell from 59% last year to about 58% this year.
On April 26, Intuit announced that TurboTax unit sales grew 12% on a year-over-year basis, exceeding the company's expectations. Intuit raised its outlook for its consumer tax revenue, guiding for 8% to 9% growth, up from 5% to 7% previously.
H&R Block is strugglingH&R Block has its own taxpreparationsoftware for the do-it-yourself market, but the company continues to generate the bulk of its revenue from assisted returns. On April 26, H&R Block announced that it had prepared a total of 19.6 million U.S. tax returns, only 6.7 million of which were done using its self-preparation software. Year-to-date, H&R Block stock has lost almost 40% of its value, with much of that loss coming in the wake of its April 26 release.
In total, H&R Block prepared 4.6% fewer returns this year than last. Software returns fell 2.6% on an annual basis, but assisted returns contracted a massive 5.8%. H&R Block cited an aggressive pricing strategy on the part of its competitors to explain the declining popularity of its software, but offered little explanation for the decline of its assisted business.
As Intuit continues to improve its TurboTax software, and more tech-savvy consumers make up a larger portion of the tax base, H&R Block's assisted business may be facing an inexorable decline.
The article More People are Filing Their Taxes Themselves, and That's Great for Intuit Inc. originally appeared on Fool.com.
Sam Mattera has no position in any stocks mentioned. The Motley Fool owns shares of and recommends Intuit. Try any of our Foolish newsletter services free for 30 days. We Fools may not all hold the same opinions, but we all believe that considering a diverse range of insights makes us better investors. The Motley Fool has a disclosure policy.
Copyright 1995 - 2016 The Motley Fool, LLC. All rights reserved. The Motley Fool has a disclosure policy.