More Highs for This Healthcare ETF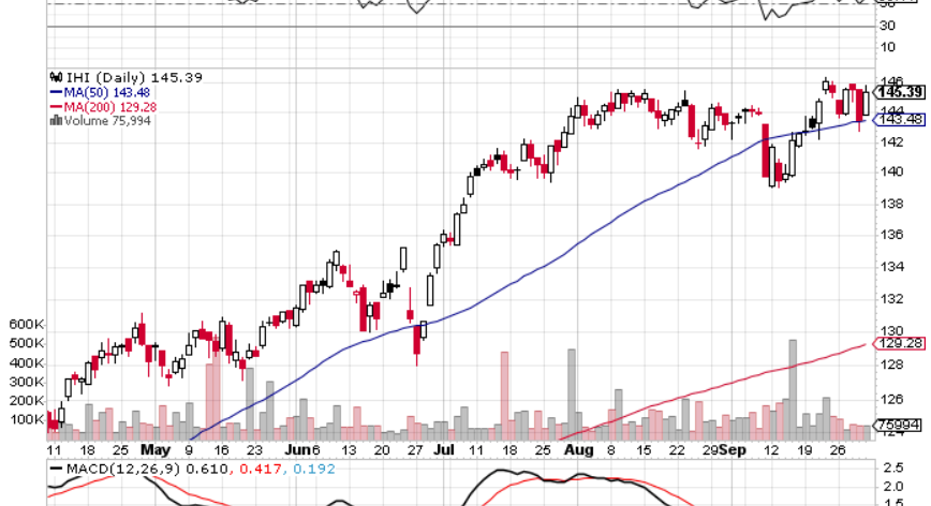 The healthcare sector, the third-largest sector allocation in the S&P 500, has been pointed to as an obvious laggard this year. Much of that has to do with struggling biotechnology and pharmaceuticals stocks, which have been plagued presidential election year politics.
However, there have been pockets of strength in the healthcare space, including medical device manufacturing companies. The iShares U.S. Medical Devices ETF (NYSEArca: IHI), the largest dedicated medical devices exchange traded fund, is one of the avenues to gain focused exposure to medical device makers, particularly large-cap names.
SEE MORE: Clinton Delivers Poison Pill To Biotech ETFs
IHI, which has recently been making a series of new highs, is up 19% year-to-date while the Health Care Select Sector SPDR (NYSEArca: XLV) is up just a tenth of a percent.
"Medical systems and equipment is up about 20% as a group, while the medical products group has climbed some 15%. Since the market low of June, however, biotechs and generic-drug stocks have made much stronger gains. Still, the medical equipment subset is up 18% in that period and the products group is up 15% — better than nearly all other health care groups," reports Investor's Business Daily.
IHI has also seen plenty of mergers and acquisitions activity among its components in recent years, but that trend within the health care sector has come under scrutiny as the U.S. Treasury Department looks to crack down on U.S. firms acquiring rivals with foreign domiciles so that they can avoid paying U.S. taxes. More recently, inversions have occurred after large U.S. companies merged with smaller foreign firms. The U.S. company would reincorporate in a tax-friendlier country, like Ireland, while maintaining much of their core operations in the U.S.
For healthcare ETFs, the good news is that the U.S. economy moving into the late-cycle phase, overall growth may slow and signs of an economic slowdown could pop up. Consequently, investors may also turn to defensive sectors that are less economically sensitive, such as health care.
Both Democratic presidential front runner Hillary Clinton and GOP hopeful Donald Trump support the right for the government to negotiate Medicare drug costs. Additionally, Clinton has previously stated she would tackle "price gouging" from drugmakers if she is elected.
Related: Healthcare ETFs Ready to Rally
IHI's "chart closely resembles that of its largest holding, Medtronic (MDT). The stock has been forming a shallow base and is near new highs. Among its many products, Medtronic makes insulin pumps, ear infection treatments, coronary stents and brain-stimulus devices to treat nervous-system disorders," according to IBD.
iShares U.S. Medical Devices ETF
The opinions and forecasts expressed herein are solely those of Tom Lydon, and may not actually come to pass. Information on this site should not be used or construed as an offer to sell, a solicitation of an offer to buy, or a recommendation for any product.
This article was provided by our partners at ETFTrends.