More Bad News for Under Armour Inc: Here Comes Puma!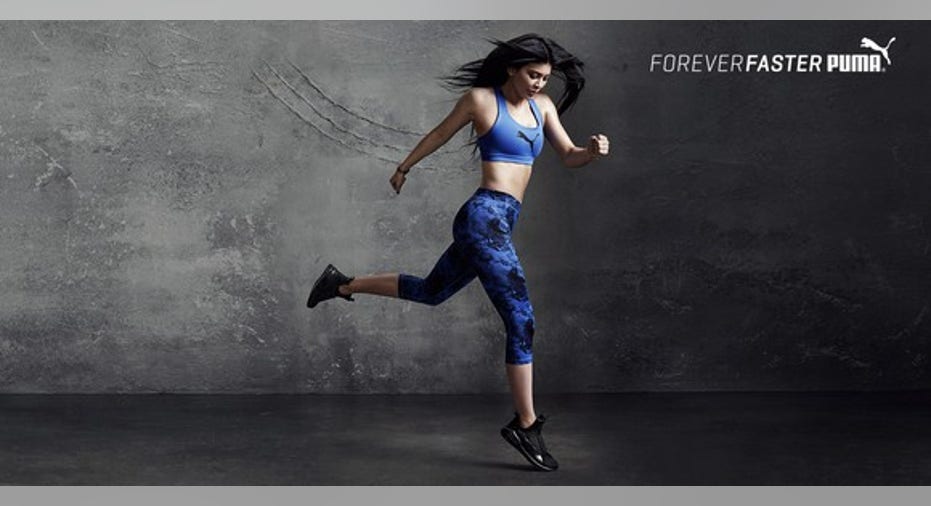 Not long ago, Under Armour (NYSE: UA) (NYSE: UAA) was the growing darling of sportswear, while Puma (NASDAQOTH:PMMAF) was a fading also-ran which was overlooked in conversations about the industry. But the tables turned quickly over the past year -- Under Armour stock has declined more than 50% over the past 12 months, while Puma has rallied nearly 50%.
Puma has always been a bigger brand than Under Armour, but its growth has generally been much slower. So how did Puma bounce back, and what does that comeback mean for Under Armour's future?
A 2015 Puma ad campaign featuring Rihanna. Image source: Puma.
How Puma bounced back
Puma was founded by Rudolf Dassler, the older brother of Adidas (NASDAQOTH: ADDYY) founder Adolf Dassler, 69 years ago. Throughout its history, Adolf's closer relationships with athletes and celebrities provided Adidas with better endorsements thanPuma. Puma eventually formed a solid customer base among soccer players, but it alienated customers a few years ago by seeking flashy celebrity endorsements.
But over the past few years, Puma took a different approach to celebrity endorsements. It started hiring young stars as creative directors and brand ambassadors, and that roster now includes Rihanna, The Weeknd, Young Thug, Kylie Jenner, and Big Sean, who leftAdidas to sign with Puma. Puma hired these ambassadors for specific purposes -- Rihanna designed shoes like the popular Fenty Creeper and arranged fashion shows, Kylie Jenner promoted fitness apparel and the Fierce shoes, and The Weeknd and Big Sean designed new shoes and arranged the promotional photoshoots.
Puma's 2016 ad campaign featuring Kylie Jenner. Image source: Puma.
In a recent interview with GQ, Adam Petrick, Puma's Global Director of Brand and Marketing, noted that this strategy "isn't just advertising in the traditional sense", since it gives its "collaborators a lot of freedom to express themselves." That strategy has paid off -- Puma's sales rose14% on a constant currency basis in 2015, andclimbed another 10% in 2016. Its earnings per share soared 68% in 2016.
Why this is bad news for Under Armour
Puma's comeback coincides with the return of Adidas, which was sparked by the five-year turnaround plan it initiated in 2015. That plan called for Adidas to rotate its products faster, aggressively expand into urban markets, invest more heavily in e-commerce channels, and launch stronger engagement campaigns with customers, retailers, and partners. Those moves boosted Adidas' revenue by18% on a constant currency basis in 2016, compared to 10% growth in 2015 and 6% growth in 2014.
Adidas' growth is frequently cited as a major headwind for Under Armour, which saw its sales growth slow from 28% in 2015 to 22% in 2016. UA expects its revenue to rise just 11%-12% thisyeardue to softness in the North American market, unresolved expenses from the Sports Authority bankruptcy, and tougher competition across the market. Under Armour's margins are also declining due to its growing dependence on high-profile endorsements and lower-margin footwear, and it simply can't match the scale of bigger rivals like Adidas, Puma, and Nike.
UA's Curry 3 shoes. Image source: Under Armour.
To make matters worse, Under Armour alienated its investors and celebrity spokespeople over the past year with two ill-advised moves. Its controversial stock split, which was aimed at preserving CEO Kevin Plank's control over the company, sparked an investor lawsuit which forced UA to pay out a special dividend as compensation. Plank's post-election praise of President Trump then caused its top spokespeople -- including Steph Curry, The Rock, andMisty Copeland -- to speak out against the company. That was basically the opposite of what Puma had accomplished by getting its celebrity collaborators to promote their personal brands on social media.
UA also lost several major executives over the past two years -- including its COO and CFO Brad Dickerson, chief merchandising officer Henry Stafford, chief digital officer Robin Thurston, and CFO Chip Molloy. That brain drain could sink Under Armour, which desperately needs to pivot its brand to face fresh challenges from resurgent rivals like Puma and Adidas.
Should Under Armour investors be worried?
I've been bearish on Under Armour for a long time, and I don't think the pain will end anytime soon. Even after its steep decline, the stock's trailing P/E of 44 remains much higher than the industry average of 26 for apparel and footwear makers.
Looking ahead, rising competition from Nike, Adidas, Puma, and others could cause UA's sales to slow down even more. If UA responds by slashing prices and boosting marketing costs, its margins could crumble and send its stock plunging even further.
10 stocks we like better than Under Armour (A Shares)When investing geniuses David and Tom Gardner have a stock tip, it can pay to listen. After all, the newsletter they have run for over a decade, Motley Fool Stock Advisor, has tripled the market.*
David and Tom just revealed what they believe are the 10 best stocks for investors to buy right now... and Under Armour (A Shares) wasn't one of them! That's right -- they think these 10 stocks are even better buys.
Click here to learn about these picks!
*Stock Advisor returns as of February 6, 2017
Leo Sun has no position in any stocks mentioned. The Motley Fool owns shares of and recommends Nike, Under Armour (A Shares), and Under Armour (C Shares). The Motley Fool has a disclosure policy.