More Bad News for Lockheed Martin: The U.S. Air Force Just Isn't Into the F-35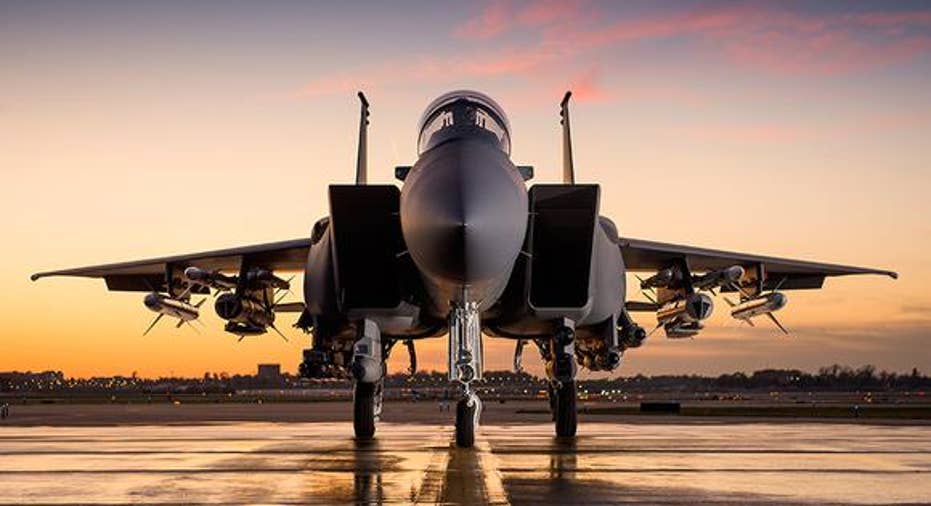 At an estimated cost of $1.5 trillion, Lockheed Martin's F-35 stealth fighter will eventually become the most expensive weapons program in U.S. history. It's also turning into one of the slowest rollouts in history -- and both of those could be problems for Lockheed.
Lockheed Martin's F-35 could be preparing to bomb -- and not in a good way. Image source: Lockheed Martin.
According to data from defense aerospace analysts at BGA-Aeroweb, Lockheed Martin had delivered 126 F-35s to the military through the end of last year. Add 28 more planes through year-end 2015, and this program, 15 years in the making, has so far averaged fewer than 10 planes produced per year.
Why is this a problem? To hit its target of fielding a force of 1,763 F-35A fighter jets by 2038, the U.S. Air Force needs Lockheed to build nearly one full fighter wing -- 72 F-35s -- a year, every year, for the next 22 years. Lockheed's working hard to reach full-rate production by 2019. But even so, Air Force officials worry that it's not building the planes fast enough.
What's more, even if Lockheed can build the planes, the Air Force may not be able to afford them.
Lockheed Martin's F-35B can do some neat tricks -- at a steep price. Image source: Lockheed Martin.
Slow and steady loses the raceBGA-Aeroweb estimatesthat each F-35 "A" aircraft currently costs taxpayers $129 million. (And that's the cheapest F-35 version. Carrier variant F-35Cs cost $170 million apiece, and an F-35B "hover" jet will set you back $183 million.)
At these prices, the Air Force's F-35 allotment alone will cost nearly a quarter-trillion dollars up front, with hundreds of billions of dollars more needed for service and maintenance, upgrades, fuel, and armaments. (It's these additional costs that make up the bulk of the plane's widely touted "$1.5 trillion" value.)
Between problems with the production rate and the cost of the bill, the Air Force is now considering alternatives to the F-35.
If Lockheed Martin can't build planes cheap enough, or fast enough, Boeing's ready to get the job done with its F-15. Image source: Boeing.
Everything old is new againSpecifically, it's looking at buying Boeing F-15 Strike Eagles, F-16 Fighting Falcons, and even F/A-18 Super Hornets (!) instead. According to AviationWeek.com, the Air Force could buy as much as one full fighter wing of such F-35 alternatives -- 72 planes.
Now, we learned earlier this year that the Pentagon is negotiating with Lockheed over a possible bulk purchase of F-35s. No precise prices have been revealed, but word has it the Pentagon wants about a 10% price concession on the planes for buying them in bulk. On 72 F-35A fighters, that would work out to a purchase price of perhaps $8.4 billion.
In contrast, based on the Pentagon's most recent pricing data, a purchase of...
72 F-16C/D fighters, costing $27.4 million each, would cost less than $2 billion;
72 F-15E fighters, at $45.5 million each, would cost $3.3 billion;
and 72 F/A-18E/F fighters, at $65 million apiece, would cost $4.7 billion.
In addition to the new planes, the Air Force would also upgrade 300 of its existing F-16s and F-15s. The Air Force says this would all possibly cost more than "buying F-35s in bulk." But it would get more planes into service much faster -- and if the costs aren't unreasonable, could make for a viable alternative to buying more F-35s.
What it means for investorsSuffice it to say, though, if the Air Force proceeds down this path, it will not be good news for Lockheed Martin. True, Lockheed builds the F-16 as well as the F-35. But because the F-16 costs so much less than the F-35, an Air Force purchase of 72 F-16s instead of 72 F-35s would cost Lockheed about $7.2 billion worth of anticipated revenue.
And that's the best-case scenario.
The worst-case scenario is that the Air Force decides to buy F-15s from Boeing instead -- or even F/A-18s (ordinarily considered a naval fighter jet). Such a move would cost Lockheed $8.4 billion in lost revenue, shift billions of dollars of new revenue to Boeing instead -- and throw a lifeline to Boeing's struggling defense business. It could force Lockheed to continue bidding against Boeing for fighter jet contracts for decades to come -- not just here in the U.S., but internationally as well.
For Lockheed Martin, I very much fear, it never rains but it pours.
Pentagon buyers are lining up to buy the F-35... not! Image source: Lockheed Martin.
The article More Bad News for Lockheed Martin: The U.S. Air Force Just Isn't Into the F-35 originally appeared on Fool.com.
Rich Smithdoes not own shares of, nor is he short, any company named above. You can find him onMotley Fool CAPS, publicly pontificating under the handleTMFDitty, where he's currently ranked No. 308 out of more than 75,000 rated members.The Motley Fool has no position in any of the stocks mentioned. Try any of our Foolish newsletter services free for 30 days. We Fools may not all hold the same opinions, but we all believe that considering a diverse range of insights makes us better investors. The Motley Fool has a disclosure policy.
Copyright 1995 - 2015 The Motley Fool, LLC. All rights reserved. The Motley Fool has a disclosure policy.