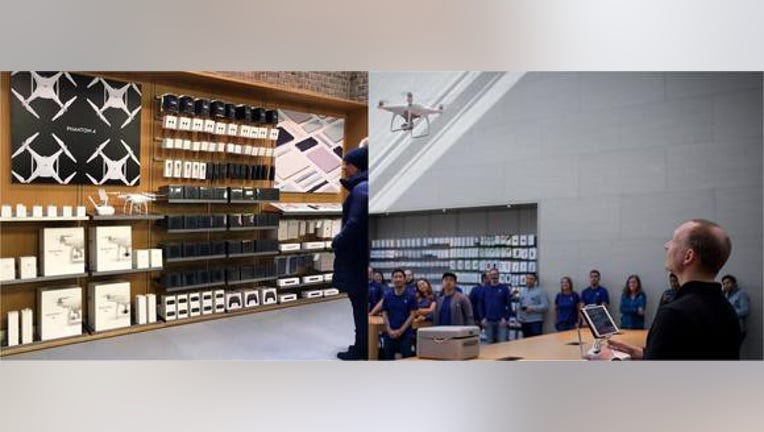 Chinese smartphone giant Xiaomi recently launched its first two Mi Drones at jaw-dropping prices. A 1080p model costs just 2,499 yuan ($380) while the 4K version costs 2,999 yuan ($460). Both devices sport three-axis gimbals and rely on a companion app as a remote control and viewfinder. Xiaomi's devices dramatically undercut comparable 4K drones on the market, which generally cost around $1,000.
Xiaomi's Mi Drone. Image source: Xiaomi.
Xiaomi claims that the Mi Drone's replaceable 5,100 mAh battery offers nearly half an hour of flight time on a single charge -- which is comparable to high-end drones likeDJI Innovations' Phantom 4. Like DJI's drones, Xiaomi's Mi Drone features autonomous takeoff, landing, waypoint navigation, orbit, and return-to-home modes. Users can also place geofences to limit the drone's movement.
Bad news for GoPro
It's unclear how well the Mi Drone stacks up against DJI's market-leading Phantom devices, but it's clearly bad news for GoPro , which recently delayed the launch of its eagerly anticipated Karma drone to the holiday quarter.
The launch of the Mi Drone is yet another indication that Xiaomi has its sights set on GoPro. Earlier this month, Xiaomi started selling Yi Technology's Yi 4K Action Camera 2, which combines the hardware of GoPro's $500 Hero 4 Black with the touch LCD display of the $400 Hero 4 Silver for just $250. Yi Technology (in which Xiaomi is an investor) also recently partnered with Alphabet's YouTube to create VR videos for itsJump platform. Prior to that announcement, GoPro had been YouTube's sole Jump partner.
Why GoPro's drone matters
GoPro hasn't launched any new premium devices since the much-maligned Hero 4 Session last summer. Since then, GoPro's quarterly sales have steadily declined, and sales fell nearly 50% annually last quarter. The company also discontinued its three low to mid-range devices (the Hero, Hero+, and Hero+ LCD) in April to convince customers to migrate to its three core devices (the Session, Silver, and Black).
But as I mentioned previously, those three discontinued cameras accounted for nearly a thirdof its sell-through last quarter. This means that until the Hero 5 and Karma arrive during the holiday quarter, GoPro has no new sources of revenue growth. That's probably why GoPro stopped issuing quarterly guidance earlier this year.
GoPro originally planned to launch the Karma drone in the first half of 2016, which would have boosted sales growth until the arrival of the Hero 5. But with the Karma delayed, GoPro investors are left waiting as major companies like DJI and Xiaomi launch impressive new drones.
DJI displays in Apple Stores. Image source: DJI.
Apple has already provided brick-and-mortar support to DJI by installing big "feature bay" displays for the Phantom 4 at its stores. DJI employees are also visiting select Apple Stores to provide customers with hands-on training sessions. Xiaomi could start selling the Mi Drone through its U.S. retail website or third-party e-tailers, which could help it gain market share against DJI and other drone makers.
Is GoPro's 2016 sales target realistic?
GoPro claims that it can generate $1.3 billion to $1.5 billion in revenue this year, which would represent a 7% to 20% decline from 2015. However, the delay of the Karma and the arrival of new competitors like Xiaomi could make it very tough to hit that target.
To understand GoPro's dilemma, let's take a look at the company's first quarter sales, analyst projections for the second and third quarters, and the devices which it will sell in the fourth quarter.
| | | | | |
| --- | --- | --- | --- | --- |
| Period | 1Q 2016 | 2Q 2016 | 3Q 2016 | 4Q 2016 |
| Quarterly Sales | $183.5m | $202.1m (est.) | $317m (est.) | ? |
| Product lines | Hero, Hero+, Hero+ LCD, Hero 4 Session, Silver, Black | Hero 4 Session, Silver, Black | Hero 4 Session, Silver, Black | Hero 5 Session, Silver, Black, Karma drone |
Source: GoPro 1Q report, Yahoo Finance.
If those estimates are accurate, GoPro must generate between $597 million and $797 million in sales during the fourth quarter to hit its full-year target. That would represent 37% to 83% growth from the fourth quarter of 2015, and would be comparable to its revenue of $634 million in the fourth quarter of 2014 -- when demand for GoPro cameras peaked after the launch of the Hero 4.
Will the Karma be dead on arrival?
I seriously doubt GoPro can replicate that kind of growth again. The action camera market is much more crowded than it was in 2014, and new drones could easily steal Karma's thunder before it arrives. GoPro previously hinted that it will sell the Karma as a premium accessory for its action cameras. But with Xiaomi now selling a 4K drone which costs less than a single Hero 4 Black camera, GoPro's dream of using drones to sell cameras could be quickly shattered.
The article More Bad News for GoPro Inc: Xiaomi Launches a $460 4K Drone originally appeared on Fool.com.
Suzanne Frey, an executive at Alphabet, is a member of The Motley Fool's board of directors. Leo Sun has no position in any stocks mentioned. The Motley Fool owns shares of and recommends Alphabet (A shares), Alphabet (C shares), Apple, and GoPro. The Motley Fool has the following options: long January 2018 $90 calls on Apple and short January 2018 $95 calls on Apple. Try any of our Foolish newsletter services free for 30 days. We Fools may not all hold the same opinions, but we all believe that considering a diverse range of insights makes us better investors. The Motley Fool has a disclosure policy.
Copyright 1995 - 2016 The Motley Fool, LLC. All rights reserved. The Motley Fool has a disclosure policy.