Moody's France Downgrade Weighs on European Shares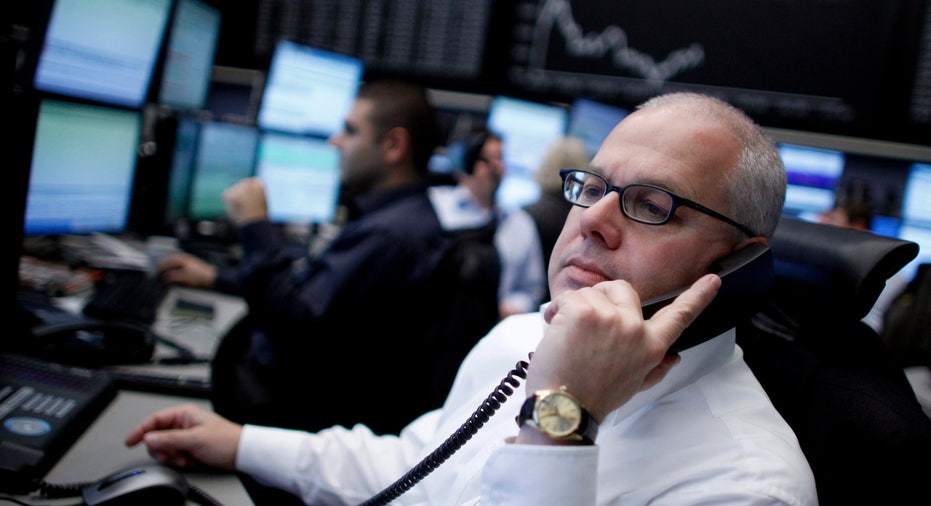 European shares fell and the euro dipped on Tuesday after France lost its top-notch credit rating from Moody's, reminding investors of the risks from the euro zone debt crisis.
But the falls were modest as the move was widely expected and comes a day after global equity markets saw their biggest gains since late July on optimism that U.S. lawmakers would reach a deal to avert the fiscal crisis facing Washington.
The FTSEurofirst 300 index of top European shares fell 0.2 percent to 1,089.50 points in morning trade having surged 2.3 percent on Monday.
Across Europe the main French index, the CAC-40, was down 0.4 percent, but Germany's DAX and London's FTSE 100 down 0.1 to 0.4 percent.
"(The France downgrade) is disappointing and an indication that core Europe is suffering a bit. But the market has been talking about this for a while," said Graham Bishop, senior equity strategist at Exane BNP Paribas.
MSCI's world equity index dipped 0.1 percent after adding 2 percent on Monday - its best day since July 27.
U.S. stock futures pointed to a slight retracement when trading resumes with attention likely to be firmly on efforts by the U.S. Congress to reach a compromise to avoid $600 billion in tax increases and spending cuts due to start in January.
"The fiscal cliff is the main headline and that will be what will lead the markets for the next couple of days, particularly with a short week in the U.S.," said Brenda Kelly an analyst at IG Markets.
Markets in the United States will be closed on Thursday for the Thanksgiving Day holiday.
EUROPEAN CONCERN
The decision by Moody's to cut the triple-A rating of Europe's second largest economy by one notch and keep it on a negative outlook followed a similar downgrade by Standard & Poor's in January. Fitch Ratings still has France rated AAA.
As such the move had a limited impact on European sovereign bonds with French 10-year yields two basis points higher at 2.097 percent and German Bund yields unchanged at 1.36 percent.
"People seem to be reluctant to conduct the short-France trade in 2012 with year-end coming, even though there seems to be a feeling that that's the next big trade" said Rabobank rate strategist Lyn Graham-Taylor, referring to bets that French bonds would fall in price.
Five-year credit default swaps on France's debt though have risen and are up around 30 basis points since late November.
The single currency dipped 0.15 percent from late U.S. trade to $1.2794, after touching a near two-week high on Monday on signs of progress in resolving the U.S. fiscal crisis and on optimism that Greece will soon receive fresh funding.
On Greece, the market is awaiting the outcome of a euro zone finance ministers meeting in Brussels later that is expected to give a tentative go-ahead to release 44 billion euros ($56 billion) in emergency loans to Athens.
However, Finland's finance minister, Jutta Urpilainen, introduced a note of uncertainty on Tuesday, saying she was unsure whether the ministers would approve the next loan tranche at the meeting.
The ministers and the managing director of the International Monetary Fund, Christine Lagarde, are also due to discuss how to reduce Greek debt and provide two extra years of external financing to help the country achieve its fiscal targets.
DOLLAR STEADIES
The dollar steadied against a basket of key currencies and fell 0.2 percent against the yen to 81.21 yen, after the Bank of Japan, as expected, took no fresh action at the conclusion of its two-day policy meeting on Tuesday.
Brent crude held above $111 a barrel, less than a dollar away from a one-month high in the previous session, on hopes over the U.S. budget crisis that pushed up equity prices on Monday and supply worries from the Middle East .
"The overnight rally in the U.S. equity market is still supporting the oil market, with ongoing tension in the Gaza Strip posing some geopolitical risks," said Natalie Rampono, a commodity strategist at ANZ.
U.S. crude futures eased 26 cents to $89.02.
Spot gold was nearly flat at $1,732.59 an ounce and is expected to stay within a tight range between $1,700 and $1,740 until the U.S. budget dispute is resolved.