Monsanto Stays Upbeat Despite Crop-Protection Weakness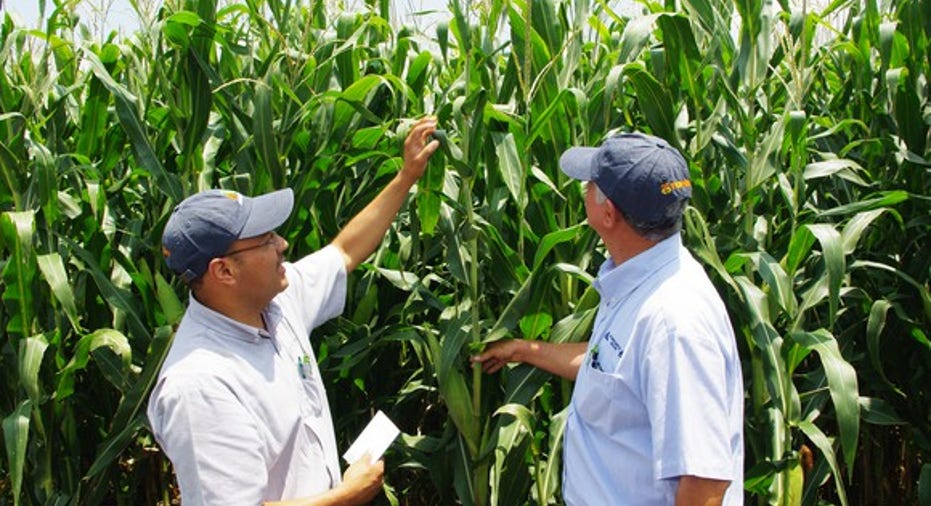 Image source: Monsanto.
Agricultural giant Monsanto is used to dealing with the ups and downs of the farming industry. For years, the maker of seeds, genomics, and agricultural productivity-enhancing chemicals benefited from the boom in crop prices, reaping profits and spurring rivals to take up its focus on the farm. Recently, however, agriculture has entered a downturn, and coming into Wednesday's fiscal third-quarter report, Monsanto investors were prepared for sluggish results even as they hoped for progress on a possible strategic combination.
Let's take a closer look at Monsanto's financial results and what shareholders are seeing on the M&A front.
Monsanto sees mixed results
Monsanto's fiscal third-quarter results showed the ongoing pressure the agricultural giant has faced lately. Revenue was down 8.5% to $4.19 billion, and that was far worse than the more modest 2% decline most investors following the stock had expected. Net income fell by more than a third to $717 million, although the company took a substantial hit from tax issues in Argentina. Even after adjusting for those impacts, though, adjusted earnings of $2.17 per share were still almost 10% less than the consensus forecast among investors and represented a substantial drop of nearly 14% from year-ago figures.
Taking a closer look at Monsanto's numbers, the main weakness came from the agricultural productivity segment. Sales for the division plunged by almost 30% compared to the year-earlier quarter, and pre-tax profit declined by more than 60%. The company said that sales weakness came largely from the discontinuation of its licensing deal with Scotts, which brought in $274 million in revenue in the previous year's period. In addition, lower Roundup pricing hurt the company's gross profit margin figures as well.
Elsewhere, the key seeds and genomics segment held up better. Overall segment revenue actually rose slightly, with strength in corn and Monsanto's other-crops category overcoming weaker results in soybeans and cotton. Pre-tax earnings were down just 2%, and the company said continued new corn hybrid product introductions in regions that rely on corn as a cash crop are keeping a key source of profit for Monsanto solid. The company's Climate FieldView platform also continues to build momentum, covering more than 13 million acres this year.
CEO Hugh Grant wasn't fazed by the results. "Our long-term optimism within agriculture and our business remains," Grant said, noting that "our industry is running at a low point in the overall agriculture cycle and we've experienced an unforeseen level of challenges affecting our business." Nevertheless, the CEO thinks Monsanto's strategic efforts will pay off and keep the company an industry leader.
Does Monsanto need the Bayer deal?
One source of distraction for Monsanto has been the proposal from German conglomerate Bayer to buy out the company. Grant said while he has no formal update on Bayer's proposal, the CEO has been "personally in discussions with Bayer's management over the last several weeks, along with others regarding alternative strategic options." Monsanto believes consolidation in the industry could help it innovate better and improve the industry as a whole.
However, those hopes didn't stop Monsanto from having to give downbeat news on the guidance front. The company said it expects full-year earnings to come in at the low end of its guidance range of between $4.40 and $5.10 per share, largely because of Argentina-related tax matters. About $0.85 per share in currency-related headwinds will hold Monsanto back as well.
Nevertheless, Monsanto remains optimistic in the long run. The seed maker sees earnings per share growing in fiscal 2017, and growth should accelerate thereafter because of the efforts Monsanto is making to streamline its operations and to produce more advantageous seed and trait portfolio products in the coming years. Between fiscal 2017 and 2021, the company expects mid-teen percentage growth in earnings per share annually.
Monsanto investors took the overall news in stride, pushing shares of the agricultural giant up 1.5% in morning trading following the announcement. If the company can make good on its growth promise, then Monsanto could make shareholders happier by not getting acquired rather than by getting a quick profit from an M&A premium offer.
The article Monsanto Stays Upbeat Despite Crop-Protection Weakness originally appeared on Fool.com.
Dan Caplinger has no position in any stocks mentioned. The Motley Fool has no position in any of the stocks mentioned. Try any of our Foolish newsletter services free for 30 days. We Fools may not all hold the same opinions, but we all believe that considering a diverse range of insights makes us better investors. The Motley Fool has a disclosure policy.
Copyright 1995 - 2016 The Motley Fool, LLC. All rights reserved. The Motley Fool has a disclosure policy.