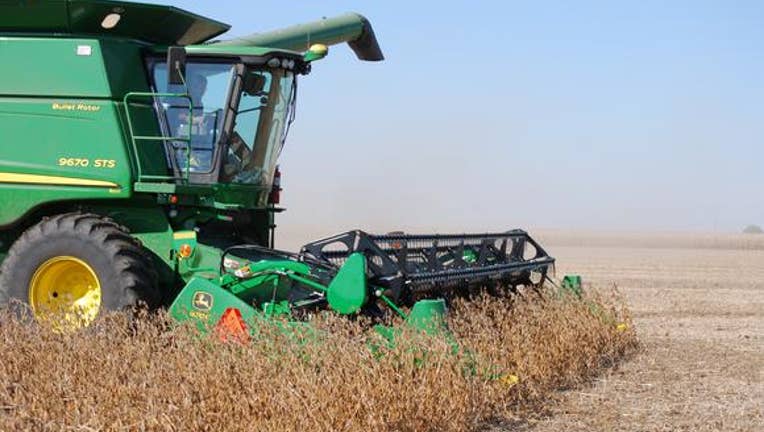 Harvesting soybeans will be less profitable in 2016 than in recent years. Ditto for corn. Image source: United Soybean Board / Flickr.
Last month I met Tag, a seasoned soybean farmer from the Midwest, who admitted that he was feeling the commodities squeeze that's pushing corn and soy prices to five-year lows. Worse yet, while he loved using Monsanto products, he was frustrated that the company hadn't lowered prices enough to help farmers through the current market.
Consider that perspective when digesting Wall Street's opinion over the past year that the sky is falling for the industry (Hint: It's not) and encouraging consolidation to insulate income statements from short-term pressures.
Investors are right to sit up in their chairs, however. The commodities trend is forcing farmers to cut back on fertilizers, next-generation seeds, and crop protection technologies, which, in turn, has pushed agricultural technology companies to lower prices -- not enough for some farmers, and too far for some investors. That resulted in double-digit declines in many important financial categories for Monsanto in the quarterly year-over-year comparisons. Let's put the recent quarter into context of significant short-term and, importantly, long-term factors.
By the numbersIt may be a little confusing that the company reports certain financial metrics in two ways: "ongoing" and "as-reported." The definition for the former gets a little messy, but it's essentially a way for Monsanto to (1) exclude operations that are no longer current and (2) calculate currency-neutral values by adjusting for varying currency exchange and tax rates in the various regions where it operates. Why? Currency headwinds have become increasingly fierce in the last several years. No matter: The following table considers only "as-reported" values, which are not adjusted.
Data source: Monsanto Q2 2016 press release.
As a brief refresher on Monsanto's segments, Seeds and Genomics includes biotechnology platforms, genetic traits, and the digital agriculture platform, while Agricultural Productivity includes crop-protection products and consumer lawn-care herbicides. The former accounts for the lion's share of the revenue and profits.
Just about every subcategory contributed to the quarterly year-over-year declines. Glyphosate sales were down, corn and soybeans were discounted in the United States, and soybean volumes were reduced thanks to lower acres this season. That was partially offset by reduced operating expenses, an uptick in Brazil corn pricing, and increased adoption of the company's Intacta RR2 PRO soybean platform.
Financial guidanceMonsanto maintained guidance for ongoing EPS in the range of $4.40 to $5.10 per share. Of course, investors will remember that the company lowered expectations in early March from a previously reported range of $5.10 to $5.60 per share last December. That would represent the lowest full-year EPS for the company since the 2012 or 2013 fiscal year, depending on where it falls within the range.
Image source: Monsanto 2Q16 presentation.
Knowing that, it may not be a surprise that shares are trading at the lowest level since the company's 2012 fiscal year ended August 2012. So, while I'm not usually a fan of share repurchase programs -- because companies and investors are terrible at timing the market -- Monsanto's current $3 billion effort is intriguing. There's no guarantee that shares won't head lower from here (already 30% of highs set in early 2015), but the company's restructuring efforts are expected to save over $500 million in operating expenses per year when completed. More important, there are several impressive product portfolios in the early stages of commercialization that support the long-term view.
Long-term outlookIt may be difficult to tell from the year-over-year financial comparison, but Monsanto did pile up quite a few wins in the second quarter -- they were just small in magnitude. The roll-out of Intacta RR2 PRO underscores one of Monsanto's biggest core strengths: its industry-leading R&D pipeline. The portfolio is expected to soar to 35 million acres this year, only it's third, from 15 million acres in 2015.
Throw in several other fast-growing platforms in the infant stages of commercialization, and the long-term outlook becomes quite a bit more impressive.
Data source: Compiled by author from Monsanto 2Q16 presentation.
This strong pipeline is key to Monsanto's announcement that it will abandon megamerger opportunities that have distracted management and investors in the past year. Instead, it sees its best opportunities in smaller acquisitions -- not surprisingly the source of several blockbuster-hopeful products and platforms in the preceding list. I think investors should be overjoyed with the decision to double down on the R&D pipeline.
What does it mean for investors?I can't provide insight into when the commodities squeeze will reverse course and bail out farmers and Monsanto alike. (Sorry, Tag.) However, there's a strong incentive for agricultural technology companies to double down on growth, exercise financial discipline, and provide great products and services to customers. The latter could result in further price reductions in the coming quarters, but Monsanto seems poised for continued long-term growth, regardless of harvest-to-harvest pricing concerns. Even a weak second quarter hinted at that trend; investors just have to know what to watch.
The article Monsanto Q2 Earnings Sour on Farmer Spending Cuts originally appeared on Fool.com.
Maxx Chatsko has no position in any stocks mentioned. Follow him on Twitter to keep up with developments in the engineered biology field.The Motley Fool has no position in any of the stocks mentioned. Try any of our Foolish newsletter services free for 30 days. We Fools may not all hold the same opinions, but we all believe that considering a diverse range of insights makes us better investors. The Motley Fool has a disclosure policy.
Copyright 1995 - 2016 The Motley Fool, LLC. All rights reserved. The Motley Fool has a disclosure policy.