Monsanto Picks Up Momentum as 2017 Begins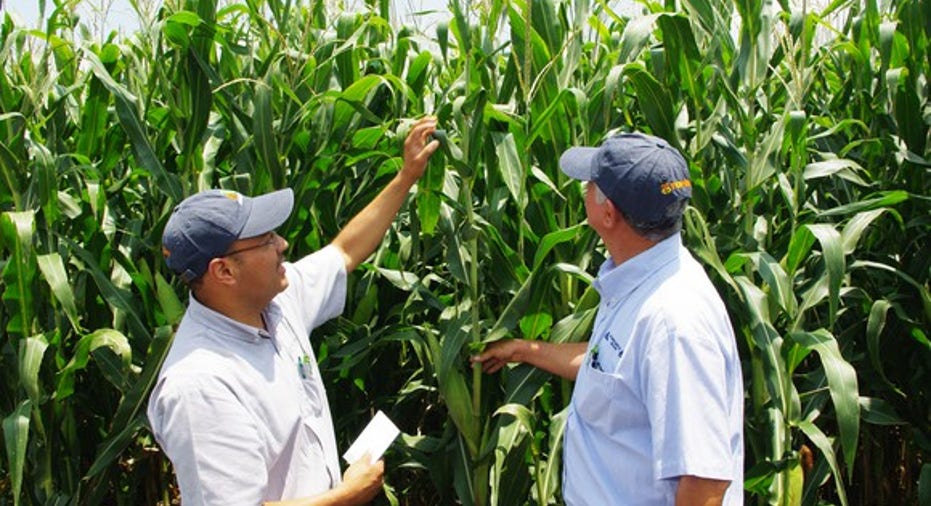 People have to eat, and Monsanto (NYSE: MON) has helped make it easier for the agricultural industry to feed the world. Yet much of the attention that the seed and agricultural productivity company has gotten lately has been tied to its planned merger with Germany's Bayer, and the fact that the stock is almost 20% below the stated $128 per share cash buyout price suggests uncertainty about whether the deal will go forward. Coming into Thursday's fiscal first-quarter report, Monsanto investors wanted the company to return to profitability for the quarter, and the seed giant did a good job of delivering on that front. Let's take a closer look at Monsanto's latest results and what they say about the company.
Image source: Monsanto.
Monsanto just keeps growing
Monsanto's fiscal first-quarter results once again reassured investors about the stronger conditions it's seeing. Sales were up 19% to $2.65 billion, and that was far better than the tepid 2% growth that most investors were expecting to see. Even more encouraging was the fact that Monsanto made money during the quarter, posting net income of $29 million that worked out to $0.07 per share, better than the $0.01 per share consensus forecast among those following the stock. After adjusting for restructuring, merger, and other extraordinary charges, adjusted earnings of $0.21 per share from Monsanto's ongoing business were even more favorable.
Taking a closer look at Monsanto's results, the usual dichotomy between the company's two key segments continued during the quarter. The seeds and genomics segment once again had a strong showing, as sales climbed by nearly a third from year-ago levels. Gains in cotton and soybeans were the largest on a percentage basis, but a more than $200 million boost in corn-related sales had the biggest contribution to the segment's gains. Pre-tax earnings of $199 million reversed a larger loss in the year-ago period. Monsanto pointed to strength in the South American market for much of its success, and it also pointed to rising acreage in Australia as being helpful in driving results higher.
The agricultural productivity division, on the other hand, continued to lag behind. Sales were down 2% to $802 million, and pre-tax earnings were down by more than three-quarters from year-ago levels. Pricing issues were problematic for Monsanto, and even though sales volumes were higher, the company expects pricing pressure to continue to weigh on the segment.
CEO Hugh Grant chose not to talk about how Monsanto did but rather about reception to the Bayer acquisition. "We've been very pleased with the strong support -- especially from shareowners and growers -- for the agreement to combine with Bayer," Grant said. The CEO also said that he expects the merger "to amplify the rate of innovation faster than either company could achieve alone," and that should be positive for the business.
Can Monsanto keep building up its business?
At the same time, Monsanto executives also noted the success the company has had in meeting customer needs. In the words of Chief Technology Officer Robb Fraley, "The last several years have brought record-breaking achievements for our pipeline, and this year is no different." Fraley expects that Monsanto will keep using a wide variety of scientific techniques to come up with the best answers to the problems its customers face.
As a result of the strong first quarter, Monsanto boosted one of its guidance metrics for the rest of the 2017 fiscal year. Monsanto now expects that its GAAP earnings will be between $3.97 and $4.45 per share, which is up between $0.10 and $0.14 per share from its previous guidance. However, the company left unchanged its adjusted earnings guidance, still predicting between $4.50 and $4.90 per share after taking one-time items into account.
Monsanto stock didn't move very much in light of the news, climbing just 0.5% in morning trading following the announcement. Regardless of how well the company does, Monsanto investors will be nervous until they have more certainty about whether the Bayer merger will actually happen. Given how well the company is doing, though, investors should feel much more comfortable about the future no matter what happens on the mergers and acquisitions front.
10 stocks we like better than Monsanto When investing geniuses David and Tom Gardner have a stock tip, it can pay to listen. After all, the newsletter they have run for over a decade, Motley Fool Stock Advisor, has tripled the market.*
David and Tom just revealed what they believe are the 10 best stocks for investors to buy right now... and Monsanto wasn't one of them! That's right -- they think these 10 stocks are even better buys.
Click here to learn about these picks!
*Stock Advisor returns as of January 4, 2017
Dan Caplinger has no position in any stocks mentioned. The Motley Fool has no position in any of the stocks mentioned. The Motley Fool has a disclosure policy.