Momentum Builds for Restoration Hardware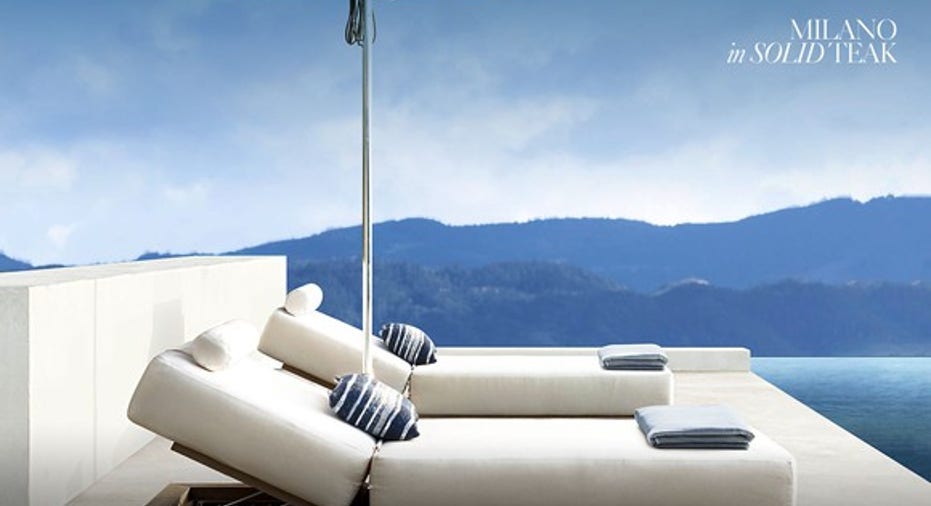 The holiday season is a key period for any retailer, and Restoration Hardware (NYSE: RH) in particular has had investors looking closely at how well the home-furnishings business would be able to perform to finish the 2016 calendar year. Turnaround efforts have been in the works for a while, and coming into Tuesday's fiscal fourth-quarter financial report, RH investors were appropriately realistic about how much the retailer would be able to produce an immediate rebound in its financial performance. Yet despite seeing some weakness, RH did a good job of getting on the comeback trail, leading to a nice bounce for the stock.
Let's take a closer look at Restoration Hardware to see how it did and what 2017 could bring for the retailer.
Image source: RH.
Restoration Hardware starts the recovery
Restoration Hardware's fourth-quarter results weren't exactly pretty, but they were good enough to satisfy most of those following the stock. Revenue fell 9% to $586.7 million, but that was slightly better than the consensus forecast for $585 million. Similarly, adjusted net income fell by nearly a third to $27.9 million, but the resulting adjusted earnings of $0.68 per share came in better than the $0.66 per share that most investors were expecting to see.
Looking more closely at RH's report, the holiday season was a tough one for the retailer. Comparable brand revenue was down a disturbingly high 18%, which continued a deteriorating pattern that investors have seen in recent quarters. Retail locations posted a 4% drop, but the direct revenue segment plunged 15%.
As we've seen in past quarters, costs were a big component of the year-over-year declines that RH posted. Gross margin fell by just over a percentage point to 33.5%, but operating margin slumped by more than half, hitting below the 5% mark. Rising overhead costs despite falling revenue was the most obvious contributor to the pressure on RH's bottom line.
Nevertheless, CEO Gary Friedman was pleased with the long-term progress that Restoration Hardware has made over the past year. "Exiting fiscal 2016," Friedman said, "we are now through the most uncertain stages of our transformation." He pointed to strategic investments and business changes that were designed to produce long-term growth opportunities and brand strength, and although those decisions in some cases led to short-term financial pressure, RH is optimistic that they will pay off.
What's ahead for Restoration Hardware?
Indeed, Restoration Hardware is optimistic about its future. In Friedman's words, "2017 will be a year of execution, architecture, and cash flow at RH." The company sees a disciplined approach leading to more conservative capital expenditures and a greater focus on execution of its new business model and creating a new back-end operating platform.
RH's guidance for the fiscal first quarter was particularly exciting. The company expects revenue to jump by 16% to 20% from year-ago levels, with about five percentage points of that growth coming from the recent acquisition of Waterworks and another five percentage points coming from inventory optimization moves. Yet even when you take out those factors, organic growth of 6% to 10% is a far cry from the declines that the retailer has seen lately. Adjusted earnings for the quarter will be between $0.02 and $0.06 per share. For the full fiscal year, RH sees revenue growth of 8% to 12% to $2.3 billion to $2.4 billion, producing adjusted earnings of $1.78 to $2.19 per share.
Investors were very pleased to see the extent of RH's recovery in its ambitious forward outlook, and the stock jumped about 15% in after-hours trading following the announcement. Restoration Hardware has a long way to go before it can declare victory in its turnaround efforts, but even the progress that RH has made so far is impressive when you consider the extent of the difficulties it had had in the past.
10 stocks we like better than RHWhen investing geniuses David and Tom Gardner have a stock tip, it can pay to listen. After all, the newsletter they have run for over a decade, Motley Fool Stock Advisor, has tripled the market.*
David and Tom just revealed what they believe are the 10 best stocks for investors to buy right now... and RH wasn't one of them! That's right -- they think these 10 stocks are even better buys.
Click here to learn about these picks!
*Stock Advisor returns as of February 6, 2017
Dan Caplinger has no position in any stocks mentioned. The Motley Fool recommends RH. The Motley Fool has a disclosure policy.