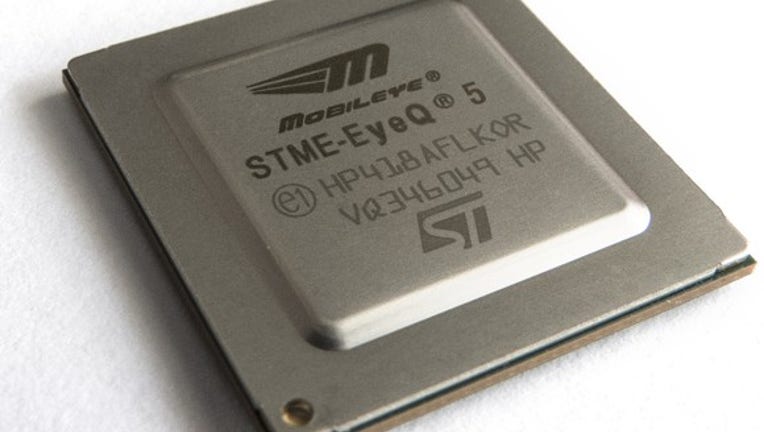 Mobileye N.V. (NYSE: MBLY), the Israeli-based developer of camera-based driver-assistance systems, reported better-than-expected fourth-quarter earnings on Feb. 22.Excluding special items, Mobileye earned $0.22 per share in the fourth quarter, up from $0.15 in the year-ago period. Revenue grew 46% to $104.6 million.
Both profit and earnings beat Wall Street's estimates. Analysts polled by Thomson Reuters expected Mobileye to report earnings of $0.20 per share on revenue of $96.4 million.
Shares rose over 2% in early trading after the news was released.
Mobileye earnings: The raw numbers
In millions except for EyeQ chips shipped and average selling price. Mobileye's expression of non-GAAP net income and cash flow excludes the costs of share-based compensation as well as the applicable income tax effects. Mobileye reports its shipment totals rounded to the nearest 1,000.Data source: Mobileye N.V.
Mobileye's co-founder and chief technology officer, Amnon Shashua, at a press conference last month. Image source: Mobileye N.V.
Understanding Mobileye's business
Mobileye develops and sells Advanced Driver-Assistance Systems, or "ADAS," which use its proprietary machine-vision capabilities. These include the lane-departure, collision-warning, automatic emergency braking, and active cruise control systems that are becoming more and more common on new cars. The core of these systems is Mobileye's EyeQ system-on-a-chip; third- and fourth-generation versions of EyeQ are shipping now; the fifth generation, due by 2020, will support full self-driving capabilities.
Mobileye's current products are key components in the self-driving systems now under development by many companies. The company has deals with BMW AG (NASDAQOTH: BAMXF) and giant auto supplier Delphi (NYSE: DLPH) to develop full-blown Level 4 self-driving systems over the next couple of years. The system developed with Delphi will be madeavailable to all automakers.
Level 4 self-driving systems require highly detailed 3D maps. Mobileye's Road Experience Management, or "REM," is a mapping engine that harvests data from sensors on Mobileye-equipped cars to build a 3D map that will be shared (and expanded) by Mobileye's self-driving customers in the future.
Mobileye does business with nearly all of the world's major automakers and has about 70% of the global ADAS market.
What happened at Mobileye during the fourth quarter
CEO Ziv Aviram summed up the quarter in a short statement:
New-vehicle development is a complicated, time-consuming process. It can take anywhere from two to three years (sometimes longer) for an automaker to go from first drawings to first cars off the production line. Contracts to suppliers like Mobileye are generally awarded a year or more before production starts. An automaker's development program might be for a single model, or it might be for several models that are closely related mechanically.
The program wins that Avriam mentioned are future business that has now been locked in. Mobileye won contracts to provide ADAS systems to 12 different vehicle programs at 11 different automakers during the quarter. That's a substantial amount of new business, but it may be a few quarters before those new deals contribute to the bottom line.
Mobileye also won contracts to provide components to five Level 3 and five Level 4 self-driving development programs. The levels are industry-standard descriptions recognized by government regulators in many countries, including the U.S.
A Level 3 system provides some autonomous-driving capabilities, but requires a human driver ready to take over under some circumstances. A Level 4 system is fully autonomous with no human backup required, but only works under certain conditions (for instance, when it has access to a 3D map of the area).
Mobileye's upcoming EyeQ5 system-on-a-chip will be able to support Level 4 self-driving systems. Image source: Mobileye N.V.
Mobileye also won agreements with Volkswagen AG (NASDAQOTH: VLKAY) and BMW to use the sensors on upcoming vehicles equipped with Mobileye's ADAS systems to harvest data for those 3D maps via the REM technology.
It's likely that Level 4 self-driving technology will be available to automakers from several different sources within a few years. Mobileye's REM-generated maps could turn out to be a significant competitive advantage when that happens.
Also of note: Mobileye's cash on hand rose. As ofDec. 31,Mobileyehad cash and cash equivalents, restricted bank deposits, and marketable securities of$633.4 million, up from$584.4 millionas ofSept. 30. CFOOfer Maharshak noted that Mobileye is gearing up to build a new research anddevelopment campus in Jerusalem, and will spendabout $12 million in the first quarter on that effort.
Mobileye's 2017 guidance
Maharshak said that Mobileye expects non-GAAP net income of between $241 million and $251 million in 2017, or $1.01 to $1.05 per share, on revenue of $490 million to $505 million. Both represent substantial increases over the company's 2016 results.
10 stocks we like better than MobileyeWhen investing geniuses David and Tom Gardner have a stock tip, it can pay to listen. After all, the newsletter they have run for over a decade, Motley Fool Stock Advisor, has tripled the market.*
David and Tom just revealed what they believe are the 10 best stocks for investors to buy right now... and Mobileye wasn't one of them! That's right -- they think these 10 stocks are even better buys.
Click here to learn about these picks!
*Stock Advisor returns as of February 6, 2017
John Rosevear has no position in any stocks mentioned. The Motley Fool recommends BMW and Intel. The Motley Fool has a disclosure policy.