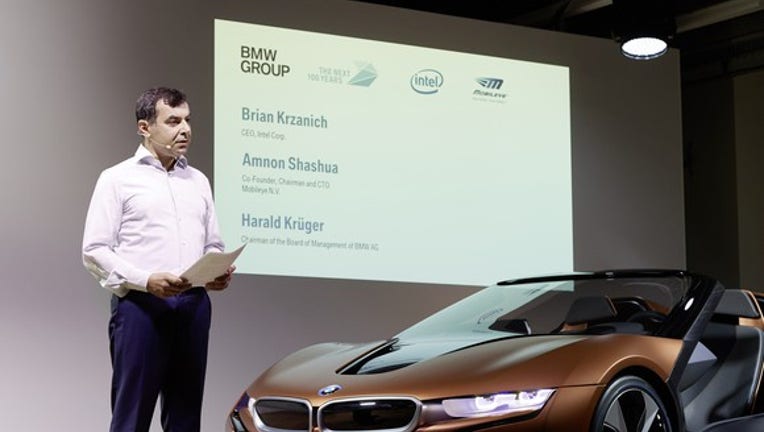 Mobileye N.V. (NYSE: MBLY), the Israeli maker of driver-assistance and self-driving systems, reported its third-quarter earnings on Nov. 15.
Results were better than expected: A 34% increase in revenue drove earnings per share up 27% to $0.19. That beat the consensus estimate of analysts surveyed by Zacks Investment Research by $0.01.
Mobileye's shares fell about 1% in trading in New York after the results were released.
The raw numbers
Data source: Mobileye N.V. Mobileye's expression of non-GAAP net income and cash flow excludes the costs of share-based compensation as well as the applicable income tax effects. Mobileye reports its shipment totals rounded to the nearest 1,000.
What happened at Mobileye in the third quarter?
Mobileye began the third quarter with a big announcement: Early in July, the company announced a new partnership with Intel (NASDAQ: INTC) and BMW (NASDAQOTH: BAMXF) to bring a fully self-driving vehicle platform to market by 2021.
Co-founder and CTO Amnon Shashua spoke at the eventannouncing Mobileye's partnership with BMW and Intel in July. Image source: BMW.
That was followed by a more dramatic announcement in August, when Mobileye and giant auto supplier Delphi Automotive (NYSE: DLPH) said they would work together to create a complete self-driving system that will be available to any automaker starting in 2019.
Both partnerships are aiming at so-called Level 4 systems, which offer full self-driving capability under limited circumstances. (Most Level 4 systems under development rely on highly detailed 3D maps; full autonomy is limited to the areas covered by the maps.)
Both were significant announcements that bode well for Mobileye's future prospects -- and suggest strongly that Level 4 self-driving technology will be a commodity within a few years.
But Mobileye's current business continued to show strength in the third quarter. During Mobileye's earnings call, CEO Ziv Aviram noted that the company won several new contracts from existing automaker customers for both advanced driver-assist systems (ADAS) and semi-autonomous Level 3 systems. (A Level 3 system requires an alert human driver as backup.) Aviram said that Mobileye also won a contract for a Level 4 system with a "nontraditional automaker" during the quarter.
As you can see in the numbers above, revenue, chips shipped, average selling price, and both GAAP and non-GAAP net income were all up from year-ago results, despite previous hints from the company that its rate of growth would slow in 2016 versus 2015 simply because of the timing of its customers' new-vehicle programs.
CFO Ofer Maharshak attributed the rise in average selling prices to the mix of products sold, which included a higher proportion of "pedestrian autonomous emergency braking" systems than a year ago.
What Mobileye executives said about the quarter
CEO and co-founder Ziv Aviram noted that Mobileye's customers are showing increased interest in more advanced self-driving technology:
Co-founder and chief technology officer Amnon Shashua offered a view into Mobileye's pipeline -- or put another way, into the pace of development and adoption of self-driving technologies, including Mobileye's new Road Experience Management (REM) crowd-sourced mapping system:
Looking ahead: Guidance for the remainder of 2016
Here's what Maharshak said about the company's financial outlook for the full year:
Forget the 2016 Election: 10 stocks we like better than Mobileye Donald Trump was just elected president, and volatility is up. But here's why you should ignore the election:
Investing geniuses Tom and David Gardner have spent a long time beating the market no matter who's in the White House. In fact, the newsletter they have run for over a decade, Motley Fool Stock Advisor, has tripled the market.*
David and Tom just revealed what they believe are the ten best stocks for investors to buy right now... and Mobileye wasn't one of them! That's right -- they think these 10 stocks are even better buys.
Click here to learn about these picks!
*Stock Advisor returns as of November 7, 2016
John Rosevear has no position in any stocks mentioned. The Motley Fool recommends BMW and Intel. Try any of our Foolish newsletter services free for 30 days. We Fools may not all hold the same opinions, but we all believe that considering a diverse range of insights makes us better investors. The Motley Fool has a disclosure policy.