Mobile Mini Remains Under Pressure From Oil and Gas Weakness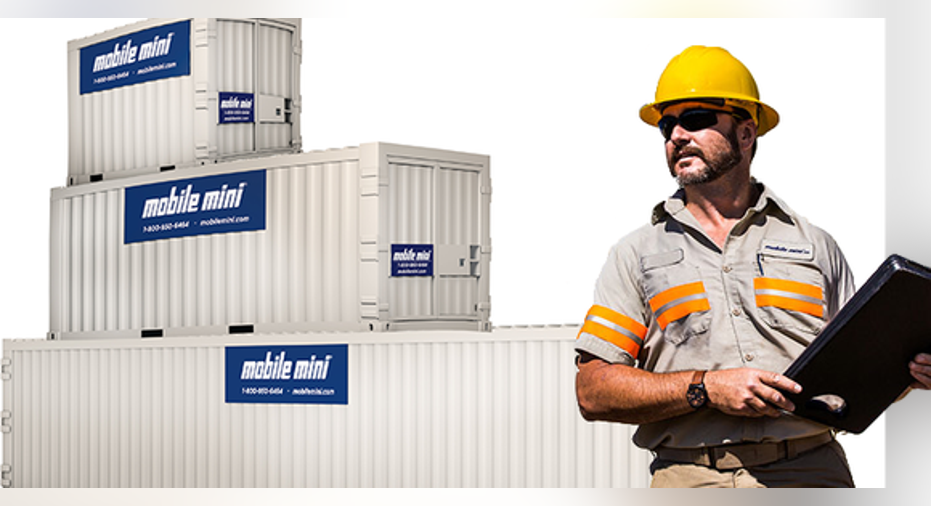 Image source: Mobile Mini.
Storage specialist Mobile Mini has aimed to tap into the storage needs that most companies have, offering specialized solutions that can help corporate customers in certain industries handle very specific applications. One industry that has many specialized needs is the oil and gas sector, and for a while, that was an area of substantial growth for Mobile Mini. More recently, though, the plunge in crude oil prices has led to a big pullback in demand from the energy sector, and coming into today's first-quarter financial report, Mobile Mini investors were bracing for declines in revenue and net income. Mobile Mini's results were consistent with those downbeat expectations, but they didn't create much optimism about the near future for the company. Let's look more closely at the latest from Mobile Mini and what might lie ahead for the portable-storage specialist.
Mobile Mini hits the ceilingMobile Mini's first-quarter results reflected the pressures that the company faces right now. Total revenue fell 6% to $124.5 million, which was weaker than the 4% drop that most investors were expecting to see. Adjusted net income inched downward by about 2% to $12.4 million, and a decline in share counts kept adjusted earnings flat at $0.28 per share, matching the consensus forecast among those following the stock.
Once again, some of Mobile Mini's numbers were a bit misleading because they included discontinued operations. Specifically, Mobile Mini sold off its wood mobile office business almost a year ago, and the numbers from the previous year's first quarter included about $11.3 million in sales associated with that business. When you exclude those figures, portable storage rental revenue rose 6% year over year. Currency fluctuations cost Mobile Mini more than a full percentage point of sales growth in the portable-storage rental arena.
Fundamentally, Mobile Mini looked reasonably solid. Rental rates for portable storage units were up 2.3% from the previous year's first quarter, and the number of units on rent in North America grew almost 4%. Utilization rates rose by nearly 2 percentage points to 68.3%. The company's adjusted pre-tax operating margins grew almost a full percentage point to 37.1%.
Still, Mobile Mini's specialty containment unit contributed toward weaker results for Mobile Mini. Revenue was down 3% to $25.2 million, and a decline in profit margins cut operating income for the segment in half from year-ago levels. Even on an adjusted basis, EBITDA fell 7% for the segment.
CEO Erik Olsson tried to keep Mobile Mini's results in context. In his eyes, the gains the company saw in portable storage "demonstrates that the growth we are achieving in our more profitable container and ground-level office business is replacing the wood mobile business we strategically divested in May 2015." The CEO also noted that despite "ongoing challenges in the upstream oil and gas industry," Mobile Mini is poised to produce solid gains for specialty containment in the future.
What's ahead for Mobile Mini?Olsson also had positive things to say about the future. "We are well-positioned to expand our downstream specialty containment footprint," the CEO said, "and demand remains strong in both our downstream and diversified customer bases." Mobile Mini also sees substantial prospects in the construction industry, which accounts for more than 40% of its combined business.
Another interesting aspect of Mobile Mini's results came from outside the U.S., as the storage company called out results in its U.K. operations. Mobile Mini boosted its adjusted EBITDA in the U.K. by almost a fifth in local-currency terms, and margins were almost as strong as they were companywide. Space constraints are a much bigger problem in the U.K. than in the U.S., and Mobile Mini cited reports that the U.K. will be short about 25 million square feet of warehouse space by 2020. By recommending that customers utilize storage containers as a more efficient way of keeping certain items than traditional warehouses, Mobile Mini hopes to tap a growing need overseas that could be equally valuable elsewhere around the world.
Mobile Mini shareholders weren't entirely satisfied with the company's report, sending the stock down 3% in the first hour of trading following the announcement. Still, as long as businesses need to store things -- and they will -- Mobile Mini has carved out an impressive niche that could produce long-term growth for years to come.
The article Mobile Mini Remains Under Pressure From Oil and Gas Weakness originally appeared on Fool.com.
Dan Caplinger has no position in any stocks mentioned. The Motley Fool recommends Mobile Mini. Try any of our Foolish newsletter services free for 30 days. We Fools may not all hold the same opinions, but we all believe that considering a diverse range of insights makes us better investors. The Motley Fool has a disclosure policy.
Copyright 1995 - 2016 The Motley Fool, LLC. All rights reserved. The Motley Fool has a disclosure policy.