MLB looks to Harper, Trout, Judge to connect with fans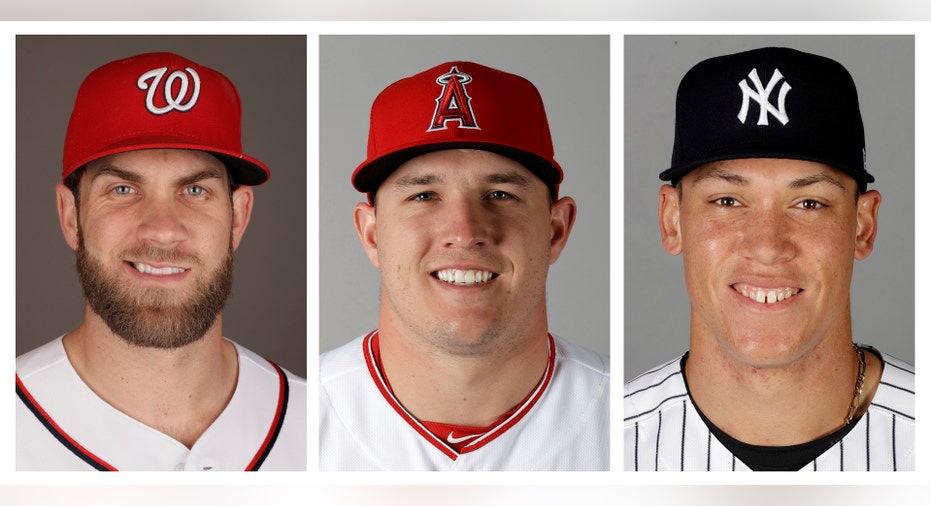 Bryce Harper, Mike Trout and Aaron Judge have become the face of baseball as a gleaming, modernist ballpark and a city known for its Latino culture host the All-Star Game for the first time. After decades of falling behind, the sport finally has stepped up its national promotion.
There's huge room for improvement: Not one player from baseball is among the 100 most famous athletes in the world.
LeBron James, Tom Brady and Tiger Woods dominate water-cooler talk far more than Max Scherzer and Chris Sale, the starting pitchers in Tuesday night's game at Marlins Park.
"I feel he's won 15 rings," Harper said of Brady on Monday. "If you win, you're going to get noticed."
Major League Baseball hopes to break into a wider public consciousness with this new generation — for the first time since at least 1961 there are no All-Stars with at least double-digit selections.
After Rob Manfred succeeded Bud Selig as commissioner two years ago, MLB required sponsors to market top talent. But the tradition-bound sport is still trying to rebound from a quarter-century of labor wars that ended in the late 1990s.
"There is little doubt that top baseball players are less recognized than the top athletes in many other sports," said Marc Ganis, president of the marketing company Sportscorp. "Basketball players and the NBA set many trends and are relevant in pop culture. NFL dominates in the U.S. and the second-most popular sport is also football — college football.
"Baseball has the potential to be the cultural star in places like Latin America and Japan, where so many great players come from these days. But in the U.S. and in the Eurocentric, English-primary world, basketball, NFL, soccer, tennis and at certain times golf stars connect more with fans, especially younger fans, and sponsors who covet those fans," he said.
Judge beat hometown slugger Giancarlo Stanton and the rest of the field to win Monday night's Home Run Derby at 5-year-old Marlins Park, a sleek retractable-roof ballpark with splashes of Joan Miro colors, a Red Grooms home run sculpture and a Clevelander night club with a swimming pool just beyond the left-field wall. MLB hopes to continue momentum from the Chicago Cubs' first title since 1908, which drew the highest television rating for the World Series in a dozen years.
"We know that fans connect locally every day with the teams that they root for and love, and our job is to try to highlight the performances to make it a national story as much as possible when we have that," said Tony Petitti, MLB's chief operating officer. "We were really fortunate last fall. We had an incredible national story in the Cubs."
MLB's "This Time It Counts" promotion has been scrapped after 15 years. The World Series will start at the home of the pennant winner with the best record, not the league that prevails in the All-Star Game.
The league and many of its national sponsors are featuring players in marketing campaigns. Still, baseball players say athletes in other sports are seen far more often in commercials.
"Football is football. You can't even really compare yourself. It's just everybody loves football America. That's just the way it is," said Los Angeles Dodgers pitcher Clayton Kershaw, who praised MLB for doing the best it can.
Judge, the 6-foot-7 larger-than-life New York Yankees rookie who leads the big leagues with 30 home runs, was celebrated by MLB with a Judge-Con promotion in on Monday in which the sport enlisted actors and comics to dress as judges and make appearances throughout New York City.
David Matranga of PSI Sports Management, which represents Judge, says the 25-year-old outfielder has kept his mind on pitchers, not corporate pitches.
"We've had quite a few offers from various markets and brands. It just keeps coming every day," Matranga said. "He's got a lot of people pulling at him but right now Aaron just wants to keep his focus on the Yankees."
Partly because of the busy schedule — 162 games in 183 days — baseball players don't have much time for marketing during the season. And when it comes to viewers, clicks and retweets, MLB often lags in recent decades, when the NFL and NBA have connected far better with younger audiences.
ESPN's 2017 ranking of the 100 most famous athletes, based on endorsements, social media following and internet search popularity, has Cristiano Ronaldo first, followed by James, Barcelona's Lionel Messi, tennis star Roger Federer and golfer Phil Mickelson. Brady is the top NFL player at 21 after leading New England to five Super Bowl titles.
"It seems like baseball players tend to have a little bit more regional coverage," Giants catcher Buster Posey said.
Equipment companies have a larger audience to sell basketball sneakers, tennis equipment and golf gear than baseball spikes. Trout became the first baseball player since Ken Griffey Jr. to have his own signature cleat. In the same period, Nike has had 21 signature NBA players, and Bryant is Under Armour's sole signature MLBer.
Scott Boras, whose clients include Harper and Bryant, maintains MLB would rather strike deals with sponsors, causing players to receive less money than they would had they made in their own deals. The NFL has a joint licensing agreement with a business company of the players' association. The NBA and its players' union had a joint licensing deal that expired at the end of June.
"Baseball is the polar opposite of the other leagues," Boras said. "Instead of promoting players and advancing players' rights and values in the sponsorship market, MLB wants to work to take away the incentive of the player to participate in these rather time-consuming events. They want to keep the revenue."
Not true, countered Bob Bowman, MLB's president of business and media.
"We have set aside a significant percentage, 15, 20 percent of contracts, to activate around players," he said, "We require players to be utilized in every national deal we do now, since Rob Manfred became commissioner."
Another issue is who gets touted. Washington manager Dusty Baker said discussion of baseball's best must widen.
"Just to have diversity you've got to add a Latin player," said Baker, who is black.
Jeff Berry, co-head of CAA Baseball, said the best marketing strategy would be for MLB and the union to work with businesses to fund an increase in scholarship limits for NCAA Division I baseball (currently 11.7 per team) and softball (12). That would create a bigger audience from youth.
"The doomsday atmosphere has been around since I was a kid," the 46-year-old Berry said. "Baseball doesn't need to be cooler. It doesn't need to be hipper. It doesn't have to be more fast-paced."
___
More AP baseball: https://apnews.com/tag/MLBbaseball