Mississippi shipyard to fix destroyer hit in June collision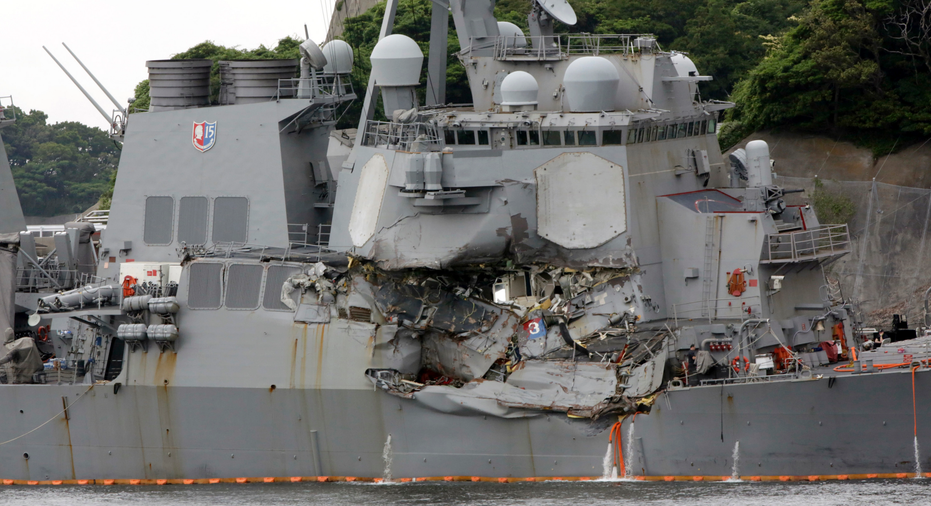 A U.S. Navy destroyer damaged in a June collision that killed seven sailors will be repaired at a Mississippi shipyard, the Navy announced Wednesday.
The USS Fitzgerald will be transported to Pascagoula for work at Ingalls Shipbuilding, part of Huntington Ingalls Industries of Newport News, Virginia.
Naval Sea Systems Command said it doesn't know when work will start, how long it will take, or how much it will cost. The command says it chose Ingalls because it determined that only a shipyard that builds destroyers could fix the damage from a June 17 crash with a Philippine-flagged container ship, which caved in parts of the Fitzgerald above and below the waterline. Water gushed into berthing compartments, killing the sailors.
Only Ingalls and the Bath Iron Works unit of General Dynamics Corp. in Maine build American destroyers. The Fitzgerald, built in 1995 at Bath, is an early version of the Arleigh Burke-class destroyer. The Navy said it chose to send it to Ingalls for repairs because that yard, which employs 11,000 workers, "has the available capacity to restore USS Fitzgerald to full operational status in the shortest period of time with minimal disruption to ongoing repair and new construction work."
A second destroyer, the USS John S. McCain, and an oil tanker collided off Singapore, injuring five sailors and leaving 10 others missing. The Navy is still seeking missing sailors and assessing damage to that ship.
Repairs are likely to cost hundreds of millions of dollars and could take more than a year. The Navy spent $250 million on 16 months of repairs for another destroyer, the USS Cole, after it was damaged in a bombing in Yemen in 2000. Repairs at Ingalls to the USS Stark, a frigate hit by Iraqi missiles in 1987, cost $90 million over 10 months.
The Navy said that it will use the opportunity to modernize the Fitzgerald, which had been scheduled for an overhaul in the 2019 budget year. A Navy spokeswoman couldn't immediately say how much those overhauls typically cost on an undamaged ship.
The Navy said it is considering proposals to hire a heavy-lift ship to carry the Fitzgerald to Pascagoula from Yokosuka, Japan, where it's currently dry-docked. In a contract solicitation issued earlier this month, the Navy said loading could begin as early as Sept. 15.
___
This story has been corrected to show the spelling of the shipyard's parent company is Huntington Ingalls Industries, not Huntingdon Ingalls.
___
Follow Jeff Amy at: http://twitter.com/jeffamy . Read his work at https://www.apnews.com/search/Jeff_Amy .