Minneapolis council approves $15 an hour minimum wage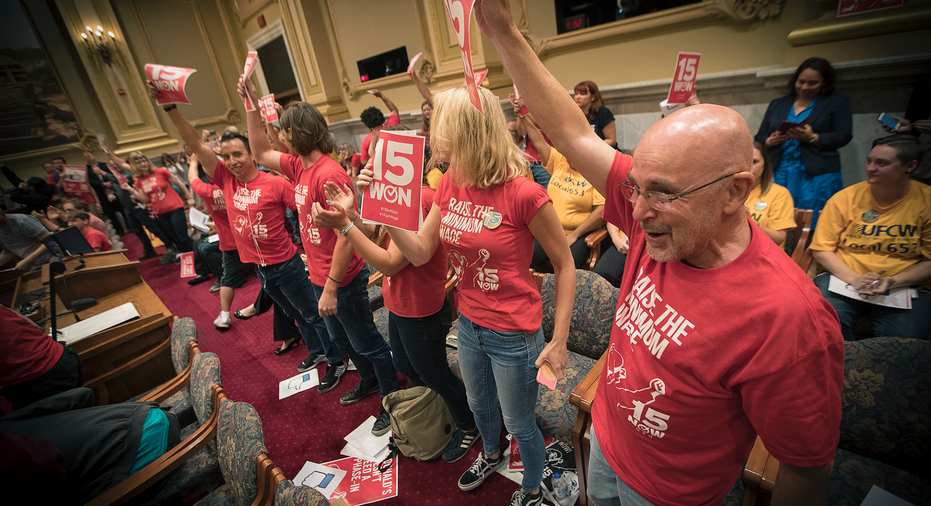 The Minneapolis City Council voted overwhelmingly on Friday to raise the city's minimum wage to $15 an hour over the next few years, joining other large U.S. cities that have increased basic wages.
The ordinance passed 11-1. For large businesses with 100 or more employees, the higher wage will be phased in over five years, starting with an increase to $10 an hour from the current state minimum of $9.50 on Jan. 1, 2018. The higher wage will be phased in for smaller businesses over seven years. The $15 minimum wage will be fully implemented citywide by July 2024.
"Today, we uplift all workers," council member Abdi Warsame said in a letter that was read aloud. Warsame was absent from Friday's meeting on a pilgrimage to Mecca but added his "yes" vote from afar. "Today's vote, while historic, is just another step in our unending journey to build a better city."
Council member Blong Yang cast the lone dissenting vote. Yang said he was worried the ordinance might hurt his constituents in north Minneapolis, including small-business owners and entrepreneurs who are minorities and young workers.
"Entrepreneurs of color also hire more people of color," Yang said. "At $15 an hour, with the minimum wage, is an increased barrier to entrepreneurs and small-business owners I represent."
Supporters of the wage increase packed the council chambers and cheered after the vote.
Supporters argue the higher wage will especially benefit low-income workers and minorities. According to a city news release, more than 84,000 people in Minneapolis have incomes below the federal poverty level. Increasing the minimum wage to $15 would benefit 23 percent of workers in Minneapolis, about 71,000 people.
"It marks a new day and a new opportunity, and I celebrate it," Minneapolis Mayor Betsy Hodges said in a statement. Hodges signed the ordinance shortly after its passage, her spokesman, Eric Fought, said.
Critics contend the ordinance may chase budget-conscious customers out of the city and force small businesses in Minneapolis to cut staff or reduce hours to make up for the higher wages.
Council member Jacob Frey, a candidate for mayor this fall, amended the ordinance to clarify that certain franchisers such as fast-food restaurants will qualify as big businesses, even though a particular store may have fewer than 100 workers.
Members of the advocacy group 15 Now Minnesota called passage of the ordinance "historic," but some advocates are disappointed it will take seven years for people working for small businesses to get to $15.
The ordinance does not include an exception for tipped workers. Some wanted tips to be counted toward the $15 minimum wage, so restaurant owners could increase pay for kitchen staff without making drastic staffing changes.
Minneapolis joins Seattle, San Francisco and Washington, D.C., among other cities that have approved similar measures in recent years. Council members said Friday they expect the ordinance will be challenged.
___
This story corrects a council member's last name to Yang instead of Yong.