Midyear Review: Kinder Morgan Inc.'s New Direction Is Coming Into Focus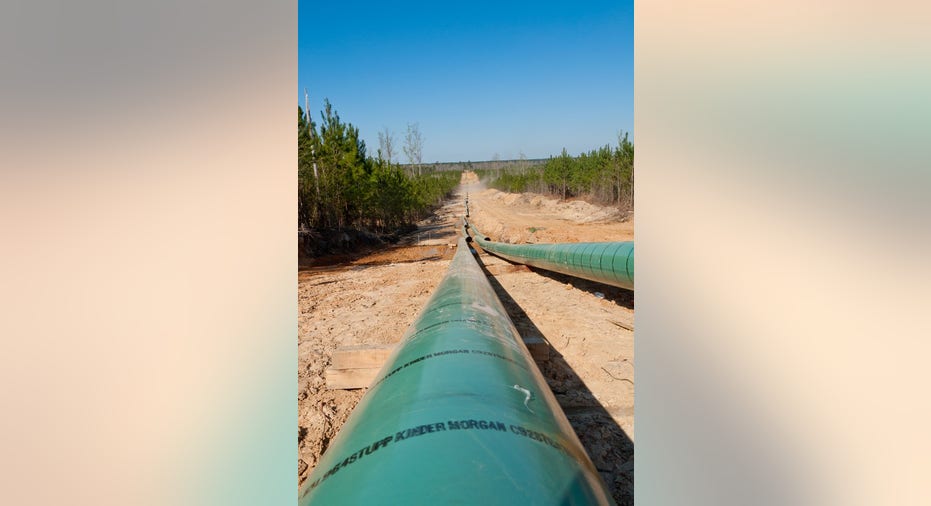 Image source: Kinder Morgan Inc.
Last year was oneKinder Morgan investors would like to forget. Sinking oil prices and rising credit concerns left the company with no choice but to slash its dividend. This decision weighed heavily on the stock, which slumped 65% for the year. This year, however, has been a different story, with the company slowly pivoting to a new focus on growing value as opposed to just expanding. That shift, along with a recovering oil market, is fueling a rebound in the company's stock price:
Here's a look back at some of the catalysts that fueled the company's rebound.
The high grading begins
Tumultuous energy markets have caused Kinder Morgan to rethink its expansion plans. As a result, the company started to go through its projects with a fine-toothed comb, choosing to move forward on only its best projects. By mid-January, the company announced it had pulled $900 million of projects out of its budget for the year, pushing capital expenditures down to $3.3 billion, which was more than covered by a projected $3.6 billion in excess cash flow after paying the dividend.
This project high-grading continued in April, when the company pulled the plug on two large projects because of weak economics and a cloudy regulatory picture. With this latest high grading, the company reduced its 2016 capex budget from an initial plan of $4.2 billion all the way down to $2.9 billion, which freed up capital for it to use elsewhere. Meanwhile, its total project backlog fell from $18.2 billion to $14.1 billion.
Image source: Kinder Morgan Inc.
In commenting on why the company is pulling projects out of its backlog, CEO Steve Kean said, "we've elevated our return criteria." In other words, the company only wants to invest capital into its highest-value opportunities going forward, which is leading it to delay or cancel certain projects that just won't create enough value.
Creative funding
The other reason Kinder Morgan is high-grading its portfolio is because of its reduced access to the capital markets. This tougher access initially led the company to fund its growth capex with internally generated cash flow. However, it's also seeking out alternative sourcesof financing to free up its cash flow for other uses. During the quarter, the company detailed a couple of transactions that expand its funding options going forward.
In late January, Kinder Morgan closed a three-year, unsecured $1 billion term loan and a $1 billion expansion of its unsecured credit facility. With the credit markets no longer offering favorable terms, Kinder Morgan took its business to its bank group, which was more than willing to lend it money. The company plans to use the bank loan to refinance maturing debt instead of tapping the capital market to roll that debt forward, which was its usual course of action.
Kinder Morgan was one of several energy infrastructure companies to bypass the credit market this year. ONEOK Partners , for example, took the very same path by entering into a three-year, unsecured $1 billion term loan agreement. ONEOK, likewise, planned to use that loan to refinance its 2016 long-term debt maturities, which would also remove any need to access the capital markets this year. Further, with ample liquidity on its credit facility, ONEOK Partners does not anticipate needing to tap the debt or equity markets for capex well into 2017.
The other funding source Kinder Morgan started using in 2016 was private equity capital. This move was in response to the company's decision to selectively joint venture some of its projects to reduce its capital requirements. The company recently announced one such deal:agreeing to sell a 50% equity interest in its Utopia Pipeline Project to Riverstone Investment Group. In doing so, the company not only recouped half of that project's costs to date, but it was paid a premium for the value it has created thus far, while Riverstone will fund half of the project's costs going forward. This transaction is likely the first of many with private equity given the vast amount of capital it has to employ.
Investor takeaway
Kinder Morgan had a busy first half of the year. The company is making substantial progress on its plan to both high grade its backlog as well as expand its funding sources. With its capital needs becoming much less concerning, Kinder Morgan's stock price could continue to make up lost ground in the second half.
The article Midyear Review: Kinder Morgan Inc.'s New Direction Is Coming Into Focus originally appeared on Fool.com.
Matt DiLallo owns shares of Kinder Morgan and has the following options: short January 2018 $30 puts on Kinder Morgan and long January 2018 $30 calls on Kinder Morgan. The Motley Fool owns shares of and recommends Kinder Morgan. The Motley Fool recommends ONEOK Partners. Try any of our Foolish newsletter services free for 30 days. We Fools may not all hold the same opinions, but we all believe that considering a diverse range of insights makes us better investors. The Motley Fool has a disclosure policy.
Copyright 1995 - 2016 The Motley Fool, LLC. All rights reserved. The Motley Fool has a disclosure policy.