Midyear Review: Apache Corp. Rises on Oil Prices and M&A Rumors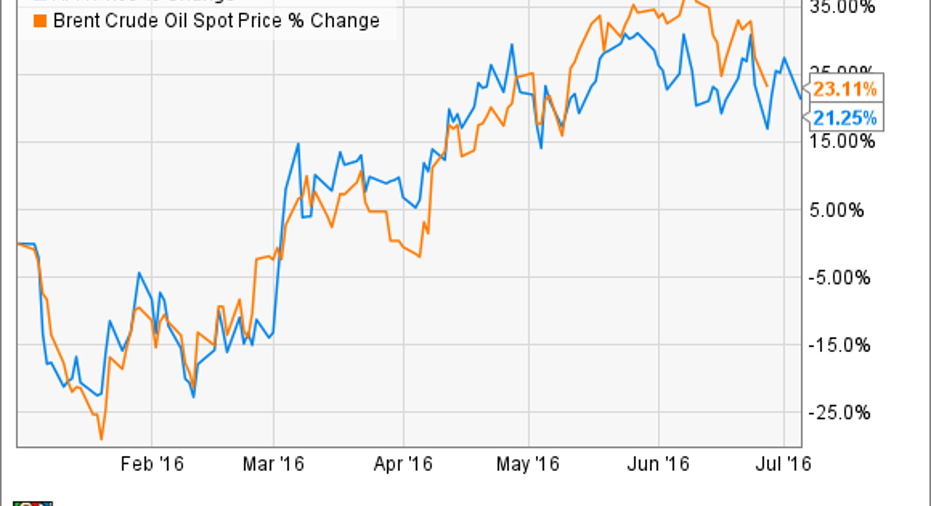 Image source: Apache Corporation.
This year got off to a brutal start for the oil sector after crude prices slumped into the $20s in January and February. That decline forcedApache to take several actions to reconfigure itself for a lower oil price environment. And now that oil is moving higher, those adjustments are paying off.
Rebounding crude prices, however, were not the only catalysts fueling Apache's first-half rebound. The company also benefited from another M&A rumor. Given their impacts on its stock price so far, both situations represent important variables to keep an eye on.
Focused on flexibility
While oil was still in the midst of that deep slump, Apache decided to cut its capex budget from the $4.7 billion it spent in 2015 all the way down to a range of $1.4 billion to $1.8 billion for 2016. Though that decision was expected to cause the company's production to decline by between 7% and 11%, it would also enable Apache to remain cash flow neutral at $35 oil.Further, it would allow the company to maintain its dividend without increasing its debt level.
That decision to hold debt steady andmaintain its balance sheet strength was significant for severalreasons. First, it was enough to convince one of Apache's credit rating agencies that the company still warranted an investment-grade credit rating. Meanwhile, it won it praise from analysts at Wells Fargo, which upgraded the stock from market perform to outperform. Wells believes that Apache's strong balance sheet could help it outperform if commodity prices remain weak. And it not only gave Apache the flexibility to withstand another year of low oil prices, it put it in position to resume growth when conditions improved.
That improvement is just what happened; crude prices have rallied sharply since mid-February, settling down since mid-May in the neighborhood of $50 a barrel. Those higher prices should enable Apache to generate excess cash flow this year, some which could even be used to boost the company's capex budget, fueling higher production.
Apache is also benefiting from improving operations, as evidenced by its better-than-anticipated well performance during the first quarter. As a result, the company increased its full-year production guidance; if those numbers hold, its production decline will not be as steep as initially projected.
The rumor mill gets going again
As mentioned earlier, the other big catalyst for Apache's rally in 2016 was another report that the company was an M&A target. Last fall, the company received an unsolicited takeover bid from Anadarko Petroleum (NYSE: APC), which was quickly rebuffed. Anadarko may have dropped its pursuit, but not more than six months later, another report surfaced that Apache was the subject of a takeover bid, this time by Occidental Petroleum .
According to the report, Apache had called a town hall meeting of its staff to discuss the offer. It turned out that meeting had been called to discuss layoffs, not takeover bids. However, the market is nonetheless pricing an M&A premium into Apache's stock because it believes the company remains a compelling takeover candidate for a larger oil company due to its strong balance sheet and solid North American shale position.
Investor takeaway
Apache spent the better part of this year positioning itself to operate profitably with oil at $35 a barrel. With oil now well above that price, it's poised to cash in. That said, the company could also choose to quickly cash in its chips if a suitor steps forward and makes it an offer it can't refuse.
The article Midyear Review: Apache Corp. Rises on Oil Prices and M&A Rumors originally appeared on Fool.com.
Matt DiLallo owns shares of Wells Fargo and has the following options: long January 2018 $45 calls on Wells Fargo. The Motley Fool owns shares of and recommends Wells Fargo. Try any of our Foolish newsletter services free for 30 days. We Fools may not all hold the same opinions, but we all believe that considering a diverse range of insights makes us better investors. The Motley Fool has a disclosure policy.
Copyright 1995 - 2016 The Motley Fool, LLC. All rights reserved. The Motley Fool has a disclosure policy.