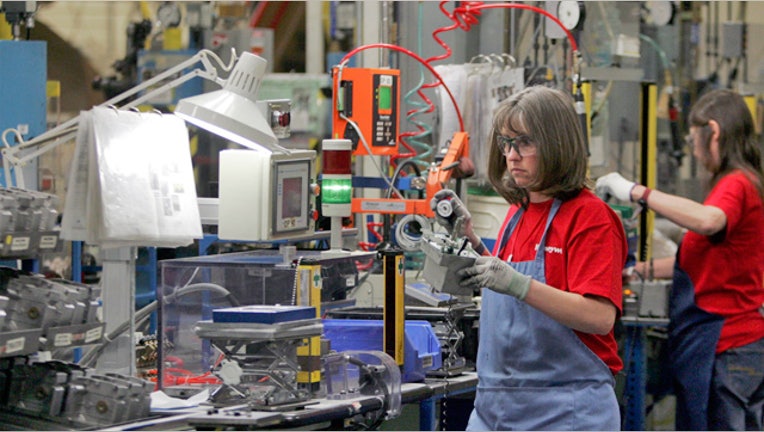 Manufacturing activity across the mid-Atlantic picked up sharply in September, as new orders indicated expansion and hiring forecasts remained promising.
The Federal Reserve Bank of Philadelphia said its index of general business activity covering the regional factory sector rose to 12.8 from 2.0 in August -- for the second consecutive positive reading for the first time since August of last year. In July, the gauge stood at -2.9. The flat line separates expansion from contraction.
The reading surged above expectations; economists surveyed by The Wall Street Journal expected a reading of 0.0.
The Philadelphia Fed's report is one in a monthly string of factory surveys conducted by regional Fed banks, meant to provide snapshots of the manufacturing sector's health ahead of the Institute for Supply Management's national reading.
Across the Philadelphia region, demand picked up markedly this month and sent a gauge of new orders up to 1.4 from -7.2 in August.
Meanwhile, firms continued to cut payrolls. The survey's employment index remained negative for a ninth consecutive month, though improved to -5.3 from -20.0 in August, the worst print this year. The Fed bank said more factories reporting a decrease in employees in September -- 17% -- exceeded those reporting an increase -- 12%.
But the survey suggests producers predict currently soft conditions won't linger. An index of future business prospects fell to 37.5 in September from 45.8 in August, but remains slightly above its average reading over the past 12 months, and nearly 50% of the firms expect increases in activity over the next six months. More than half of firms expect increases in new order and nearly 34% said they anticipate to expand employment over the next six months while 9% expect to reduce it.
Write to Anne Steele at Anne.Steele@wsj.com