MicroStrategy Incorporated Earnings Fall on Lower Sales, Forex Losses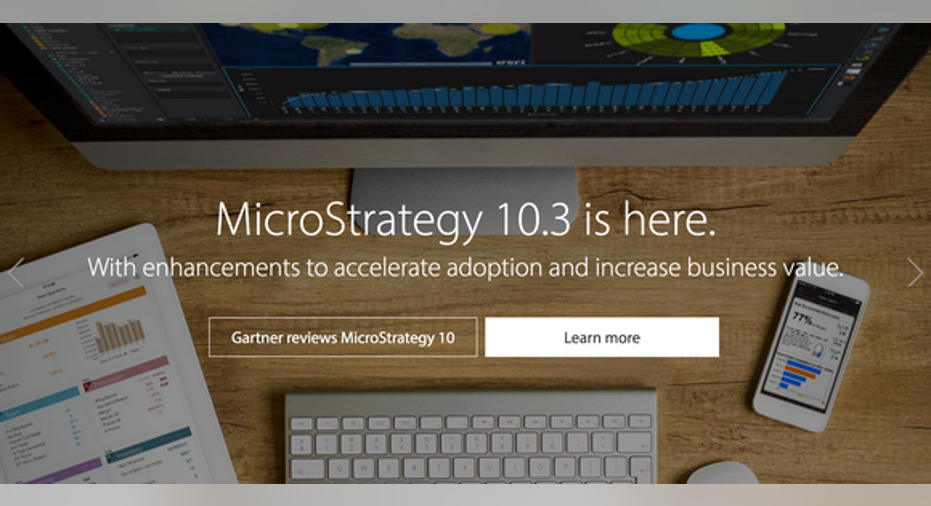 Image source: MicroStrategy.
MicroStrategy Incorporated reported first-quarter results on April 27. The provider of enterprise analytics, mobility, and security platforms saw its sales and profits fall as it proceeds with its turnaround strategy.
The raw numbers
| | Q1 2016 | Q1 2015 | Growth (YOY) |
| --- | --- | --- | --- |
| Revenue | $119.015 million | $123.871 million | (4%) |
| Net income | $14.272 million | $20.460 million | (30%) |
| Earnings per share | $1.24 | $1.79 | (31%) |
Data source: MicroStrategy Q1 2016 earnings press release.
What happened with MicroStrategy this quarter?Revenue fell 4% year over year to $119 million as foreign exchange fluctuations dampened results. Product licenses and subscription services revenue rose 9% to $29.8 million, while product support revenue declined 1% to $68.5 million. And other services revenue decreased 24% to$20.8 million, as MicroStrategy continues to transition out of its lower-margin consulting business.
"It's our intent to grow the product license and subscription business and of course to over time grow the product support business," said Chairman and CEO Michael Saylor during MicroStrategy's earnings conference call. "And we're taking an opportunistic view toward the other services areas and we'll grow them to the extent we think it's prudent [and] we can manage it well, but if not we'll allow that to go to partners."
Somewhat offsetting the sales decline was a 16% drop in cost of revenue to $22.8 million, which helped gross margin improve to 80.8% from 78.1% in the first quarter of 2015.
Operating expenses, however, increased 3% to $76.4 million, mostly due to higher research and development costs. That led operating margin to decline to 16.6% versus 18.3% in the year-ago quarter, as income from operations fell 13% to $19.8 million.
All told, net income -- which was further dented by losses on foreign currency hedges -- fell 30% to $14.3, million or $1.24 per share.
Still, MicroStrategy generated more than $50 million in operating cash flow, helping the company's cash and investments to grow to $536.3 million -- or more than 20% of its current $2.4 billion market cap -- at the end of the first quarter.
Looking forwardSaylor said that the company is making progress with its three-year turnaround plan:
The recent release of MicroStrategy 10.3 should help Saylor deliver on those growth promises. Saylor said that 10.3 is the company's first "truly unified platform" offering enterprise-level analytics, mobility, and security solutions. "We're seeing more enthusiasm for this than anything we've seen in the past," added Saylor.
The article MicroStrategy Incorporated Earnings Fall on Lower Sales, Forex Losses originally appeared on Fool.com.
Joe Tenebruso has no position in any stocks mentioned. The Motley Fool recommends MicroStrategy. Try any of our Foolish newsletter services free for 30 days. We Fools may not all hold the same opinions, but we all believe that considering a diverse range of insights makes us better investors. The Motley Fool has a disclosure policy.
Copyright 1995 - 2016 The Motley Fool, LLC. All rights reserved. The Motley Fool has a disclosure policy.