Microsoft Is Making Those Annoying Windows Updates a Thing of the Past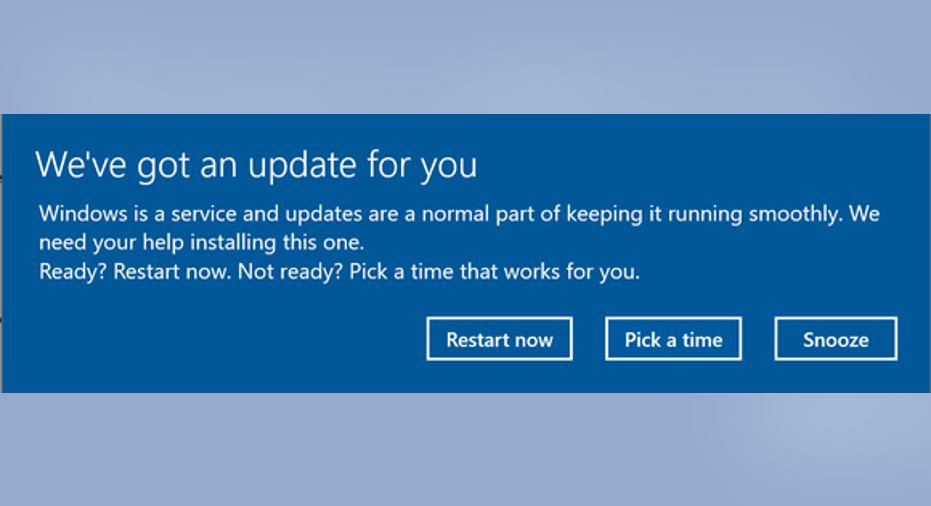 For decades, owning a PC meant putting up with inconvenient Windows updates that always seemed to take over your computer when you needed it most. The updates were necessary as they delivered security patches along with feature updates, but they were time-consuming and users had no control over when they happened. The update process was one that Microsoft (NASDAQ: MSFT) created in the days it dominated the computer market, before it had to worry about competing with Android tablets, Chromebooks, iPads, and iPhones.
Now, users have more choices for computing and Microsoft CEO Satya Nadella has changed how his company operates. The CEO, who took over in early 2014, has pushed out the old monopoly mentality and has instead created a new Microsoft that listens to what its consumers want.
One of the biggest things the company's customers told it they wanted was an end to unexpected updates tying up their computer at inopportune times. Microsoft has listened and starting with the upcoming Windows 10 Creators update, some major changes are being made to how Windows 10 gets updated.
Windows 10 started out user-friendly as it brought back the well-liked start menu. Image source: Microsoft.
What is Microsoft doing?
"Prior to the Creators Update, Windows 10 made most of the decisions for you regarding when updates would be installedand didn't provide ways to tailor the timing to your specific needs," wrote Windows Service and Delivery Group Program Management Director John Cable in a blog post. "What we heard back most explicitly was that you want more control over when Windows 10 installs updates. We also heard that unexpected reboots are disruptive if they happen at the wrong time."
The Creators Update changes that by offering Windows 10 users three choices. The first option, which the company recommends because it will give users the latest security features in a timely fashion, is simply accepting the update when it's available. The second choice "Pick a Time," lets the user select when he or she wants the update with the ability to reschedule if the selected time is no longer convenient when it arrives. The third option, "Snooze," simply delays the update for three days.
"In addition, we are widening the 'Active Hours' time so Windows doesn't install an update at times when you want your device to be ready to use," wrote Cable, who also explained that the company has created a new tool designed to help people keep track of where their device stands. "If you decide to exercise more control over the update process, we've added a new icon to the Windows Update Settings page that makes it easier to verify that your device is up to date."
Here's what users will see when an update becomes available. Image source: Microsoft.
Why is this a big step for Microsoft?
Under Nadella, Microsoft has become a more consumer-friendly company and this change removes a pain point that annoyed a lot of people. It's a smart effort that's in line with how the Windows maker has been operating under its CEO.
It may seem like a small thing, but it shows that Microsoft has changed its culture in a way that other former monopolies -- the cable companies specifically -- have struggled to do. Windows users now have options and keeping them from choosing Android, Chrome, or iOS devices requires listening to what they want.
This change will ultimately result in more people being happy with Windows. That's incredibly important for Microsoft because its operating system serves as a gateway to Office, Skype, Teams, and the rest of its software products. All of those services are available on other platforms, but it's an easy path from using Windows to becoming immersed in the Microsoft ecosystem and buying, or more likely subscribing to, multiple programs from the company.
10 stocks we like better than MicrosoftWhen investing geniuses David and Tom Gardner have a stock tip, it can pay to listen. After all, the newsletter they have run for over a decade, Motley Fool Stock Advisor, has tripled the market.*
David and Tom just revealed what they believe are the 10 best stocks for investors to buy right now... and Microsoft wasn't one of them! That's right -- they think these 10 stocks are even better buys.
Click here to learn about these picks!
*Stock Advisor returns as of February 6, 2017
Teresa Kersten is an employee of LinkedIn and is a member of The Motley Fool's board of directors. LinkedIn is owned by Microsoft. Daniel Kline owns shares of Microsoft. The Motley Fool has no position in any of the stocks mentioned. The Motley Fool has a disclosure policy.