Microsoft Has Fighting Words for Apple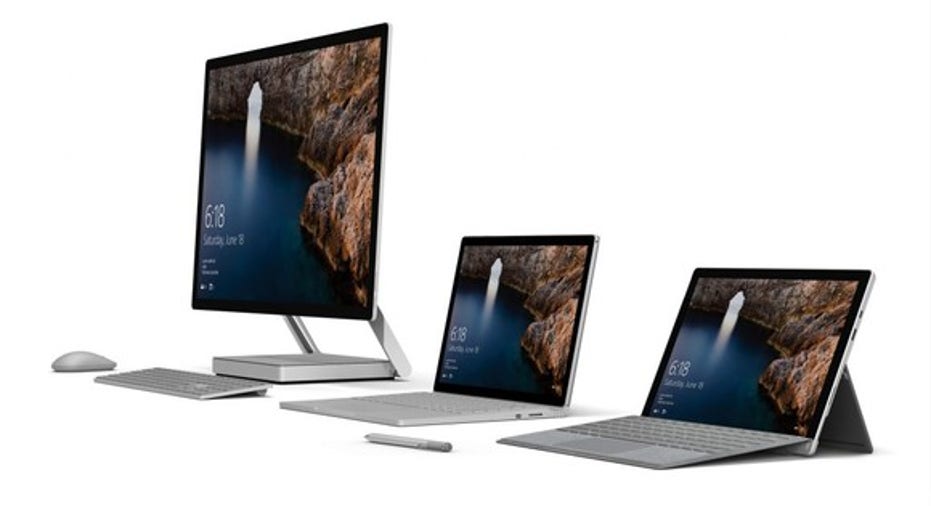 Surface family. Image source: Microsoft.
Microsoft (NASDAQ: MSFT) and Apple (NASDAQ: AAPL) both hosted product events in October, and something unexpected happened: The tech media and industry critics lauded the innovative new Surface Studio while Apple received an unprecedented wave of user backlash over the new MacBook Pro. If the events were competing, Microsoft emerged as a clear winner in terms of the subsequent narratives.
The software giant is now touting how well its Surface lineup is selling, even going as far as to claim that "more people are switching from Macs to Surface than ever before."
Shots fired
In a blog post, Microsoft notes that November was the "best month ever" for consumer Surface sales. The software giant has been running various bundles and promotions through retail channels around the world, and it's paying off in the midst of the holiday shopping season.
Microsoft has also been targeting Apple customers specifically with a MacBook trade-in program, offering up to of $650 in credit that can be applied toward Surface devices. The program was launched in October and extended in November but has since concluded. Adding insult to injury, the company points to a combination of interest in Surface and disappointment in the MacBook Pro as driving a record number of Mac switchers: "It seems like a new review recommending Surface over MacBook comes out daily," Microsoft says.
Getting a second opinion
It's absolutely true that the Mac has lost market share in the past two consecutive quarters, ending a years-long string of slowly chipping away at the Windows empire. While Microsoft doesn't quantify its claim on Mac switchers, the recent third-party estimates on the global PC market do give Microsoft's assertion some credibility.
But it's also true that the Mac business is significantly larger than the Surface business (expectedly so). Microsoft sold $925 million worth of Surface devices last quarter, compared to the $5.7 billion in Macs that Apple sold. Both product events took place after the close of the quarter. If Microsoft booked the best month ever, it sounds as if it may enjoy the best quarter for Surface ever.
Actions speak louder than words
Sadly, this is largely Apple's own doing. Despite CEO Tim Cook's reassurance to a customer via email in September that Apple is "very committed" to the Mac, Apple continues to neglect the Mac lineup. The company only updated one Mac during the event, and we've already acknowledged the controversy surrounding that product. The rest of the Mac lineup continues to stagnate, and some of the "current" products were last updated in 2013 (Mac Pro) or 2014 (Mac Mini).
These protracted cycles have been noticed by Ken Segall, who was previously one of Apple's main ad men and worked closely with Steve Jobs. In a recent blog post, Segall recalls how Jobs didn't only care about the end product -- the time necessary to get there was also critically important. It's for this reason why it's hard to justify the current state of the Mac, as there's no good reason why it should take this long to update other Macs, particularly for incremental refreshes and spec bumps. He envisions the company trying to justify this to its late co-founder.
If Apple is truly "committed" to the Mac, it needs to show investors and customers by doing something about it. Otherwise, it will keep giving Microsoft ammo.
10 stocks we like better than Apple When investing geniuses David and Tom Gardner have a stock tip, it can pay to listen. After all, the newsletter they have run for over a decade, Motley Fool Stock Advisor, has tripled the market.*
David and Tom just revealed what they believe are the 10 best stocks for investors to buy right now... and Apple wasn't one of them! That's right -- they think these 10 stocks are even better buys.
Click here to learn about these picks!
*Stock Advisor returns as of Nov. 7, 2016
Evan Niu, CFA owns shares of Apple. The Motley Fool owns shares of and recommends Apple. The Motley Fool owns shares of Microsoft and has the following options: long January 2018 $90 calls on Apple and short January 2018 $95 calls on Apple. Try any of our Foolish newsletter services free for 30 days. We Fools may not all hold the same opinions, but we all believe that considering a diverse range of insights makes us better investors. The Motley Fool has a disclosure policy.