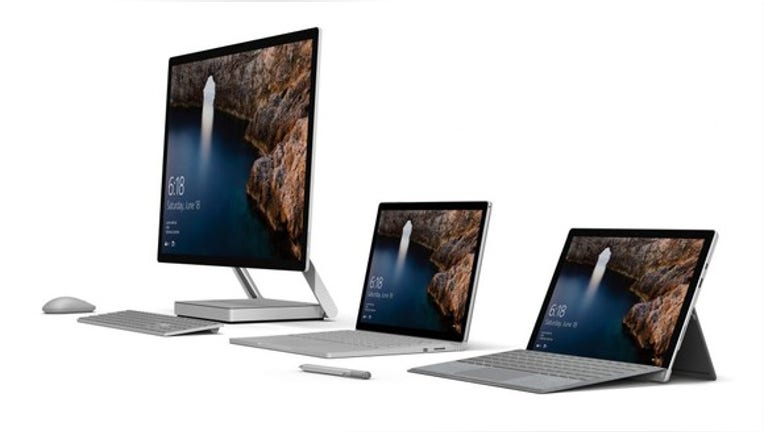 On May 23, Microsoft (NASDAQ: MSFT) announced an updated version of its relatively successful Surface Pro line of laptop/tablet hybrids. Microsoft claims improvements in performance and battery life thanks to use of new Intel (NASDAQ: INTC) seventh-generation Core processors.
Microsoft also introduced a new iteration of its Surface Pen, which Microsoft says is "the fastest pen ever" and now supports a tilt functionality "for more natural shading."
Image source: Microsoft.
Additionally, the company said the device has a "new hinge that adjusts to 165 degrees," which should enable users to "put Surface Pro into Studio Mode, creating the optimal position to write or sketch."
Finally, Microsoft says that versions of the new Surface Pro with LTE Advanced connectivity will be available "later this year."
A straightforward upgrade
There's nothing groundbreaking with the new Surface Pro; it appears to be a solid, albeit straightforward, enhancement of the current Surface Pro.
This isn't a dig at Microsoft, though, as the tablet, laptop, and, by extension, 2-in-1 hybrids are mature product categories.
What device makers need to aspire to, then, is delivering solid improvements at an annual clip so that by the time a user decides it's time to upgrade to a new computer, those incremental generational improvements add up to a substantial improvement over a three-, four-, or five-year-old system.
Microsoft's Surface business needs a boost
It's worth noting that last quarter, Microsoft's Surface business saw revenue decline 26% on a year-over-year basis. The company said 1% of that decline was attributable to currency fluctuations, so the apples-to-apples revenue decline was 25%.
That kind of year-over-year decline isn't great.
It's worth noting that the previous Surface Pro -- the Surface Pro 4 -- launched all the way back on October 26, 2015, so it's been more than a year and a half since the company last updated its Surface Pro lineup.
The Surface Pro isn't the only product in Microsoft's Surface family of products; the company announced a high-end all-in-one computer, called the Surface Studio, in October of last year, and the company began selling its Surface Book (a detachable notebook) alongside the Surface Pro 4 in October of 2015.
However, aside from the niche Surface Studio, both the current Surface Pro and the Surface Book (likely the two highest-volume runners in Microsoft's Surface portfolio) are dated and should benefit from upgrades. And, fortunately for Microsoft's Surface business, updates to both product lines have now been announced (though the "Surface Book" has now become the "Surface Laptop").
What investors need to watch for is a reversal in the year-over-year revenue trend that Microsoft's Surface business saw last quarter. If the year-over-year decline narrows over the next several quarters (or, more optimistically, returns to growth), then it'll be clear that Microsoft's Surface business simply suffered from a stale product line rather than a fundamental decline in demand for the product line.
However, if after releasing refreshed Surface Pro and Surface Laptop products Microsoft's Surface business continues to see steep declines, that would signal a bigger structural problem for the business.
10 stocks we like better than MicrosoftWhen investing geniuses David and Tom Gardner have a stock tip, it can pay to listen. After all, the newsletter they have run for over a decade, Motley Fool Stock Advisor, has tripled the market.*
David and Tom just revealed what they believe are the 10 best stocks for investors to buy right now...and Microsoft wasn't one of them! That's right -- they think these 10 stocks are even better buys.
Click here to learn about these picks!
*Stock Advisor returns as of May 1, 2017.
Teresa Kersten is an employee of LinkedIn and is a member of The Motley Fool's board of directors. LinkedIn is owned by Microsoft. Ashraf Eassa owns shares of Intel. The Motley Fool recommends Intel. The Motley Fool has a disclosure policy.