Microsoft Corporation Might Launch 3 New Windows 10 Phones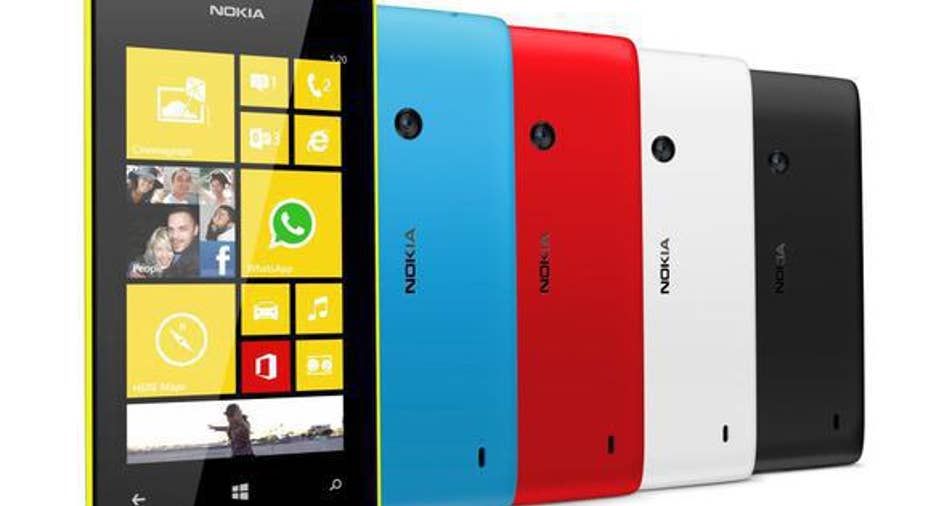 Microsoft could release three new Windows 10 Mobile smartphones in 2017, according to a recent report at Windows Central. The first model will target mainstream consumers, the second one will target higher-end "prosumers," and the third model will be designed for enterprise users. Microsoft is expected to launch all three devices under the "Surface" brand, marking an end to the Lumia brand it inherited from Nokia .
Microsoft's Lumia 950XL. Image Source: Microsoft.
All three devices will also likely run Continuum, which enables smartphones to be converted into full Windows 10 desktops via a $99 Display Dock. That hyped feature currently only works on the higher-end Lumias which failed to make a splashin the crowded smartphone market. Microsoft hasn't made any official announcements regarding the three "Surface phones" yet, but the 2017 release date indicates that the company might need more time to stomp out the widely reported bugs in Windows 10 Mobile and Continuum.
The story thus farPrevious rumorssuggested that Microsoft could release a single Surface phone in the second half of 2016 to coincide with the major Windows 10 update codenamed Redstone. But in early March, Microsoft pushed Redstone back to 2017, so it isn't surprising that the Surface phones have also been delayed.
Although technical details about the phones are scarce, early reports claimed that the Surface phones would be powered by Intel's x86 processors instead of ARM-licensed designs to support more desktop applications. Another rumor suggested that the device could have 8GB of RAM and 512GB of storage, making it the most powerful commercial smartphone ever. But as I noted in a previous article, those specs would make the device far too expensive compared to mainstream Android devices and iPhones.
Another interesting point is that Surface VP Panos Panay and his team reportedly inherited the project afterMicrosoft dramatically downsized Nokia's former handset operations last summer. That move, and the subsequent launch of the Surface Book, strongly indicated that Microsoft wanted to capitalize on the strength of the Surface brand and develop a "family" of Surface devices. That strategy makes sense considering last quarter's numbers -- on a constant currency basis, Surface revenue rose 29% annually whileWindows Phone revenue plunged 49%.
But is Microsoft waiting too long?Therefore, the idea of launching Surface-branded phones is sound, but launching three flagship devices in 2017 would be a Hail Mary pass at best. Windows Phones account for less than 2% of the global smartphone market, according to Gartner-- a percentage CEO Satya Nadella called "unsustainable" ina Buzzfeed interview last December. Waiting a full year and letting another generation of iPhones and Android devices enter the market could further reduce that share while rendering the notion of owning a Windows 10 Mobile device obsolete.
To make matters worse, even leading smartphone makers are struggling. Apple reported that revenue from iPhone salesrose only 1% annually last quarter, while most analysts expect sales to decline for the full year. Samsung's mobile revenue fell 7% annually in its most recent quarter. Looking ahead, Gartner expects global smartphone sales to rise just 7% this year. Most of that growth is expected to be fueled by emerging markets -- which probably won't embrace high-end Surface phones. That same market, however, has been Microsoft's strongest Windows Phone market. That's why the low-end Lumia 520 and 535 remain themost popular Windows Phones in the world.
The Lumia 520. Image source: Microsoft.
Why these new phones could flopPrior to the launch of Windows 10, Microsoft's Continuum strategy seemed brilliant. In theory, it would leverage the popularity of its PC operating system to convince consumers that it would be easier to carry a single "all-in-one" device instead of separate mobile devices and laptops. But when Continuum finally arrived, Microsoft revealed that the feature would only work on the unpopular high-end Lumias instead of the popular low-end ones.
Microsoft might be banking on the Surface brand to sell more high-end phones than the Lumia brand, but I doubt that slight marketing change will suddenly win over iOS and Android users. The Surface devices sold well because they carved out a niche market between tablets and PCs. Surface phones would be aimed at carving out a niche between phones and PCs, but that market is already saturated with phablets, tablets, and 2-in-1 devices.
The new reports about a trio of Surface phones arriving in 2017 are interesting, but they raise troubling questions about Microsoft's mobile strategy. But as always, investors should take these reports with a grain of salt until Microsoft makes an official announcement.
The article Microsoft Corporation Might Launch 3 New Windows 10 Phones originally appeared on Fool.com.
Leo Sun has no position in any stocks mentioned. The Motley Fool owns shares of and recommends Apple. The Motley Fool recommends Gartner, Intel, and Microsoft. Try any of our Foolish newsletter services free for 30 days. We Fools may not all hold the same opinions, but we all believe that considering a diverse range of insights makes us better investors. The Motley Fool has a disclosure policy.
Copyright 1995 - 2016 The Motley Fool, LLC. All rights reserved. The Motley Fool has a disclosure policy.