Microsoft Corporation Is Stepping Up Where Apple Is Lacking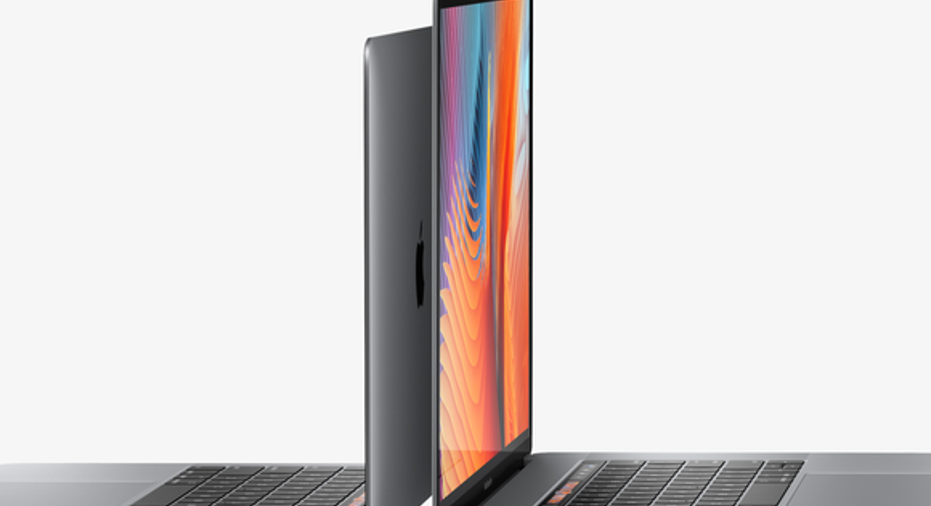 When Apple's (NASDAQ: AAPL) new Touch Bar-equipped MacBook Pro was first unveiled in November, the new laptop looked like it was a hit with consumers as online orders for the new device were higher than any other Apple Pro laptop yet. But sentiment toward the new device seems to have turned negative. Meanwhile, Microsoft's (NASDAQ: MSFT) is stepping up to capitalize on Apple customers' disappointment with the latest Macbook Pro laptops.
Apple's new MacBook Pro with Touch Bar. Image source: Apple.
Missing the mark
Since Apple's new MacBook Pro began shipping to customers, a growing backlash from professional users has sparked a consistent stream of negative reviews about the device. Users are particularly disappointed in the new Pro lineup's underwhelming professional features. For instance, the laptop maxes out at 16GB of RAM and doesn't include an SD card slot -- two compromises arguably made in the name of thinness and lightness.
Popular tech blogger John Gruber of Daring Fireball, who has followed Apple for years, asserts that the backlash toward the new Macbook Pro is unprecedented: "Rather astounding how much backlash last week's event has generated. I can't recall an Apple event that generated such a negative reaction from hard-core Mac users."
Of course, it could be argued that Apple's new Macbook Pro's compromises with professional features could help the device appeal to a broader audience, helping offset lost sales to professional users. Famed tech reviewer Walt Mossberg explained how Apple might have taken this angle with the new laptop:
However, based on Microsoft's recent report of more people switching from Macs to Surface than ever before, Apple may still be missing out on a mainstream opportunity by failing to deliver for its professional users, who are often Mac products' most vocal evangelists.
Microsoft is benefiting from Apple's shortfall
"It's the most wonderful time of the year -- for Surface!" Microsoft said in a Dec. 12 blog post announcing that November was the best month ever for its consumer Surface sales. The key catalyst for the big month? Disappointment in the new MacBook Pro, the company said (emphasis in the original):
Surface Studio. Image source: Microsoft.
Adding to Microsoft's momentum, the company's new desktop Surface Studio, which boldly reinvents the way professionals interact with desktop computers, is being greeted with far more optimism than Apple's new MacBook Pro. Further, the Surface Studio is waging war with anagingApple desktop lineup in need of some updates.
While Apple is prone to make mistakes, hopefully management quickly realizes how it has missed the mark with its professional users and responds with products that can rekindle customer loyalty for its Macs. It's particularly important for Apple to acknowledge its missteps with its MacBook Pro offering now that Microsoft is apparently on a roll with its Surface lineup.
10 stocks we like better than Apple When investing geniuses David and Tom Gardner have a stock tip, it can pay to listen. After all, the newsletter they have run for over a decade, Motley Fool Stock Advisor, has tripled the market.*
David and Tom just revealed what they believe are the 10 best stocks for investors to buy right now...and Apple wasn't one of them! That's right -- they think these 10 stocks are even better buys.
Click here to learn about these picks!
*Stock Advisor returns as of Nov. 7, 2016.
Daniel Sparks owns shares of Apple. The Motley Fool owns shares of and recommends Apple. The Motley Fool owns shares of Microsoft and has the following options: long January 2018 $90 calls on Apple and short January 2018 $95 calls on Apple. Try any of our Foolish newsletter services free for 30 days. We Fools may not all hold the same opinions, but we all believe that considering a diverse range of insights makes us better investors. The Motley Fool has a disclosure policy.