Microsoft Challenges Alphabet Inc. With a Better Bing App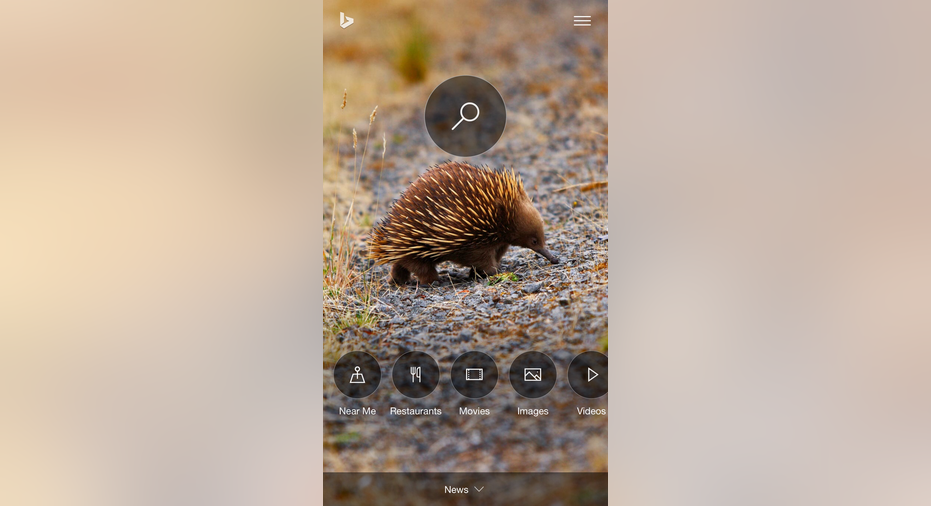 Microsoft is getting serious about search.
Last month, the company made a major revision to its Bing for iPhone app, introducing a number of significant new features. For the last couple of weeks I've been using it alongside Alphabet's Google app, and I can say that -- while it may not win everyone over to Bing -- it's a compelling alternative.
Microsoft is still far behind Alphabet when it comes to search, but is placing increasing emphasis on its search engine. The steps it's taking -- like this new Bing app -- could eventually lead to significant market share gains.
Bing takes on Google
Bing for iPhone
The redesigned Bing app includes a new interface with a number of icons that correspond to search queries that may be particularly appealing to mobile users. "Near me" pulls up a list of nearby coffee shops, malls, gas stations and things to do, along with digital coupons for local retailers. "Restaurants" and "Movies" work similarly, but filter for -- as their names imply -- restaurants and movie theaters, respectively. "Images", "Videos", and "Maps" allow Bing users to narrow their search results to those categories. Swiping down from the bottom launches a stream of news articles.
The actual act of searching is improved, with better in-app linking. Search results for a particular restaurant prompt Bing users to read reviews using the Yelp app, or get driving directions with Apple Maps or Google Maps. Movies are similar, with automatic prompts to buy tickets through MovieTickets and Fandango. For older films, Bing will show which apps can be used to stream them.
The Google search app offers in-app linking as well, but not to the same extent as Bing. When I searched for a nearby restaurant, Google offered to give me driving directions in Google Maps, but nothing more. The same was largely true for films.
The Google app, however, does have a few advantages. Saying "OK, Google" triggers automatic voice recognition within the Google app, allowing users to search without touching their phone at all. The Bing app supports voice-to-text dictation, but can't be triggered with a particular phrase. The Google app also ties into Google Now, Google's digital personal assistant, which provides a stream of relevant information. Those who use Google's services heavily -- including Gmail, Google Calendar, and Chrome -- may find Google Now too valuable to give up. Microsoft has a digital personal assistant of its own (Cortana), but it resides within a separate, dedicated app.
Search is more important than everInvestors have often been critical of Microsoft's search business. For most of its history, Bing was a money pit, costing Microsoft billions of dollars. But last quarter, for the first time, Bing achieved profitability. Windows 10, the latest version of Microsoft's operating system, includes deep Bing integration. "Windows 10 is...driving increased usage of other Microsoft services. Specifically, Bing's share [of the U.S. search market] is up to 20.7%...and advertising revenue grew 29% worldwide, helped by Windows 10 users asking Cortana more than 1 billion questions," said Microsoft's CEO Satya Nadella on the company's last earnings call.
In Microsoft's most recent reorganization, it lumped Bing and the Windows business in the same segment -- More Personal Computing. Microsoft has traditionally monetized its operating systems through direct payments, but with Windows 10 it altered its model, offering it as a free download to many users. Microsoft needs Bing to offset this decline in Windows revenue.
"We expect Bing's strong trajectory to continue, remaining profitable for the remainder of the [fiscal] year," said CFO Amy Hood.
Every bit helpsStill, Google search remains dominant, and at least for now, the Bing app is considerably less popular. Of the top 100 free apps on the iTunes App Store, Google search comes in at 34 -- Bing is nowhere to be found.
But Microsoft appears to be heading in the right direction, and if it can continue to improve its search engine, it could eventually steal some users from Google.
The article Microsoft Challenges Alphabet Inc. With a Better Bing App originally appeared on Fool.com.
Sam Mattera has no position in any stocks mentioned. The Motley Fool owns shares of and recommends Alphabet (A shares) and Alphabet (C shares). The Motley Fool recommends Yelp. Try any of our Foolish newsletter services free for 30 days. We Fools may not all hold the same opinions, but we all believe that considering a diverse range of insights makes us better investors. The Motley Fool has a disclosure policy.
Copyright 1995 - 2015 The Motley Fool, LLC. All rights reserved. The Motley Fool has a disclosure policy.