Microsoft and Alphabet Are Catching Up to Amazon in the Cloud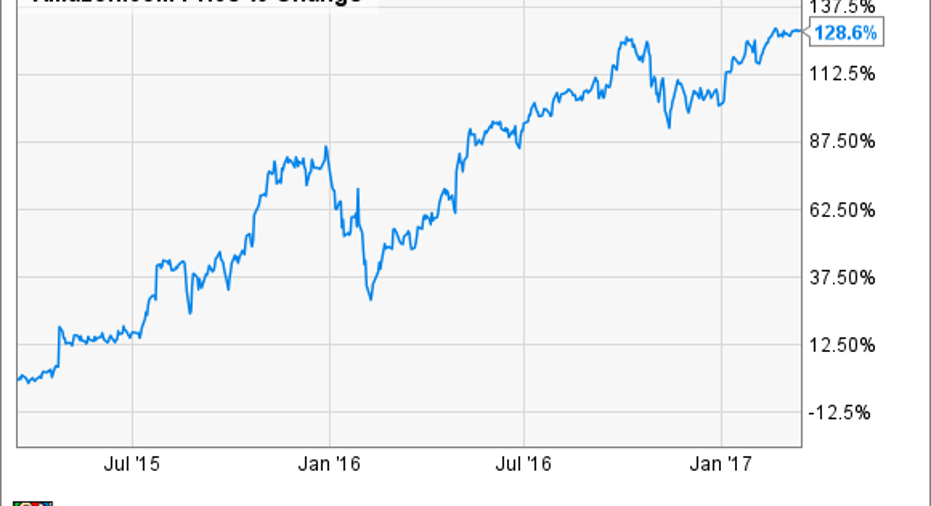 Amazon.com's (NASDAQ: AMZN) all-important Amazon Web Services (AWS) segment has been the undisputed leader of cloud infrastructure, by far, for years. The most recent third-party estimate from Canalys pegs AWS global market share at nearly 34% in the fourth quarter, larger than the next three largest competitors -- Microsoft (NASDAQ: MSFT), Alphabet (NASDAQ: GOOG) (NASDAQ: GOOGL), and IBM -- combined (31%).
Competition is heating up, and rivals are starting to chip away at AWS' dominance.
Image source: Getty Images.
AWS is hugely important to the Amazon thesis
That's the underlying theme of a research note from Pacific Crest (via Tech Trader Daily). Analyst Brent Bracelin is reiterating an overweight rating but slightly reducing his price target from $905 to $895, while expressing some concern that Microsoft Azure and Google Cloud are starting to catch up and "becom[e] more viable." The software and search giants both continue to invest heavily in their cloud offerings, both in terms of technical capability as well as geographic expansion and reach.
Since AWS is immensely more profitable that Amazon's core e-commerce business, its results carry a disproportionate weight when it comes to the bottom line, and strong AWS performance has been a key driver of Amazon's rally over the past two years, which has seen shares more than double.
Microsoft Azure is making inroads at large enterprise customers and government agencies, which are increasingly transitioning their needs away from their own data center infrastructures and toward public cloud platforms. Google Cloud has scored a high-profile win in Snap, which has committed to spending $2 billion with the search giant and is only using AWS as a backup. Google also recently announced a handful of other big wins for its cloud business.
Bracelin still believes that AWS has a "multiyear competitive lead," despite rivals starting to catch up in different ways. As a result, he is tempering his expectations for growth for the next two years. Overall, the analyst considers decelerating growth a "minor concern," but it's definitely something that should be on investors' radar.
Rising cloud use lifts all infrastructure vendors
It's worth pointing out that the cloud infrastructure market is growing so fast -- up 49% last year and expected to jump another 46% this year -- that there should be plenty to go around. The cloud infrastructure market could generate a total of $55.8 billion in total revenue this year. Of course, the dominant vendors will compete aggressively, but we're not talking about zero-sum competition.
10 stocks we like better than AmazonWhen investing geniuses David and Tom Gardner have a stock tip, it can pay to listen. After all, the newsletter they have run for over a decade, Motley Fool Stock Advisor, has tripled the market.*
David and Tom just revealed what they believe are the 10 best stocks for investors to buy right now... and Amazon wasn't one of them! That's right -- they think these 10 stocks are even better buys.
Click here to learn about these picks!
*Stock Advisor returns as of February 6, 2017
Suzanne Frey, an executive at Alphabet, is a member of The Motley Fool's board of directors. Teresa Kersten is an employee of LinkedIn and is a member of The Motley Fool's board of directors. LinkedIn is owned by Microsoft. Evan Niu, CFA has no position in any stocks mentioned. The Motley Fool owns shares of and recommends Alphabet (A shares), Alphabet (C shares), and Amazon. The Motley Fool has a disclosure policy.