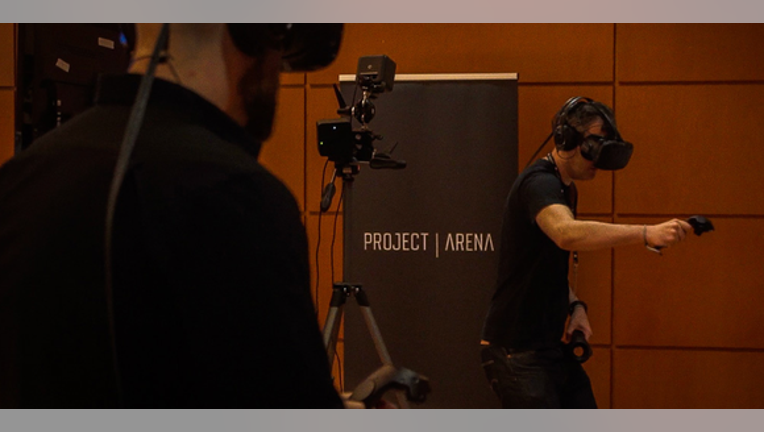 Simplygon at a VR conference in December. Image source: Simplygon.
What happened
Software giant Microsoft (NASDAQ: MSFT) has made another targeted acquisition to kick off 2017, following its purchase of artificial intelligence start-up Maluuba just last week. Microsoft has acquired Sweden-based Simplygon, which specializes in 3D data-optimization technology, which is often used in video games and other 3D applications. Game developers often use Simplygon's technology to automate 3D assets and scene optimization. More recently, Simplygon has been working to enable virtual reality (VR) and augmented reality (AR) experiences, areas that many tech companies have been investing heavily in.
Microsoft says the acquisition will accelerate its "3D For Everyone" strategy that it detailed late last year. No financial terms were disclosed.
Does it matter?
3D For Everyone is part of the Windows 10 Creators Update that Microsoft unveiled in October, and Microsoft is looking to incorporate 3D technology throughout its flagship operating system. By enabling users to capture, create, and share 3D content, Microsoft believes it can help users improve productivity, collaboration, and creativity.
Video source: Microsoft.
But beyond the Windows 10 Creators Update, it seems likely that Microsoft will also leverage the technology for its burgeoning VR/AR ambitions, such as HoloLens. Simplygon has already been dabbling with optimizing CAD assets for HoloLens. In this sense, the Simplygon acquisition will bolster two key initiatives at Microsoft. Additionally, Simplygon also has exposure in areas like e-commerce and automotive visualization. There's no shortage of areas where this 3D technology can be applied, and Simplygon can better scale to address these markets as part of Microsoft.
10 stocks we like better than Microsoft When investing geniuses David and Tom Gardner have a stock tip, it can pay to listen. After all, the newsletter they have run for over a decade, Motley Fool Stock Advisor, has tripled the market.*
David and Tom just revealed what they believe are the 10 best stocks for investors to buy right now... and Microsoft wasn't one of them! That's right -- they think these 10 stocks are even better buys.
Click here to learn about these picks!
*Stock Advisor returns as of January 4, 2017
Teresa Kersten is an employee of LinkedIn and is a member of The Motley Fool's Board of Directors. LinkedIn is owned by Microsoft. Evan Niu, CFA has no position in any stocks mentioned. The Motley Fool has no position in any of the stocks mentioned. The Motley Fool has a disclosure policy.