Micron Technology, Inc.'s Most Disappointing Product in 2015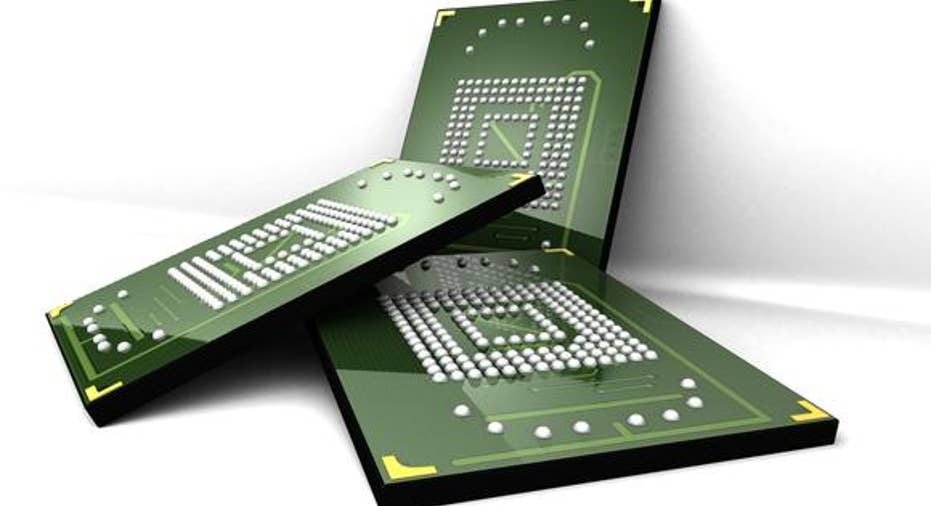 Memory chip manufacturer Micron sells two main products: DRAM, which is fast, volatile memory, and NAND, which is slower, non-volatile memory. Both types of memory chips are commodities, which means supply and demand are the main drivers of prices. During times when demand exceeds supply, such as during 2014 and most of 2015, Micron is capable of producing exceptional profits. But when oversupply occurs, prices can fall precipitously, leading to slumping profits, and even losses.
Average selling prices for both DRAM and NAND fell during 2015, but NAND was particularly disappointing. Micron's average selling price of NAND per gigabit declined by 17%, and while the total number of gigabits sold rose by 45%, leading to an increase in sales, Micron's cost per gigabit only fell by 10%. When the price of NAND is falling faster than Micron can reduce its costs, profitability takes a hit. DRAM may be Micron's main business, accounting for about two-third of the company's revenue, but NAND was its worst-performing product in 2015.
Image source: Micron.
Falling pricesThere are a few reasons NAND prices are falling so quickly. First, weak demand for PCs is taking a toll on demand for components. Solid-state drives, which use NAND memory, are growing in popularity compared to hard drives -- in part because prices have fallen by so much over the past few years. Micron's average selling price per gigabit of NAND has declined by a total of about 80% from 2010 through 2015.
While SSDs increasingly replacing hard drives is helping to counteract lower sales of PCs, NAND manufacturers need to be able to predict demand well in advance, since there's a significant amount of time between when a company like Micron decides to increase capacity, and when that capacity actually comes online.
The weak PC market caught a lot of companies off guard, and the result has been oversupply in the industry. Earlier this year, Goldman Sachs predicted that the NAND market would see 3% oversupply in 2015 and 2% oversupply in 2016, meaning the situation could continue to deteriorate for Micron if the company can't cut its costs per gigabit fast enough.
Smartphones have been a boon for Micron over the past couple of years. In 2014, the number of smartphones sold worldwide grew by 28.4%, according to Gartner, creating increased demand for both DRAM and NAND chips. But the smartphone market is cooling off, with 15.5% year-over-year growth during the third quarter of this, driven by just 8.2% growth in mature markets. Gartner expects total device unit sales, which include everything from PCs to mobile phones, to decline by 1% in 2015.
All of this points to a prolonged period of falling NAND prices, and while Micron's NAND business suffered from falling margins in 2015, 2016 could potentially be even worse. There were five NAND manufacturers that had a market share above 10% during the third quarter of 2015, making NAND more competitive than the DRAM market, where there are only three major competitors, including Micron.
The NAND market is cyclical, and eventually, supply and demand will normalize. But until that happens, Micron's NAND business will continue to suffer as oversupply plagues the industry. Recent news that chip giant Intel plans to invest up to $5.5 billion over the next few years transitioning a facility in China to manufacture 3D NAND dealt a blow to Micron's stock price in October, and with Intel expected to begin producing NAND at the facility during the second half of next year, the NAND oversupply situation could be made worse by the move.
Intel sells its own line of SSDs, and the company has stated that its SSD sales grew by a double-digit percentage year over year during each quarter in 2015. The facility in China may be used to manufacture 3D Xpoint memory as well, a new type of memory jointly developed by Intel and Micron, but Intel's move to produce NAND on its own, outside of its current joint venture with Micron, creates the possibility that Intel becomes a major competitor in the future.
Overall, Micron performed well during most of 2015, producing near-record profits, but the NAND business suffered from price declines that far exceeded the company's ability to cut costs, making NAND the worst-performing portion of Micron's business. With NAND oversupply expected to continue into next year, and with Intel manufacturing its own NAND chips, 2016 has the potential to be even worse for Micron.
The article Micron Technology, Inc.'s Most Disappointing Product in 2015 originally appeared on Fool.com.
Timothy Green has no position in any stocks mentioned. The Motley Fool recommends Gartner and Intel. Try any of our Foolish newsletter services free for 30 days. We Fools may not all hold the same opinions, but we all believe that considering a diverse range of insights makes us better investors. The Motley Fool has a disclosure policy.
Copyright 1995 - 2015 The Motley Fool, LLC. All rights reserved. The Motley Fool has a disclosure policy.