Micron Earnings Preview: Is the Worst Finally Over?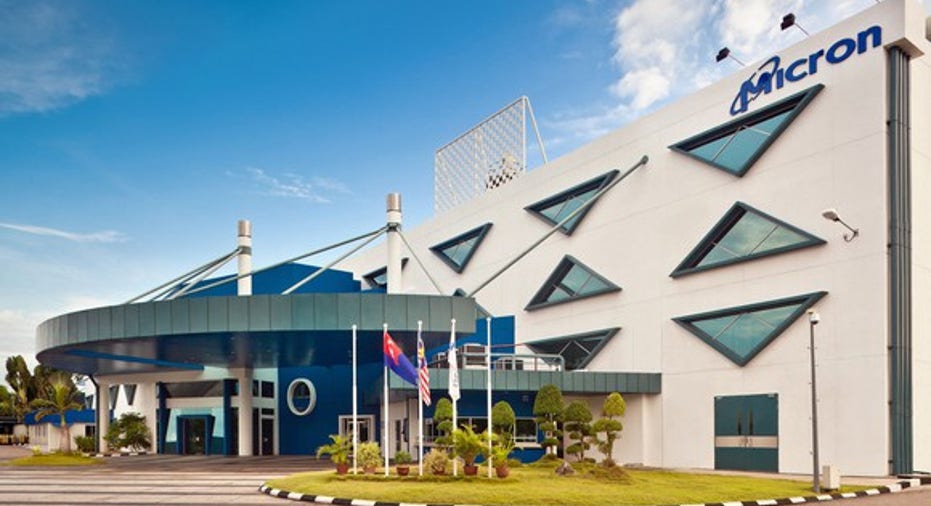 Image source: Micron.
Memory chip manufacturer Micron Technology will report its fiscal third-quarter results following the market close on Thursday, June 30. Slumping DRAM prices have wreaked havoc on the company's results in recent quarters, and more of the same is expected during the third quarter. A recent recovery in prices, driven by smartphone makers stuffing more DRAM into their devices, has raised hopes that the fourth quarter may mark the beginning of Micron's recovery.
What analysts are expecting
Micron reported a steep 30% year-over-year decline in revenue during the second quarter, and another big decline is expected by analysts during the third quarter. The average estimate calls for revenue of $2.96 billion, a 23.3% drop compared to the prior-year period. Micron's guidance for third-quarter revenue is the range of $2.8 billion to $3.1 billion.
Analysts are also expecting Micron to post a loss during the third quarter. The average estimate calls for a non-GAAP net loss of $0.09 per share, down from a profit of $0.54 per share during the prior-year period. Micron expects a loss between $0.05 and $0.12 per share.
There's not much chance for a major surprise from Micron's third-quarter results, but the company's guidance for the fourth-quarter may end up being more upbeat. Micron has received a few analyst upgrades recently, and with DRAM prices no longer dropping, the fourth quarter may show significant signs of improvement.
Things to watch
A couple of factors are working in Micron's favor. New PC models announced in recent months may be helping to drive up demand for PC DRAM, and smartphone OEMs adding more DRAM to their devices could be contributing as well. The recently released $399 OnePlus 3, for example, comes with 6 GB of RAM, a big jump compared to previous mid-range models.
The PC market is still slumping, though, and global smartphone sales are expected to grow slowly this year. The recent recovery in DRAM prices may signal that the worst is over, but it also could prove temporary. MKM Partners' analyst Ian Ing points to disciplined capex spending from Micron's competitors, Samsung and HK Hynix, as a sign that the situation is improving. But Ing also suggests that stabilization in DRAM prices may take longer than the most bullish analysts are assuming.
Commentary from Micron's management will be the most important thing for investors to pay attention to. The company typically provides a general outlook for both the DRAM and NAND markets in addition to specific guidance for the following quarter. In March, Micron pointed to a challenging environment in the DRAM market, but added that it expected to improve its competitive position in the industry.
Micron should realize some cost reductions during the third quarter due to its shift to 20nm DRAM manufacturing. During the second quarter Micron's cost-per-bit of DRAM edged up 1%, but the company expects costs to start to come down during the second half of the fiscal year. This should help improve Micron's profitability.
Micron stock has soared since May, jumping by around 30% from its low due to optimism that the oversupply situation in the DRAM market could be coming to an end. The third-quarter numbers from Micron are unlikely to show much improvement, but guidance from the company will give investors a clearer picture. Analysts have become increasingly positive on the company in recent weeks, but lackluster guidance could throw cold water on the bull case for the stock.
The article Micron Earnings Preview: Is the Worst Finally Over? originally appeared on Fool.com.
Timothy Green has no position in any stocks mentioned. The Motley Fool has no position in any of the stocks mentioned. Try any of our Foolish newsletter services free for 30 days. We Fools may not all hold the same opinions, but we all believe that considering a diverse range of insights makes us better investors. The Motley Fool has a disclosure policy.
Copyright 1995 - 2016 The Motley Fool, LLC. All rights reserved. The Motley Fool has a disclosure policy.