Michael Kors Faces a Tough 2017 as Holiday Comps Plunge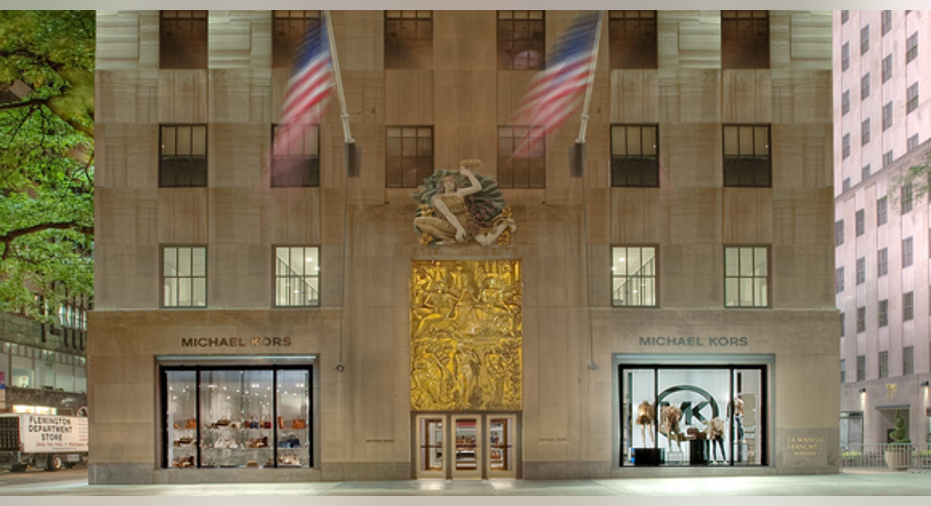 Luxury retail has been a hard place to make money lately, and Michael Kors Holdings (NYSE: KORS) has struggled to regain its footing after the high-growth favorite fell out of fashion among investors. Despite some signs of a potential recovery, Kors stock has recently fallen back toward its lowest levels in years, and shareholders remain fearful about the state of the retail industry.
Coming into Tuesday's fiscal third-quarter financial report, Kors investors didn't expect a turnaround in sales, but they wanted to see profit growth from the key holiday season. Kors didn't entirely disappoint on that front, delivering higher earnings. But falling sales and weak guidance weighed on investor sentiment about the future. Let's take a closer look at Michael Kors and what its results mean for investors going forward.
Image source: Michael Kors.
Kors' comps collapse
Michael Kors' fiscal third-quarter results were mixed, but the negative news seemed to outweigh the positive. Total revenue fell 3.2% to $1.35 billion, which was slightly weaker than most investors had expected to see. Net income fell 8% to $271.3 million, but a dramatic reduction in the number of outstanding shares Kors had helped boost its earnings per share to $1.64, topping the consensus forecast by $0.01 per share.
Looking more closely at Kors' report, what stunned some investors was the retailer's decline in comparable store sales. Kors said that comparable sales fell 6.9% during the holiday quarter, which was even worse than what the retailer had reported in the previous quarter. It took 193 net new store openings since the year-ago quarter to push overall retail net sales up by 9%, including the acquisition of previously licensed Chinese and South Korean stores. The strong dollar again weighed on Kors' results, but the downward impact was less than a percentage point both on comps and on revenue growth.
Kors' other segments were even weaker. Net sales from wholesale activity plunged 18%, continuing an adverse trend we've seen in previous quarters. Licensing arrangements produced 23% less revenue for Kors than they did in the year-ago quarter, accelerating on the downside as well.
From a geographical perspective, Kors faced challenges nearly everywhere. In the Americas, revenue fell 7%, with currency effects actually helping the retailer very slightly. European sales were also down 7%, facing a much heavier currency headwind of four percentage points. Asian revenue was up almost 90%, but that was again due to Kors' Chinese and South Korean acquisitions.
CEO John Idol tried to put a positive spin on the results. "We delivered earnings per share results that were in line with our expectations," Idol said, "and we continued to focus on our growth pillars, which are centered on consistently delivering innovative fashion products for our customers and enhancing consumer engagement with the Michael Kors brand worldwide." The CEO also pointed to strong showings for its fall and holiday handbag collections and initiatives elsewhere as encouraging signs for the business in the long run.
What's next for Kors?
Yet the problem is that Kors still faces an uphill battle for now. Idol believes that the difficult conditions that held down comps in North America and Europe "will continue throughout the spring season, as we face reduced traffic trends in shopping malls, currency fluctuation, uncertainty surrounding certain political changes in European countries, and the implementation of our reduced promotional cadence in North America."
Once again, Kors had to cut its guidance for fiscal 2017. For the full year, the company now expects $4.48 billion in sales, with a high single-digit percentage drop in comparable sales for the year. Adjusted earnings of $4.15 to $4.19 per share represents a $0.22 to $0.24 per share drop in guidance compared to Kors' previous forecast, even taking into account the recent reductions in share count that Kors has achieved lately.
For the fiscal fourth quarter in particular, Kors warned of poor conditions. The retailer expects revenue of between $1.035 billion and $1.055 billion, and comps are expected to fall in the low-teens. Adjusted earnings of $0.68 to $0.72 per share are disappointing, and both figures are well below the $1.11 billion in sales and $0.93 per share in earnings that investors had hoped to see.
As a result, Kors saw its stock fall dramatically on the news, dropping more than 7% in pre-market trading following the announcement. Again, Michael Kors investors will have to wait longer before the luxury retailer can demonstrate its ability to mount a stronger turnaround effort.
10 stocks we like better than Michael Kors HoldingsWhen investing geniuses David and Tom Gardner have a stock tip, it can pay to listen. After all, the newsletter they have run for over a decade, Motley Fool Stock Advisor, has tripled the market.*
David and Tom just revealed what they believe are the 10 best stocks for investors to buy right now... and Michael Kors Holdings wasn't one of them! That's right -- they think these 10 stocks are even better buys.
Click here to learn about these picks!
*Stock Advisor returns as of February 6, 2017
Dan Caplinger has no position in any stocks mentioned. The Motley Fool owns shares of Michael Kors Holdings. The Motley Fool has a disclosure policy.