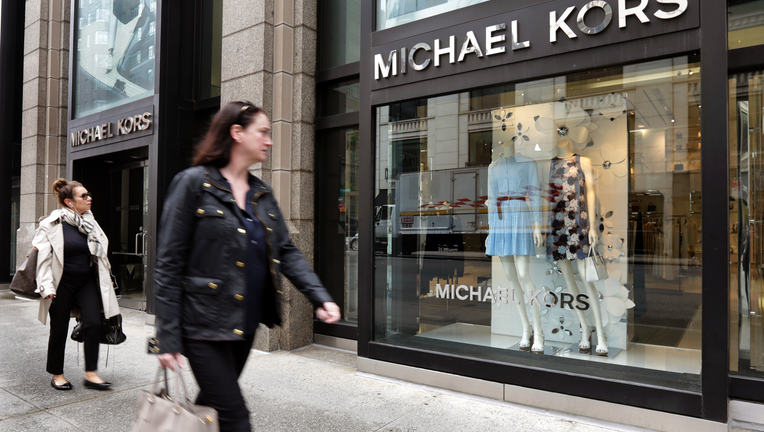 While sales at Michael Kors softened during the first quarter, the luxury handbag and clothing company handily topped Wall Street expectations and a strong outlook for the quarter and fiscal year 2018 sent shares soaring 13 percent before the opening bell.
For the three months ended July 1, Kors earned $125.5 million, or 80 cents per share, which was 18 cents better than industry analysts had projected, according to a poll by by Zacks Investment Research.
A year earlier, the company earned $147.1 million, or 83 cents per share.
Revenue fell to $952.4 million from $987.9 million, hampered by weaker sales in the U.S. and Europe. Sales in Asia soared 60 percent. It was also way better than the $917.9 million that Wall Street had expected.
Sales at stores open at least a year, a key gauge of a retailer's health, declined 5.9 percent.
Michael Kors Holdings Ltd. anticipates fiscal 2018 earnings between $3.62 and $3.72 per share. Revenue is expected to be about $4.28 billion. For the second quarter, the company predicts earnings in a range of 80 cents to 84 cents per share on revenue between approximately $1.04 billion and $1.06 billion.
Analysts polled by FactSet predict fiscal 2018 earnings of $3.54 per share on revenue of $4.19 billion and second-quarter earnings of 78 cents per share on revenue of $1.01 billion.
_____
Elements of this story were generated by Automated Insights using data from Zacks Investment Research. Access a Zacks stock report on KORS at https://www.zacks.com/ap/KORS
_____
Keywords: Michael Kors Holdings, Earnings Report