Mexico Is Betting Big on a Solar Future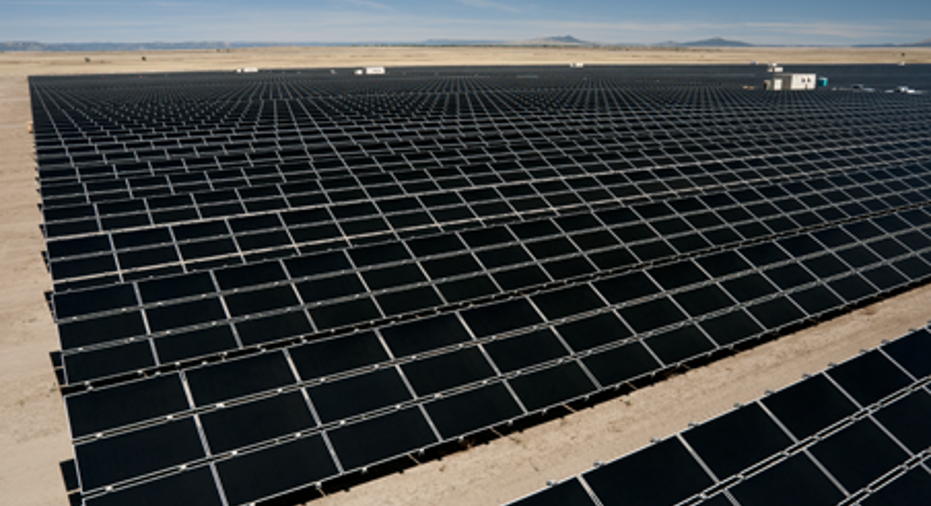 SunPower's Oasis Power Plant will make its way to Mexico in a big way. Image source: SunPower.
All eyes in the solar industry have been on the U.S. market for the past few years, largely because of the market's massive growth rate. SolarCity has been able to double installations nearly every year of its existence while SunPower and First Solar have built a dominant position in the utility scale market.
And south of the border, there could be another solar boom taking place. CFE, Mexico's only utility, just did its first clean energy auction and 74% of the bids were won by solar developers, with the other 26% going to wind. In total, 4 million MWh of solar electricity will be purchased each year as a result of this auction alone, enough to power the entire state of Mississippi for a month.
The big winners in Mexico The biggest winner of the auction was Enel Green Power, a subsidiary of the Italian energy company. The company won a contract for 2,250 GWh of electricity per year, or about 992 MW of solar developments.
Three publicly traded companies in the U.S. won substantial bids as well:
SunPower won a bid for about 1,000 GWh of energy each year, which will be about 500 MW of solar developments. These will be built in two areas, 400 MW in Yucatan and over 100 MW in Guanajuato. According to CEO Tom Werner, these will be built using the company's standard Oasis system and could use either typical IBC panels or its new P-Series technology.
JinkoSolar won bids large enough to build 241 MW of power plants. This is a big expansion for the company, which has focused much of its power plant business in China.
Canadian Solar will also build 62 MW of projects after its development arm, Recurrent Energy, which is gaining momentum in the Americas.
For some perspective, solar projects can sell for around $2 to $6 per watt, depending on the characteristics of power generation, where they're located, who the customer is, and even what kind of rate you can get for debt. So, the impact on the companies winning projects is very large. Even if we assume that projects will be sold for just $2 per watt, SunPower is looking at $1 billion in potential revenue, JinkoSolar could generate $482 million, and Canadian Solar could make $124 million from these projects. And I think that's on the low end for each company.
Showing the falling cost of solar Amazingly, these projects are being built without subsidies and the average bid for energy was $50.7 per MWh, or 5.07 cents per kWh. That's less than half of the 12.66 cents per kWh that U.S. residents paid for electricity in January.
The fact that solar energy was also being bid against wind, hydro, geothermal, and even combined-cycle-natural gas without subsidies shows how far the industry has come.
First Solar was notably absent from the Mexico bid winners. Image source: First Solar.
Where are the other big players? It was notable that First Solar and SolarCity weren't big players in this auction, but there are viable reasons why. SolarCity's foray into Mexico is currently focused on the commercial and industrial segment, which is large rooftop installations rather than utility scale projects.
First Solar would have been a logical aggressive bidder, but it may be seeing opportunities elsewhere. India, the U.S., the Middle East, and Africa have been a big focus for the company of late. There was also a quick turnaround, with projects due to be completed early in 2018.
Mexico is worth paying attention to Greentech Media, which has put out estimates on Mexico's potential growth along with the rest of Latin America, was even surprised at the amount of solar that's now in the pipeline. At the end of 2015, it said there were 246 MW of solar in Mexico and they expected installations to be 382 MW in 2016 and 677 MW in 2017. But they've now bumped that forecast up to 646 MW this year and 1,513 MW in 2017.
That's a market worth keeping an eye on, especially with so many U.S. companies trying to gain exposure there. The solar industry got a little brighter in the past few weeks and Mexico is a big reason why.
The article Mexico Is Betting Big on a Solar Future originally appeared on Fool.com.
Travis Hoium owns shares of First Solar and SunPower. The Motley Fool owns shares of and recommends SolarCity. Try any of our Foolish newsletter services free for 30 days. We Fools may not all hold the same opinions, but we all believe that considering a diverse range of insights makes us better investors. The Motley Fool has a disclosure policy.
Copyright 1995 - 2016 The Motley Fool, LLC. All rights reserved. The Motley Fool has a disclosure policy.