'Merry' Start to December as Health Care, Financials Lead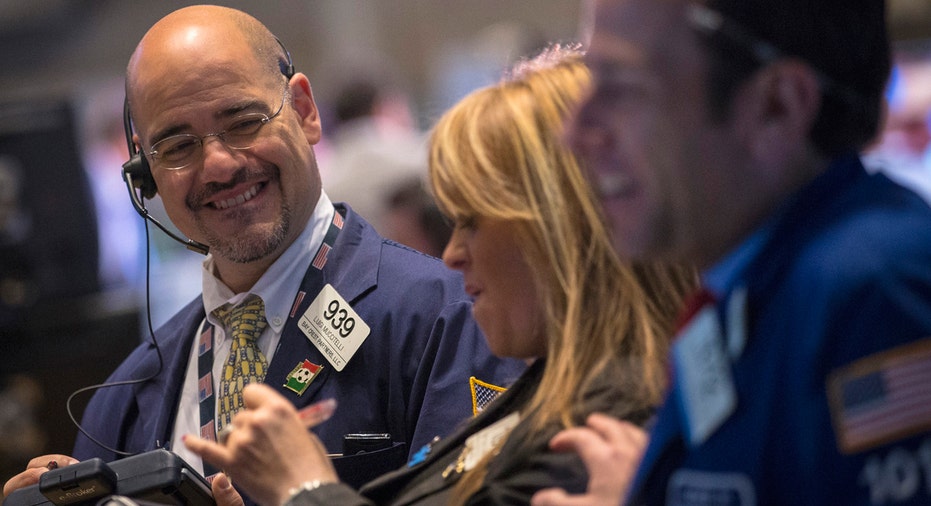 Wall Street kicked off December on a positive note as traders digested November auto sales figures, and data on the U.S. manufacturing sector.
The Dow Jones Industrial Average was up 166 points, or 0.94% to 17886. The S&P 500 gained 22 points, or 1.06% to 2102, while the Nasdaq Composite ticked 47 points higher, or 0.93% to 5156.
All 10 S&P 500 sectors were in positive territory as health care and financials led the way higher.
Today's Markets
Mixed manufacturing data dominated the global trading landscape on Tuesday. Data from the Institute for Supply Management showed factory activity in the U.S. contracted for the first time since November 2012 while the gauge hit its lowest level since 2009. The ISM manufacturing index declined to 48.6 in November from 50.1 in October, while economists had expected a rise to 50.5.
While the data suggests a gloomy picture ahead of the release of fourth-quarter GDP and Friday's all-important November non-farm payrolls, Deutsche Bank's Chief International Economist Torsten Slok said in a note that it's important to keep in mind the split in the U.S. economy between manufacturing and services.
"The service sector still accounts for 85% of the economy, and we still think that the manufacturing sector will not be able to drag down the service sector," he explained. "But for the Fed, a lot is now riding on the employment report and nonmanufacturing ISM later this week."
Expectations are for the U.S. economy to hold onto a 5% unemployment rate, which would be unchanged from the month prior, with gains for non-farm payrolls of about 190,000.  That report was set for release from the Labor Department on Friday.
The November jobs figures are likely to be a keen focus for Wall Street and the data-dependent Federal Reserve ahead of the Federal Open Market Committee's December 15 – 16 meeting, in which participants are largely expected to hike short-term interest rates from historic lows of the Great Recession.
However, in prepared remarks on Tuesday, Chicago Fed President Charles Evans repeated his view that rates should stay lower longer, and that the trajectory of future rate hikes is more important than when the first rate rise will happen. He said, though in his discussion with businesses, "none" mention pressures from inflation.
In recent action, the yield on the benchmark 10-year U.S. Treasury bond was down 0.061 percentage point to 2.157%. Meanwhile, the euro gained 0.52% against the U.S. dollar, while the greenback fell against a basket of global currencies.
Meanwhile to round out the global manufacturing picture, China's purchasing manager's index also fell last month to 49.6, a three-year low, while, manufacturing activity in the eurozone, according to Markit, climbed to 52.8 in November from 52.3 the month prior.
"The fact is that globally, companies and economies are suffering due to the falling demand for commodities, which is a symptom of the slowdown in manufacturing. With Chinese activity still in decline, there is likely to be further weakness in commodities in the future," IG market analyst Joshua Mahony said in a note.
Commodities were mostly higher on Tuesday, though global oil prices flat lined as oversupply worries continued to weigh on the minds of traders as they awaited OPEC's output decision later this week. U.S. crude gained 0.48% to $41.85 a barrel, while Brent, declined 0.38% to $44.44 a barrel.
Metals were mixed as gold shed up 0.19% to $1,063 a troy ounce. Silver slid 0.04% to $14.05 an ounce, while copper added 1.08% to $2.07 a pound.
A rally in the U.S. equity markets, though pared back in late-morning action after the ISM report, helped lift the Dow back into positive territory for 2014, aided on Tuesday by Boeing, which was the biggest gainer on the index.
The Dow joins the S&P 500 and the Nasdaq in positive territory for the year, while the Dow Jones Transports and the small-cap Russel 2000 remain rooted in the red.
Elsewhere, the nation's largest automakers reported their November sales figures, which showed modest gains as Black Friday deals helped push up usually sluggish demand. Sales were on track for their best November in 14 years as low interest rates and cheap fuel help drive consumers to the lots.