Merrimack Pharmaceuticals Inc Dropped 18.2% in April Despite Positive Developments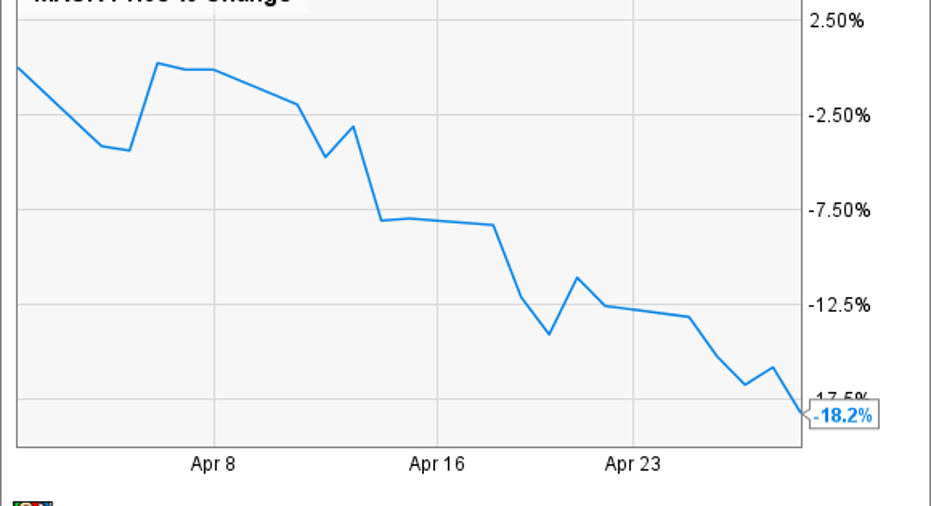 What:Investors inMerrimackPharmaceuticals , a biopharmaceutical company primarily focused on cancer, had a rough April. The company's stock lost more than 18% of its value during the period,according to data fromS&P Global Market Intelligence.
So what:The company didn't release any negative news during the month, so I'm left scratching my head as to why shares fell so hard.
In fact, Merrimack announced two positive news items during the period:
Merrimack announced a strategic partnership with Leica Biosystems, a German company that specializes in creating cancer diagnostic equipment. The two companies will work together to develop a diagnostic assay that will make it easier to identify patients who have cancers that could be treated with one of Merrimack's compounds.
The company introduced a new compound to healthcare providers and investors that Merrimack is calling MM-310. Merrimack believes that this drug holds the potential to be an effective treatment for a wide range of cancers, including breast, lung, and prostate.
Now what: Regardless of thesedevelopments, investors continue to focus their attention on Onivyde, Merrimack's recentlylaunched pancreatic cancer drug. The company sold $4.3 million worth of product in the fourth quarter, but that only included two months of sales. (Onivyde officially launched on October 26th.)
The National Comprehensive Cancer Networkrecently added Onivyde to its list of clinical-practice guidelines for treating patients with pancreatic adenocarcinoma. This development should make it easier for the company to build awareness for the drug.
Merrimack has announced that it will be holding an analyst day onMay 19 to give investors more information about its pipeline and commercialization plans for Onivyde. Anyone who is either bullish or bearish on this company's stock will want to tune in.
The article Merrimack Pharmaceuticals Inc Dropped 18.2% in April Despite Positive Developments originally appeared on Fool.com.
Brian Feroldihas no position in any stocks mentioned.Like this article? Follow him onTwitter where he goes by the handle@Longtermmind-setor connect with him onLinkedInto see more articles like this.The Motley Fool has no position in any of the stocks mentioned. Try any of our Foolish newsletter services free for 30 days. We Fools may not all hold the same opinions, but we all believe that considering a diverse range of insights makes us better investors. The Motley Fool has a disclosure policy.
Copyright 1995 - 2016 The Motley Fool, LLC. All rights reserved. The Motley Fool has a disclosure policy.