MercadoLibre Stock: Next Stop, $250?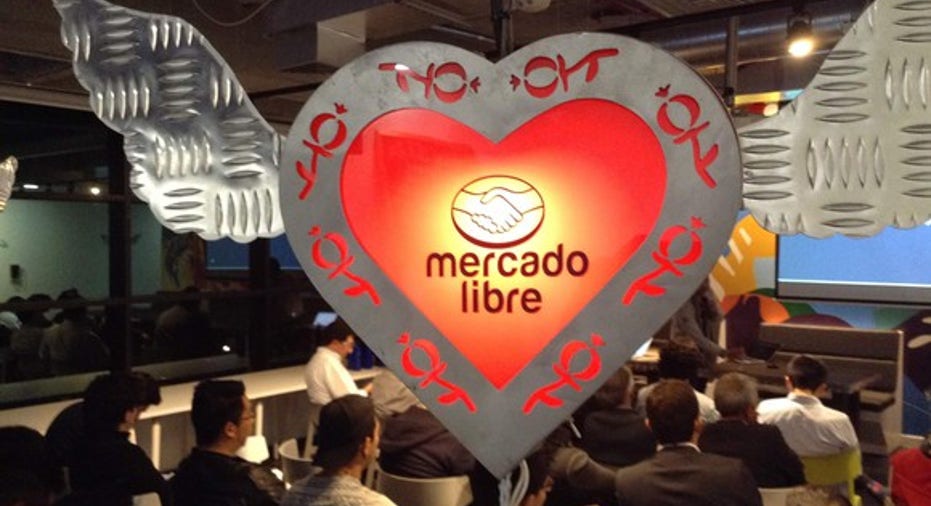 Shares of MercadoLibre (NASDAQ: MELI) hit an another all-time high last week, and there's another Wall Street pro who thinks the dot-com darling is going even higher.Barclays analyst Deepak Mathivanan initiated coverage of MercadoLibre with an overweight rating after Tuesday's market close. He's setting a $250 price target on the stock, translating into 18% of upside from yesterday's close.
If MercadoLibre at $250 rings a bell, it's because Mathivanan isn't alone. He's actually the third analyst to offer that meaty mark as the stock's price target in the past few weeks.
Last week, it was Andre Baggio at JPMorgan boosting his price target from $210 to $250. Baggio's call sent the stock the stock to its latest all-time high of $218.75. The analyst is forecasting healthy top-line growth this year, calling it his top pick among Latin American tech stocks. To be fair, Latin America and tech stocks don't always go hand in hand, but in this case the leading online marketplace has proven itself to be one of the world's top e-commerce stocks.
Baggio and Mathivanan join Stephen Ju at Credit Suisse. He bumped his price goal from $220 to $250 five weeks ago. Wall Street pros don't always get it right, but it's certainly worth noting that the three latest major analyst notes to put out fresh research on MercadoLibre have all gravitated to the same price point.
Image source: MercadoLibre.
Latin grooves
Credit Suisse's Ju boosted his target after MercadoLibre came through with another blowout quarter late last month. Net revenue soared 42% at MercadoLibre in the fourth quarter, 42% ahead of the prior year's showing in U.S. dollars, and a heartier 68% surge if you back out Latin America's volatile foreign currency fluctuations. Analysts were settling for $249.2 million on the top line.
MercadoLibre's popularity continues to grow at a frenetic pace. The online marketplace was able to complete transactions for 51.6 million items, 40% more than the prior year's fourth quarter. The volume of transactions through its MercadoPago online payment platform shot 67% higher. MercadoPago was used to settle up a little more than half of the transactions on MercadoLibre a year ago, but now its penetration rate is up to nearly 78%. Its MercadoEnvios fulfillment platform is also gaining share of the site's completed transactions.
MercadoLibre's profit of $1.16 a share was a welcome surprise. Wall Street was only holding out for net income of $0.91 a share.
The stock's been a beast, soaring fivefold over the past nine years. Wall Street has made it a sport to merely catch up. Just last summer, JPMorgan's Baggio was lukewarm on the stock with a $133 price target. MercadoLibre's strong second quarter turned him bullish, propping his price goal up to $200 at the time. He's now in good company at $250. If iMercadoLibre is able to string together another blowout quarter or two, it will probably get there.
10 stocks we like better than MercadoLibreWhen investing geniuses David and Tom Gardner have a stock tip, it can pay to listen. After all, the newsletter they have run for over a decade, Motley Fool Stock Advisor, has tripled the market.*
David and Tom just revealed what they believe are the 10 best stocks for investors to buy right now... and MercadoLibre wasn't one of them! That's right -- they think these 10 stocks are even better buys.
Click here to learn about these picks!
*Stock Advisor returns as of February 6, 2017
Rick Munarriz has no position in any stocks mentioned. The Motley Fool owns shares of and recommends MercadoLibre. The Motley Fool has a disclosure policy.