MercadoLibre Inc's Massive Growth Potential in 4 Charts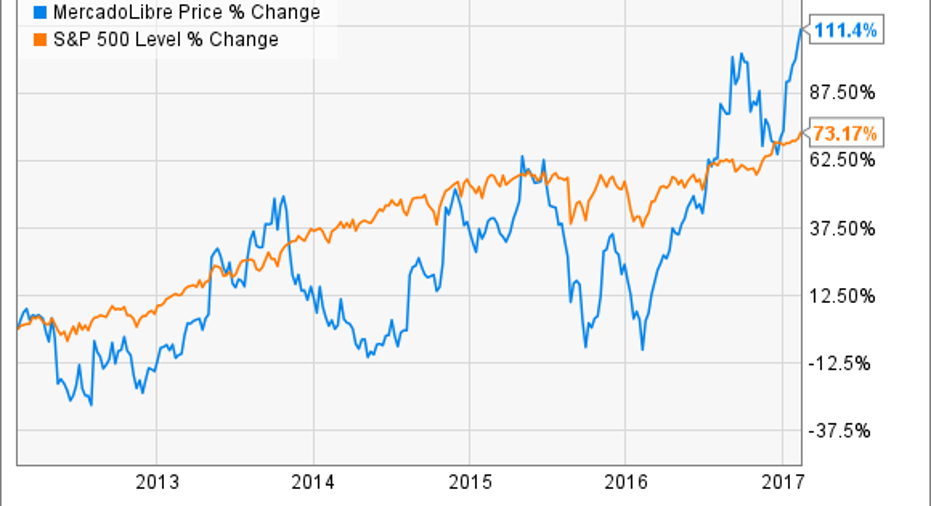 Image source: Mercadolibre, Inc.
As I have pointed out before, Latin American e-commerce leader Mercadolibre (NASDAQ: MELI)is enjoying some pretty serious demographic and technological tailwinds. With internet, smartphone, and e-commerce penetration far behind comparable adoption in the U.S., these trends will likely continue to drive growth for the foreseeable future. But seeing is believing, right?
Rather than detail some hypothetical future growth based on technological trends, let's review the actual growth in four metrics going back five years, as well as where they stand recently, which should give a good indication of future growth potential. Each quarter, Mercadolibre reports growth in threenon-financial metricsthat will help our analysis:total confirmed registered users, items sold, and payment transactions.
Why focus on these metrics? They strip out the effects caused by rising and falling currencies and provide a more accurate and consistent indication of the company's performance.
Confirmed registered users
Increasing the number of regular users on a platform is a key metric for any company engaged in e-commerce. If they don't come to the site, they won't do any business. How does Mercadolibre continue to grow its user base?
Internet penetration is currently at 55% in the region, far below the 89% penetration of its U.S. counterparts. Likewise, smartphone penetration is much lower, with estimates at 34%,compared to 80% for their northern cousins. Finally, e-commerce adoption is still in its infancy in Latin America. Purchases made from internet retailers account for 2.2% of retail sales in the region. U.S. customers are much more accustomed to e-commerce, which represents 7.3% of retail sales. Each of these demographic trends has the potential to double, and in some cases triple, the pool of potential customers for Mercadolibre, though there will be overlap in adoption of these technologies.
As the chart below shows, Mercadolibre has consistently grown its user base over the last five years, increasing its users annually by 22% on average. While that growth has slowed, it exceeded 19% in each of the last four quarters and should continue near that rate for some time.
Data source: Mercadolibre. Chart by author.
Items sold
Any e-commerce business is only as successful as the number of items that go out the digital door. As the virtual intermediary, Mercadolibre takes a cut of each transaction. Its focus has been in making the process as simple as possible for its customers and vendors. Its enhanced marketplace initiative provides shipping, payments, and plug-and-play websitescalled MercadoShops for its sellers.
The company wants to reduce "friction points", things that prevent the completion of a sale or customers from returning. Historically, shipping by sellers in the market had been wholly unreliable. To reduce the likelihood of this occurring, Mercadolibre introduced its shipping initiative, MercadoEnvios. By providing access to shipping directly on its platform and acting as the go-between, it eliminated that area of uncertainty, helping to ensure a positive customer experience.
These initiatives are paying off. Growth in items sold has exceeded 28% on average over the last five years, recently near all-time highs above 40%. As e-commerce is seeing increased adoption in the region, growth could continue at recent levels or even accelerate, as it has been doing for more than two years.
Data source: Mercadolibre. Chart by author.
Payment transactions
Originally envisioned as a payment solution for users of its platform, MercadoPago has outgrown the platform and is being offered as a stand-alone payment method to merchants throughout the region, similar to PayPal's evolution in the U.S. As with e-commerce, the company takes a cut of each payment transaction.
Mercadolibre made the payment method mandatory on its site and has been gradually rolling it out across all its markets. Some of them are approaching 100% penetration of MercadoPago. Average growth has exceeded 60% over the last five years and topped 67% in the most recent quarter, picking up since the company began offering the payment solution to off-platform merchants. This adoption is still in early stages and will likely continue.
Data source: Mercadolibre. Chart by author.
Stock price
All these metrics would be meaningless without a commensurate increase in the stock price, and investors in our Latin American e-commerce purveyor have not been disappointed. Mercadolibre stock has doubled over the last five years, outperforming the market over the same time period.
However, the stock's volatility is noteworthy. While the company has been an extremely successful investment, there have been periods of significant declines. This company is not for the faint of heart. Issues regarding a devaluation of the Venezuelan currency, the bolivar, in late 2013 caused the stock price to plummet. And in 2015, a strong dollar and a change in the political climate in Argentina again caused wide swings in the stock price. In both cases, fear regarding how these events would affect Mercadolibre's business turned out to be overblown, and the shares recovered.
Data by YCharts.
Final thoughts
According to a quote attributed to Benjamin Franklin, "In this world, nothing can be said to be certain, except death and taxes."That may be true, but an investment in this company has all the hallmarks of being successful going forward. The phenomenal growth, as outlined in charts above, will likely continue. To quote another visionary, Sir Isaac Newton, "An object in motion tends to stay in motion."
10 stocks we like better than MercadoLibre When investing geniuses David and Tom Gardner have a stock tip, it can pay to listen. After all, the newsletter they have run for over a decade, Motley Fool Stock Advisor, has tripled the market.*
David and Tom just revealed what they believe are the 10 best stocks for investors to buy right now... and MercadoLibre wasn't one of them! That's right -- they think these 10 stocks are even better buys.
Click here to learn about these picks!
*Stock Advisor returns as of January 4, 2017
Danny Vena owns shares of MercadoLibre and PayPal Holdings. The Motley Fool owns shares of and recommends MercadoLibre and PayPal Holdings. The Motley Fool has a disclosure policy.