Meet the Consumer Goods Wizards Acquiring Keurig Green Mountain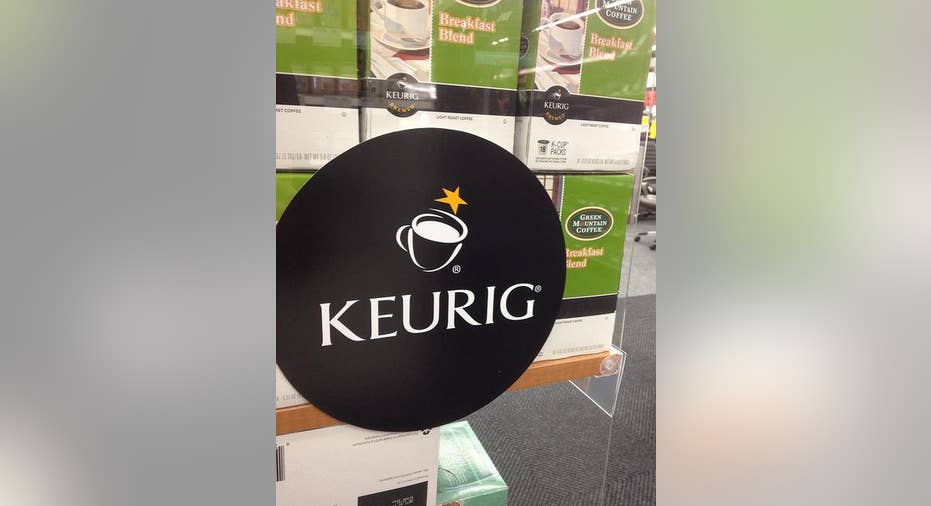 U.S. stocks are lower in late Monday morning trading, with the Dow Jones Industrial Average and the S&P 500 down 0.92% and down 0.94%, respectively, at 11:40 a.m. EST. Meanwhile, shares of Keurig Green Mountain are up 73.26% at $89.56 following the company's announcement that it has agreed to be acquired by JAB Holding Company for $92 per share in an all-cash deal.
Coming across the headlines announcing the acquisition of Keurig Green Mountain by JAB Holding for $92 per share -- a whopping 78% premium to its closing price on Friday -- this columnist was convinced that the deal could only reflect a rearview mirror exuberance over Keurig's past growth. A price that reflected such enthusiasm would surely doom the deal to mediocre returns.
However, the more I look into the deal, the more I am convinced of the opposite: This is likely to be a savvy, opportunistic transaction. The change in opinion is not the result of a detailed assessment of the deal terms, but rather a little digging into the dealmakers.
JAB Holding Company (formerly Joh A Benckiser) is the investment vehicle of one of Germany's wealthiest families, the Reimanns. Led by senior partners Peter Harf, Bart Becht, and Olivier Goudet (a German, a Dutchman, and a Frenchman), JAB Holding Company describes itself on its website as "a privately held group focused on long term investments in companies with premium brands, attractive growth and strong margin dynamics."
To be more specific, JAB is focused on acquisitions in the consumer goods industry, an area in which all three partners have extensive operating experience.
Three men at the head of an investment group that focuses on consumer goods? That sounds familiar: Investment group 3G Capital, which is focused on acquiring consumer goods companies, is lead by three Brazilians. The company recently engineered the "megabrewer" acquisition of SAB Miller by Anheuser-Busch InBev. What 3G Capital has achieved in the beer market, JAB is currently doing in the coffee segment (it was behind the acquisitions of Peet's Coffee and Caribou Coffee).
At this elite level of global business, it's a small world, so it's not that surprising that the principals of both companies have ties that are testimony to their mutual esteem for one another: JAB CEO Olivier Goudet is also chairman of Anheuser-Busch InBev. Peter Harf was formerly chairman of AB InBev and a former board member of Burger King, another 3G Capital investment.
Three years ago, Sanford C. Bernstein senior analyst Ali Dibadj told The Wall Street Journal that "[JAB Holding] is an underappreciated group of business people who are involved in many things that people just don't know about."
That's spot-on: I follow the private equity and the M&A markets, but I was not familiar with JAB Holding, which appears to maintain a very low profile, despite its success.
When JAB bid for coffee maker D.E Master Blenders in 2013, Magnus Scadden, head of EMEA consumer and retail at investment bank Houlihan Lokey told Reuters that "[p]art of the reason for traditional private equity firms not being involved in the D.E Master Blenders transaction was that the [valuation] multiples were too high to make the returns work."
I expect the same will turn out to be true for the Keurig Green Mountain deal: Through their operating and dealmaking experience, the principals at SAB Holding will make the returns work despite headline transaction multiples that look prohibitive.
The article Meet the Consumer Goods Wizards Acquiring Keurig Green Mountain originally appeared on Fool.com.
Alex Dumortier, CFA, has no position in any stocks mentioned. The Motley Fool recommends Anheuser-Busch InBev NV. Try any of our Foolish newsletter services free for 30 days. We Fools may not all hold the same opinions, but we all believe that considering a diverse range of insights makes us better investors. The Motley Fool has a disclosure policy.
Copyright 1995 - 2015 The Motley Fool, LLC. All rights reserved. The Motley Fool has a disclosure policy.