Mead Johnson Nutrition Co. Shares Are Surging On Today's News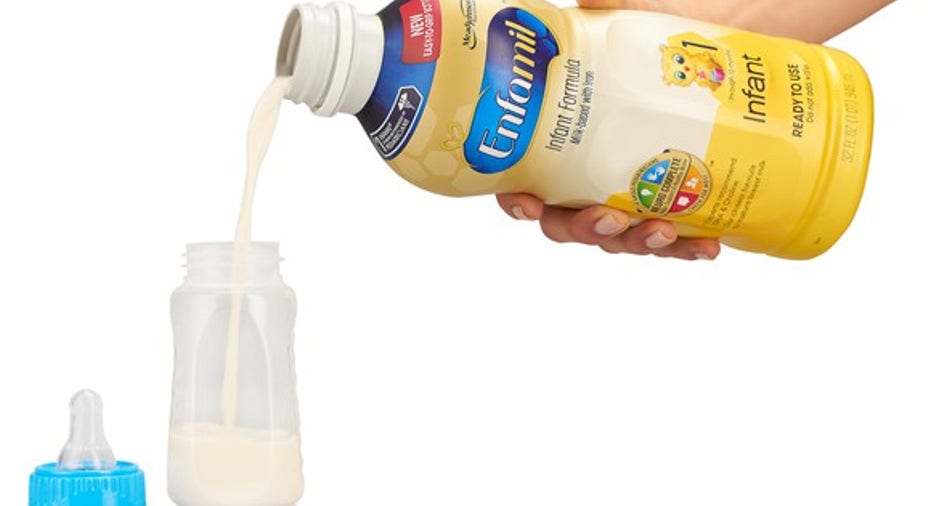 Image source: Mead Johnson.
What happened
Mead Johnson Nutrition Co.(NYSE: MJN), maker of infant formula such as Enfamil brand, is reportedly in talks of a $16.7 billion buyout from Reckitt Benckiser Group (NASDAQOTH: RBGLY). Shares are up nearly 25% as of 11 a.m. EST Thursday.
So what
U.K.'sReckitt Benckiser is a consumer good conglomerate with products from Lysol to Air Wick air fresheners.The company has been looking for a play further into the pharmaceutical sector, but looks like this will be its big buy instead. Reckitt Benckiseris known for its shrewd cost management in these acquired companies, which helps boost value long term. The offer of $90 cash per share of Mead Johnson is about 30% higher than Wednesday's closing price, hence Thursday's Mead Johnson stock surge.
A few months ago, Chinese baby food makerSynutra was bought out as those investors believed in the growth of the baby formula market. The deal with Mead Johnson looks to be similar, especially in China where Mead Johnson gets about a third of its total sales. This deal would pit Reckitt Benckiser directly against industry behemothsNestl S.A.andGroupe Danone, two of the largest volume sellers of baby formula worldwide.
Now what
Mead Johnson investors should be thrilled with the news, after seeing the stock drop around 26% since July until Thursday morning's surge. The move byReckitt Benckiser looks well timed as even $90 per share is below where Mead Johnson's stock was in July, making this look like a deal for what could be a resurgent brand.
The market moved fast to price the shares appropriately for the potential buyout, so there's little value left to be squeezed out of them assuming the deal goes through. However, there is still the chance for competing bids, which could push that price up higher before a final deal is signed.
10 stocks we like better than Mead Johnson Nutrition When investing geniuses David and Tom Gardner have a stock tip, it can pay to listen. After all, the newsletter they have run for over a decade, Motley Fool Stock Advisor, has tripled the market.*
David and Tom just revealed what they believe are the 10 best stocks for investors to buy right now... and Mead Johnson Nutrition wasn't one of them! That's right -- they think these 10 stocks are even better buys.
Click here to learn about these picks!
*Stock Advisor returns as of January 4, 2017
Seth McNew has no position in any stocks mentioned. The Motley Fool recommends Nestle. The Motley Fool has a disclosure policy.