McDonald's Stock Split: Will 2017 Bring a Split for the Golden Arches?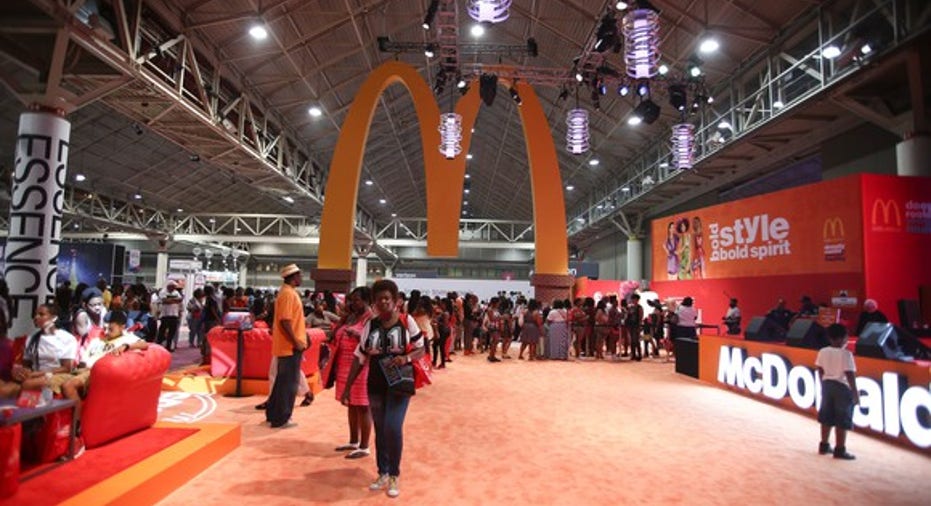 The fast-food industry has changed dramatically over the decades, but Dow component McDonald's (NYSE: MCD) continues to find ways to improve and grow. Recently, its initiatives to offer all-day breakfast items have reinvigorated the franchise's growth prospects, and investors have enjoyed sizable share-price increases as a result. Yet since 1999, one thing McDonald's shareholders haven't seen is a stock split. Some believe that shares now trade high enough that splitting the shares would be a good move.
Let's look more closely at McDonald's to see whether 2017 might finally bring the long-awaited split decision from the fast-food giant.
Image source: McDonald's.
McDonald's stock splits in the past
Here are the dates and split ratios for the stock splits that McDonald's has done in the past:
| Date of Split | Split Ratio |
| --- | --- |
| March 29, 1966 | 3 for 2 |
| May 7, 1968 | 2 for 1 |
| May 23, 1969 | 2 for 1 |
| May 21, 1971 | 3 for 2 |
| May 22, 1972 | 2 for 1 |
| Sept. 14, 1982 | 3 for 2 |
| Sept. 5, 1984 | 3 for 2 |
| June 3, 1986 | 3 for 2 |
| June 8, 1987 | 3 for 2 |
| June 2, 1989 | 2 for 1 |
| June 7, 1994 | 2 for 1 |
| Feb. 12, 1999 | 2 for 1 |
Data source: McDonald's investor relations.
As you can see, McDonald's has a long history of doing stock splits. Yet those moves abruptly came to a halt in 1999.
One thing to notice about McDonald's is that it has gone through phases during which it preferred different split ratios. Two-for-one splits result in bigger share-price drops, making the need for splits less frequent. By contrast, three-for-two splits don't push the stock down as much, allowing shares to regain ground and require splits more often.
Also, McDonald's typically used fairly simple rules to define when a stock split was appropriate. On numerous occasions in the 1980s, McDonald's stock climbed into the $80s or higher, and that seemed to prompt stock splits. In the 1990s, the threshold was broader, with one split happening in the $60s while the other happened at around $95 per share. At no time in the past 35 years, however, did McDonald's wait until its stock was at its recent level of $120 to $130 per share to make a split.
Why did McDonald's stop doing splits?
For much of the 18 years since its last split, McDonald's stock struggled. The company took a big hit in the bear market in 2000 to 2002, and changing conditions in the restaurant industry held the stock back as well.
Moreover, McDonald's made corporate decisions that resulted in some of its biggest growth opportunities being separated from its own stock. In particular, the 2006 decision to spin off its ownership of Chipotle Mexican Grill (NYSE: CMG) led to McDonald's missing out on the subsequent appreciation of the burrito giant, given that Chipotle tapped into the fast-growing fast-casual concept early in its evolution and delivered huge gains to its own shareholders -- gains that McDonald's shareholders only enjoyed if they held onto the Chipotle stock they received.
Still, McDonald's came back to prominence during the 2008 financial crisis, posting gains even as the rest of the market plunged. By late 2011, McDonald's stock traded in triple digits, but the fast-food giant resolutely remained silent with plans on splitting.
How McDonald's feels about splits
McDonald's management has addressed the split issue, and they've recently left the door open to further consideration. When asked in early 2016 whether a stock split for McDonald's might be in the cards, CFO Kevin Ozan said, "Stock splits are interesting, because conceptually, there's not economic value that's created. But there's some messaging or confidence from management potentially perceived positively by retail investors [from a split]. ... We do look at it periodically."
Yet the company hasn't been responsive to previous calls for a split. At the 2014 shareholders meeting, one investor asked McDonald's management to consider a split, citing the fact that the stock was above $100 per share. Former Chief Administrative Officer Pete Bensen noted that greater numbers of shares actually increase costs for the company, suggesting that McDonald's would be reluctant to make a move in the future.
Will McDonald's split its shares in 2017?
McDonald's hasn't announced an imminent split, and its attitude toward splits suggests that it won't be in hurry to do so. Only if the stock climbs precipitously from current levels should investors expect greater pressure on McDonald's to do a stock split, and even then, it's far from a certain thing. That said, those long-term shareholders who've enjoyed the 14% average annual returns that McDonald's has produced over the past decade won't be complaining much about whatever decision the fast-food giant makes about splitting its shares.
10 stocks we like better than McDonald's When investing geniuses David and Tom Gardner have a stock tip, it can pay to listen. After all, the newsletter they have run for over a decade, Motley Fool Stock Advisor, has tripled the market.*
David and Tom just revealed what they believe are the 10 best stocks for investors to buy right now... and McDonald's wasn't one of them! That's right -- they think these 10 stocks are even better buys.
Click here to learn about these picks!
*Stock Advisor returns as of January 4, 2017
Dan Caplinger has no position in any stocks mentioned. The Motley Fool owns shares of and recommends Chipotle Mexican Grill. The Motley Fool has a disclosure policy.