McDonald's is Competing Directly with Starbucks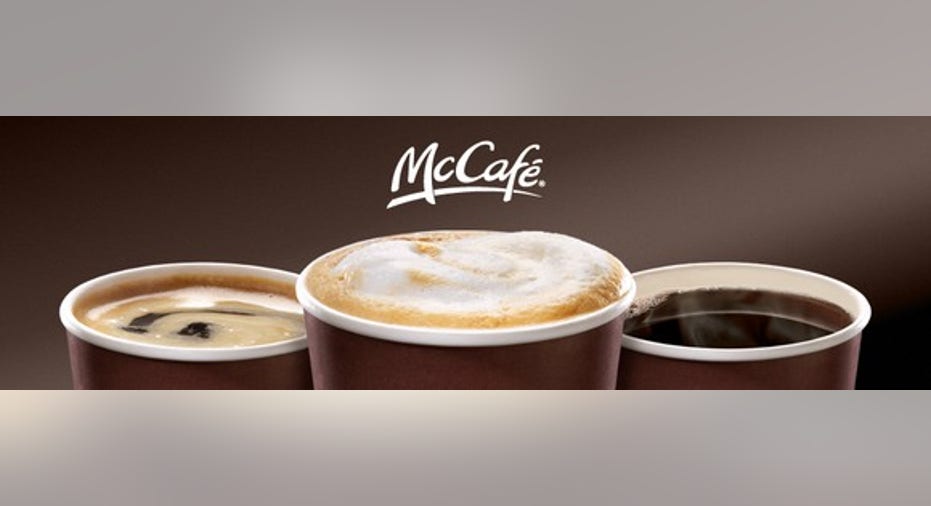 Image source: McDonald's
McDonald's (NYSE: MCD) has been a surprising come-back stock over the last year as Steve Easterbrook took over as CEO in 2015 and has worked to turn the behemoth fast food chain around. McDonald's has put a lot of companies in its crosshairs while on this turnaround mission, but one of the most important ones may be Starbucks (NASDAQ: SBUX).
McDonald's Japan recently launched pumpkin-chocolate French fries. But other than that delicious sounding autumn mashup -- that takes a page out of Starbucks' pumpkin-everything playbook -- here are three ways McDonald's is competing directly with the coffee company.
1. Stand-alone McCafes
McDonald's first started its McCaf line in 1993, and customers can now find separate coffee shop-like counters in many of McDonald's newer or renovated stores around the world. This past December, McDonald's opened its first stand-alone McCaf in Toronto.
Standalone McCaf in Toronto. Image source: CNW Group / McDonald's Canada
The stand-alone McCaf is a fraction of the size of a regular McDonald's, and only serves the McCaf coffee and menu which includes pastries and cafe style sandwiches and salads. It also only features the McCaf branding without the traditional McDonald's golden arches. One of these concept stores has recently opened in Paris, and there are more expected to open around the world in the coming years.
For the first time in over 35 years, McDonald's net store count in the U.S. actually declined in 2015 as it closed more locations than it opened. By contrast, Starbucks added more than 500 locations in the U.S. in 2015 and plans for a similar surge this year. These smaller McCafstores -- which should also be cheaper and faster to build -- could help McDonald's to increase its profitable footprint once again.
2. Making social statements
Led by its outspoken CEO Howard Schultz, Starbucks baristas have been encouraged to talk with customers about social issues related to race inequality, and other concerns affecting them and their customers. The coffee chain launched a series of original videos called "Upstanders" that each feature people in the community doing honorable acts. It's impossible to say what affect these social statements have on Starbucks' bottom line, but it has certainly helped Starbucks to get media coverage and set itself apart as a different kind of business than many of its competitors.
Image source:McDonald's Operators' Association of Southern California
McDonald's seems to have taken a similar cue recently. McDonald's sponsors what is now called "Coffee with a Cop" day. The movement started in California in 2011 with the idea that officers could meet with locals in an informal setting over a cup of coffee. The movement has grown and this year,National Coffee with a Cop day is Oct. 7. The Department of Justice even sent out a formal press release supporting the movement.
McDonald's has since become a sponsor of the program by offering its locations and free coffee to attendees. While many of the meet ups take place at locations other than McDonald's (some of which are even Starbucks), the fast-food chain is partnering with many police departments around the country to officially host the events at McDonald's locations.
3. Loyalty program
Starbucks' rewards program has been one of its most successful business moves in the last decade by engaging customers and giving them a reason to choose Starbucks over the competition. As of the most recent quarter, Starbucks has more than 12.3 million active members, and its cards now hold more than $1.5 billion in pre-paid funds.
McDonald's is preparing to upgrade its own mobile app and loyalty program to be launched later this year or next, according to Forbes. At the UBS Global Consumer Conference in March, McDonald's executive Mike Andres said McDonald's is "working on a customer-designed loyalty program that [they] think will be as good as there is out there in the marketplace."
Currently, the mobile app is relatively basic and includes a punch-card like system. Theapp might not have many features yet, but as of March, it already had more than 7.5 million downloads. Andres noted in the conference that the company envisions a more personalized experience that will keep customers engaged: "If we see them falling off, we can entice them with their favorite products to come back. That's the future, [of] customer relationship management, and we think that's going to be a significant sales layer for us."
McDonald's could have plenty of growth potential left
McDonald's is beginning to see a significant improvement in customer perceptions and the move to open Starbucks-style restaurants could further boost the company's image and bottom-line. CEO Steve Easterbrook commented on the recent journey in his company's brand perception:
Starbucks has been an incredibly successful company in the last decade, one which some analysts have touted as a reason that McDonald's own sales growth grew stagnant. However, over the last year McDonald's has proven that it still has plenty of ways to drive future growth by being more attuned to what customers actually want. McDonald's is certainly making interesting moves to continue its recent success.
A secret billion-dollar stock opportunity The world's biggest tech company forgot to show you something, but a few Wall Street analysts and the Fool didn't miss a beat: There's a small company that's powering their brand-new gadgets and the coming revolution in technology. And we think its stock price has nearly unlimited room to run for early in-the-know investors! To be one of them, just click here.
Seth McNew has no position in any stocks mentioned. The Motley Fool owns shares of and recommends Starbucks. Try any of our Foolish newsletter services free for 30 days. We Fools may not all hold the same opinions, but we all believe that considering a diverse range of insights makes us better investors. The Motley Fool has a disclosure policy.