McDonald's Battles Back as Breakfast Shines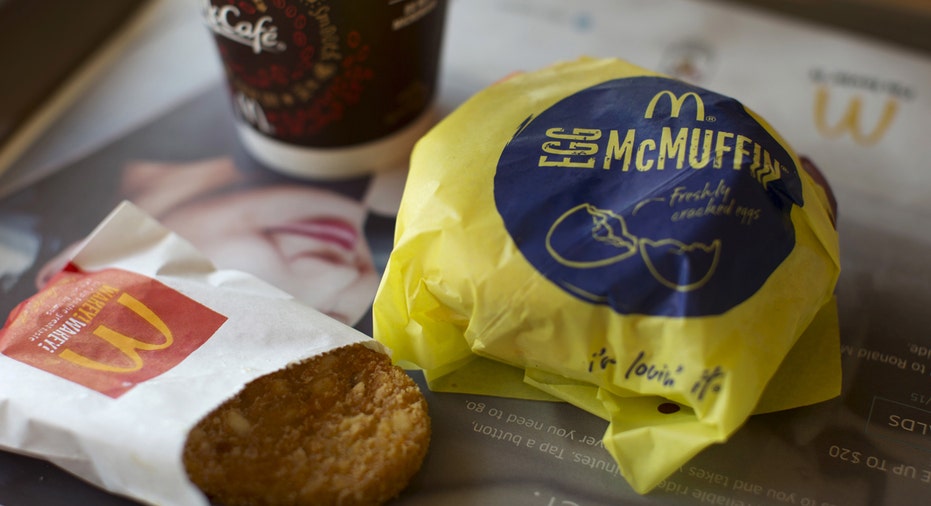 McDonald's (NYSE:MCD) proved on Monday the way to its customers' hearts is through their bellies at breakfast time.
The world's biggest burger chain reported a whopping 5.7% jump in U.S. same-store sales during the fourth quarter thanks to the launch of all-day breakfast in October. It was the best same-store sales figure from the Golden Arches in the last 15 quarters, according to Nomura U.S. restaurant research, and a positive sign CEO Steve Easterbrook's turnaround is working. Positive fourth-quarter U.S. comps come after third-quarter results showed the first positive period of comp-sales growth in two years.
Meanwhile, global same-store sales increased by 5% during the period helped by a 5.9% boost in its Asia and Europe stores.
Due to the strong performance, Nomura analysts upgraded their price target to $138 a share, and reiterated a 'buy' rating on the stock.
Ticker
Security
Last
Change
Change %
MCD
MCDONALD'S CORP.
281.84
-0.70
-0.25%
"Investors are likely very pleased by U.S. same-store growth," they wrote. "Given the impressive U.S. same-store sales momentum (albeit tempered somewhat by an unfavorable outlook for currencies), we raise our full-year 2016 and full-year 2017 EPS estimates by [three cents] to $5.43 and $6.03 respectively…we continue to view MCD as our top large-cap restaurant stock pick for 2016."
McDonald's noted currency headwinds trimmed about 11 cents off its quarterly EPS, and 50 cents a share off its total 2015 profit.
Easterbrook, said in a statement the results are a testament to swift change at the company, and signal a commitment to long-term sustainability.
"We took bold, urgent action in 2015 to reset the business and position McDonald's to deliver sustained profitablity," he said. "We enter 2016 committed to managing the business for the long term and alighed as a system around the critical imperative that we must run great restaurants each and every day for our valued customers."
For the quarter, McDonald's reported earnings per share of $1.31 on revenue of $6.34 billion. That handily beat expectations for profits of $1.23 a share on sales of $6.22 billion.  The company said operating income, which rose 30% during the quarter, was helped by a transition to a "customer-led organization" that focuses on simplifying offerings, menu enhancements, and providing value.
Additionally, McDonald's said it returned $2.3 billion to shareholders in the fourth quarter and $9.4 billion in 2015 through share buybacks and dividends.
McDonald's shares hit a new record high of $121.90, the first Dow component to reach that milestone this year, as they  hovered near that level through the trading day.
Keeping Hungry Consumers Coming Back
Easterbrook stepped up to the CEO plate last March and wasted no time enacting changes to the struggling company that some argued had grown too full of choices and too wide-ranging in terms of food offerings.
Under his tenure, Easterbrook slimmed down the chain's menu, improved order accuracy for drive-thru customers, raised wages for employees at company-owned stores, and made the chain more transparent about how its food is made – promising to move to cage-free eggs and antibiotic-free chicken.
"We're building momentum…around fundamentals of delivering better food experience day in and day out," Easterbrook said. "The devil is in the details: The toasting of the buns, searing of the beef. When you inlay that quality, and investments customers care about like the antibiotics move in the supply chain or the journey to cage-free eggs…when the customer sees you care about the same things they do, they respond."
In addition, the company launched the McPick 2 Menu on January 4, a new kind of value menu, which offers four items including the McChicken, McDouble, fries and mozzarella sticks.
On the call, Easterbrook said it's so far been a hit for consumers who have flocked to the mozzarella sticks. But the biggest win, Nomura analyst Mark Kalinowski said, was the chain's ability to offer customers what they really love: Micky D's famous fries and breakfast favorites all day.
"If you look at McDonald's general menu, there are two things that American consumers like most. And until early October, breakfast was not something you could get nationwide for most hours of the day," he said. "Expanding some of those items to 24 hours, and the popularity of those times, was clearly a big win."
Kalinowski added that while he doesn't see first-quarter comp sales reaching the same 5.7% level posted in 4Q 2015, he believes it could be one of the best quarters out of the last several. His expectation is to see comps of 3.8% during the period.
Still, even with the strong momentum, both Easterbrook and Kalinowski said there's still work to be done. Easterbook, on the call, said the company is beginning to assemble a growth plan for the future, but for now, employees and executives remain focused on executing the turnaround plan until another two quarters of growth are under the chain's belt.
Despite headwinds that have rocked global markets in the first part of 2016 including a slowdown in China's economic growth rate, Easterbook said he's confident McDonald's can continue its growth strategy in all parts of the world. But it won't be without challenges.
"Our ability to grow is in our own hands," he said. "We have a history of being successful in many, many countries around the world through strong economic times and challenging economic times as long as we do right by the customer."
He said the company is confident but also pragmatic heading into the new year.
"Volatility just creates a scrappier environment and a little bit of nervousness…China's a good example where that volatility in the marketplace just creates a little anxiety. That's why we want to reinforce and growing our core business as well as incremental units and growth. So we're mindful we stay close but we remain quietly confident," he said.