Maybe Signs of Support for the Pound ETF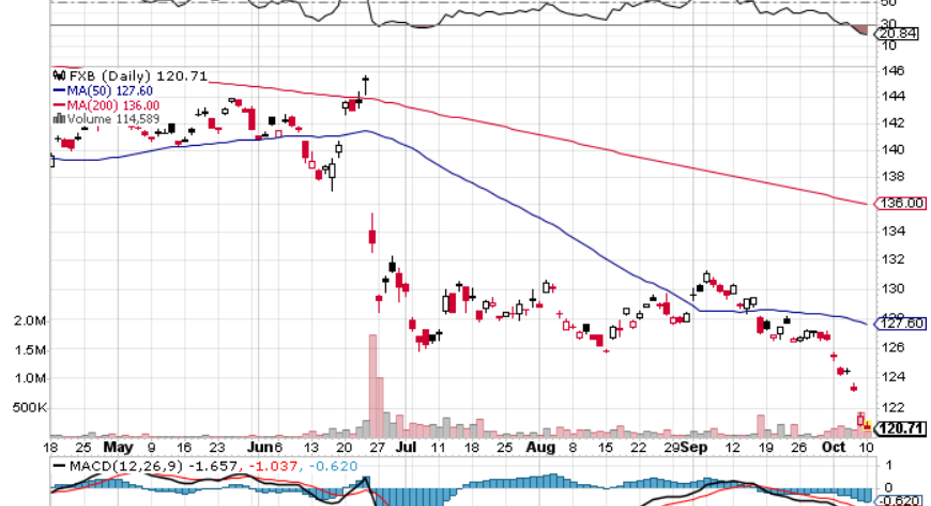 The CurrencyShares British Pound Sterling Trust (NYSEArca: FXB), which tracks the British pound's movement against the U.S. dollar, is easily one of this year's worst-performing currency exchange traded funds and that situation is getting worse, not better, as sterling labors near its lowest levels in more than three decades.
To the point of FXB and sterling recently showing no signs of improvement, the pound was punished last week with FXB plunging to a new low Friday after the sterling plunged earlier in the day on what some traders are calling a "flash crash" that pushed the currency to a 31-year low.
SEE MORE: Pound ETF Retreats as Sterling Slips Toward 31-Year Low
Currency markets were already on edge with the British government setting a timeline for a break from the European Union in what some see as a potential "hard Brexit." Discounting the Friday flash crash, the pound has depreciated around 6% against the U.S. dollar since Monday and is on course for its worst weekly performance since the Brexit vote.
However, when examining pound-related exchange traded products trading outside the U.S., there are signs that some traders are betting that the pound is poised to rebound.
"The value of assets managed by exchange-traded funds that allow investors to bet on a weaker pound fell to a 2 1/2-year low on Friday, continuing a trend that began just after Britain's June 23 vote to leave the European Union," reports Reuters.
Looking ahead, many expect the Bank of England to enact more accommodative measures to help bolster the economy. In the post-Brexit environment, Martin Weale, one of the bank of England's long-time hawks, is even beginning to turn dovish on their policy outlook.
SEE MORE: Brexit Continues to Drag on Pound ETF, Sends GBP to Three-Decade Low
In August, the Bank of England pared its benchmark rates to a record low 0.25% from 0.5% and anticipates it will further bring it down toward zero ahead, the Wall Street Journal reports.
"Similarly, the value of assets held in ETFs allowing investors to go "long" the pound, or bet on its strengthening, rose to the highest in almost four years, figures provided by ETF Securities on Monday showed," according to Reuters.
For more information on the GBP, visit our British pound category.
CurrencyShares British Pound Sterling Trust
This article was provided by our partners at ETFTrends.