Match Group Inc's Long-Term Opportunities Outweigh Its Risks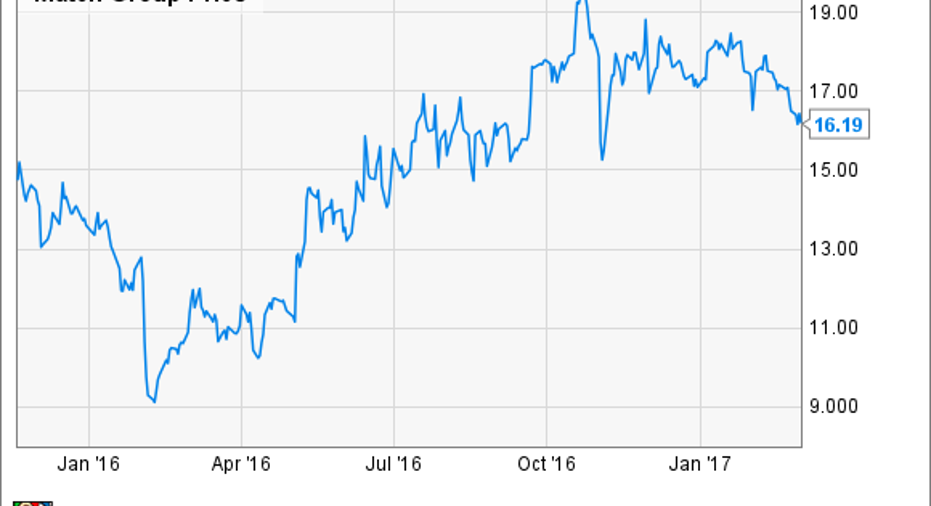 Match Group(NASDAQ: MTCH), the parent company for major dating services such as Match.com and Tinder, among others, has seen volatile trading since the company went public in Nov. 2015. Though the stock is up nearly 40% from the original offer price, recent earnings announcements have been followed by mixed reactions, most recently after the fourth quarter and full-year earnings release on Feb. 1. Those results disappointed investors, pushing the stock 7% lower for the month.
Here's a look at what has investors most concerned and where the company can continue growing going forward.
A year of volatility
For full-year 2016, Match Group reported sales of $1.22 billion, up nearly 20% year over year. The company has guided for sales growth of23% to 28% this year, which looks great on the surface but failed to meet market expectations. Earnings per share of $0.68 came in just short of the prior year result.
Image source: Getty Images.
Despite gaining over 20% on its first day of trading, the stock went on to suffer a gradual decline in the ensuing weeks, falling to almost $9 per share before enjoying a more bullish run that took the stock to all-time highs above $19.Unfortunately, the latest results have been insufficient to fuel its high valuation.
Data by YCharts.
Why investors are worried
The biggest concern at Match Group is slowing revenue growth. With the analyst consensus for top line growth at 38% for 2017, management guidance was less than inspiring. Average revenue per paying user was also flat for the year -- not as much of a concern so long as the total user base maintains its upward trajectory, but having that additional lever to drive top line gains would have helped to ease market concerns.
The company relies heavily on one platform to drive the bulk of its near-term growth: Tinder. With new dating services pouring into the market, Tinder has little breathing room to maintain its appeal and competitive edge as it has remained the one Match Group property with the proven track record of delivering the high growth investors want to see.
Looking ahead to new opportunities
Despite these concerns, Tinder still looks appears to have plenty of upside as it powers growth at the company. The popular dating app launched paid memberships in 2015, and the fourth quarter saw member counts double year over year. And at just 1.7 million paid users currently, that is just a small fraction of the estimated 50 million-plus total users in this space, meaning there is plenty of room for the service to expand going forward.
Image source: Tinder / Match Group.
Match Group is also expanding abroad. While the company still generated about two-thirds of total sales in North America in its latest quarter, the international segment grew sales 37% year over year. The company continues to make strategic acquisitions for new dating platforms worldwide, in addition to spreading the reach of its current offerings, which together will help its international segment drive higher total earnings in the years to come.
Finally, there is the diverse portfolio of other properties that Match Group owns -- 47 in total -- that could eventually expand within their own niches, or that could make for attractive divestitures that would increase available resources investments or other acquisitions. The company announced in the latest earnings that it would be selling its non-dating property, The Princeton Review, so it can focus on its core business.
Foolish bottom line
So is Match Group a buy? The company certainly faces some challenges in this highly competitive space, but network effects serve as an effect moat. Put simply, people will continue to use a platform that has the most users, because that is where they have the best chance of finding a suitable date or partner. As a result, it becomes more difficult for rival platforms to swoop in and steal market share.
Combine that with widening operating margins, growing cash flow, and a large addressable market, Match Group is positioned well to continue delivering gains as it capitalizes on opportunities both at home and abroad.
10 stocks we like better than Match GroupWhen investing geniuses David and Tom Gardner have a stock tip, it can pay to listen. After all, the newsletter they have run for over a decade, Motley Fool Stock Advisor, has tripled the market.*
David and Tom just revealed what they believe are the 10 best stocks for investors to buy right now... and Match Group wasn't one of them! That's right -- they think these 10 stocks are even better buys.
Click here to learn about these picks!
*Stock Advisor returns as of February 6, 2017
Seth McNew has no position in any stocks mentioned. The Motley Fool recommends Match Group. The Motley Fool has a disclosure policy.