MasTec Looks Toward a Recovery With Higher Full-Year Guidance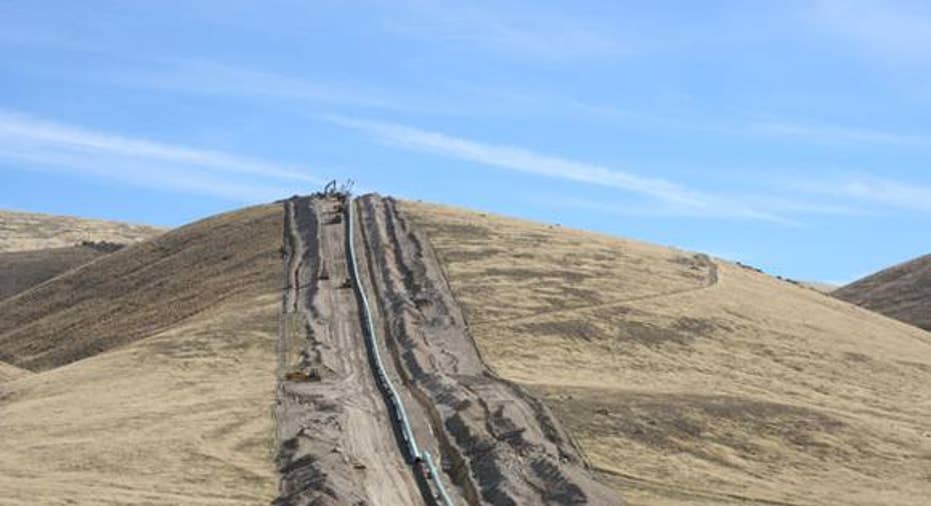 Image: MasTec.
Companies that engineer and build the infrastructure that supports key industries rely on the health of those industries to drive growth in sales and profits. MasTec has tied its fortunes to those of the energy sector for a long time. Although that served it well for a while, the plunge in oil and gas prices has created a big disruption for MasTec's business.
Coming into Thursday's first-quarter financial report, MasTec investors were bracing for a net loss and a sizable drop in revenue. Sales declines did happen at MasTec, but the company pulled out a modest profit, and boosted its guidance for the rest of the year. Let's look more closely at MasTec's latest results, and what they say about its longer-term future.
MasTec starts looking upward MasTec's first-quarter results didn't produce the growth that investors would have preferred, but they had the company pointing in the right direction. Revenue fell by 3%, to $974.2 million, but that was still a lot better than the roughly $950 million that most investors were expecting to see. Adjusted net income fell by three-quarters, to $1.5 million, and that produced adjusted earnings of just $0.02 per share. But that reversed the consensus forecast among those following the stock for a $0.02 per-share loss.
Looking more closely at MasTec's various segments, investors can see mixed results. The communications segment enjoyed solid gains of almost 9%, and the business was responsible for more than half of MasTec's overall revenue. The oil and gas segment lost ground on the sales front, but declines slowed to just 10%, or about half the pace that the company endured in the fourth quarter of 2015. The electrical transmission business remained the weakest, losing a quarter of its revenue, and slight drops in the power generation and industrial category also weighed on overall results.
The story on the bottom line is relatively similar. Adjusted pre-tax operating earnings were up slightly in communications, and down less than 10% in oil and gas, but losses widened dramatically in the electrical transmission segment. Interestingly, the power generation and industrial unit reversed year-ago losses with a modest gain.
CEO Jose Mas expressed his pleasure with where MasTec is right now. "We are seeing a very active bidding environment in several of our end markets," Mas said, "particularly in Oil & Gas, which we expect will provide us with continued growth opportunities."
What's next for MasTec?MasTec also thinks that it can take advantage of a healthy expansion in the energy segment to help boost its results in the current second quarter. As the CEO put it, "We are significantly expanding our construction activities for two major pipeline projects to the Mexican border and also expect to begin construction late in the quarter of another large long haul oil and gas project." Getting projects started up can involve a lot of uncertainty and difficulties in timing, but the fact that MasTec has projects in the pipeline that are moving forward in a slightly better price environment for energy is a sign of a potential recovery for oil and gas in the near future.
In response, MasTec raised its 2016 guidance. It added $200 million to its revenue range, which is now $4.8 billion to $5 billion. Adjusted earnings got a $0.02 boost to a new range of $1.37 to $1.47 per share. For the second quarter, adjusted earnings should be between $0.17 and $0.27 per share, with revenue of $1.1 billion to $1.25 billion.
MasTec investors celebrated the news, sending the stock up more than 5% in after-hours trading following the announcement. Now that energy looks like it might finally be turning itself around, MasTec shareholders hope that the once-beaten-down stock could not only sustain its recent gains, but also continue moving higher.
The article MasTec Looks Toward a Recovery With Higher Full-Year Guidance originally appeared on Fool.com.
Dan Caplinger has no position in any stocks mentioned. The Motley Fool recommends MasTec. Try any of our Foolish newsletter services free for 30 days. We Fools may not all hold the same opinions, but we all believe that considering a diverse range of insights makes us better investors. The Motley Fool has a disclosure policy.
Copyright 1995 - 2016 The Motley Fool, LLC. All rights reserved. The Motley Fool has a disclosure policy.